Live & Kickin'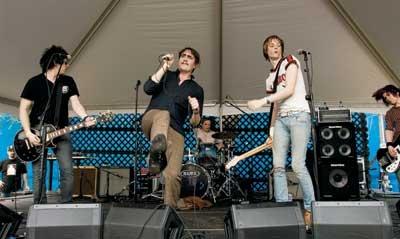 Recommending a recent gig by Franz Ferdinand, The Village Voice said the Scots "generate an in-person intensity that you just can't download." Or get from a CD. Sure, you can go digital or disc to sample these acts, but Austin's 20th South by Southwest proved once more that the show makes the band.
The British Invasion, again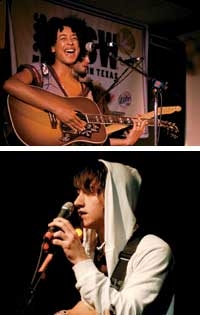 Already hits in their native England, ART BRUT (top) and CORINNE BAILEY RAE (right, top) have now seen their debut albums released here. Brut's Bang Bang Rock & Roll (Downtown) is just that, but their art - Sensational Alex Harvey Band meets Bonzo Dog Band - has to be seen to be believed. Rae's self-titled CD (Capitol) may sometimes recall Norah Jones cool, but her live charisma is all Warm, Warm Heart. (Tour dates: artbrut.org.uk and corinnebaileyrae.net.) As for Alex Turner (right, bottom) and his young band of ARCTIC MONKEYS (arcticmonkeys.com), they cooked real good for the dancefloor. And Alex did a fresh-as-punk stage dive to hear for himself.
¿Quién es más macho?
Just take one look at these two guys - Paul Thompson (below, left) of Des Moines, Iowa's TO MY SURPRISE (tomysurprise.net) and Ferny Coipel of Hialeah, Florida's HUMBERT (humbert.net) - and you'll of course think that Thompson is the true gunner. But to my surprise indeed, the bludgeoning band that appeared at SXSW is very different from the one that made a smart, self-titled debut back in 2003. On the other hand, Coipel led an eccentric pop combo that, at the brink of vocal/instrumental collapse, would instead conjure long, heavy stretches of melodic bliss from its coming album, Lost in the Archives of Unfinished Conversations (Sportatorium). Ferny, baby: tú eres más macho!
LATEST VIDEO