Live & Kickin' Page 2
Yes yes yes!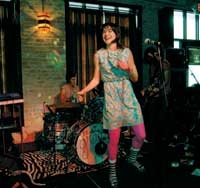 So yeah, with a gal backed by only guitar and drums, THE GRATES must be an Australian division of Karen O & Co., right? Their EP, The Ouch. The Touch., certainly bore that out. But at several SXSW gigs - whether hot nighttime showcase, dusty outdoor bash, or too-early-in-the-afternoon-for-man-or-band party - they were wholly original and completely irresistible. Keep tabs on thegrates.com for a U.S. tour to coincide with the late August release of Gravity Won't Get You High (Dew Process/Cherrytree/Interscope). As giddy as a Juliette Lewis in her early days, singer Patience Hodgson defies gravity as she bounds across the stage, urging you to "use your bed like a trampoline!" I, for one, am ready for a sleepover.
The future of rock?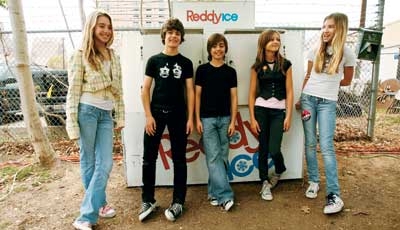 S&V readers will recall Seattle's SMOOSH (smoosh.com) from last year - keyboardist/singer Asya and drummer Chloe (right, far left and right). This year, at the ripe old ages of 14 and 12, the sisters returned to tout Free to Stay (Barsuk). They also made fast friends with THE FLAIRZ (theflairz.com) - Aussie axboys John & Dion and drummer Scarlett, ages 12 & 12 and 13, whose import EP says, Rock and Roll Ain't Evil. Not to be outyounged, Austin's PALM SCHOOL CHOIR (palmschoolchoir.com) encompasses ages 9 to 11 - and as their CD says, they do One Good Rock Show.
LATEST VIDEO