LG Reaches for the Stars with 9.1.5 Soundbar System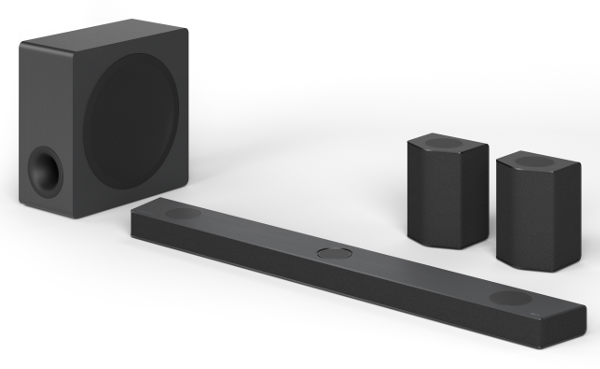 LG is once again elevating its presence in the soundbar market with the announcement of its most sophisticated system yet at CES 2022.
Taking things up a several notches over last year's thousand-dollar SP9YA 5.1.2-channel soundbar/subwoofer combo, the LG's S95QR system is configured for 9.1.5-channel Dolby Atmos action, boosts rated system power to 810 watts (up from 520), and brings a pair of multichannel wireless surround speakers into the mix.
LG did not announce pricing or availability, but it's a safe bet the price will be north of $1,000.
Working in tandem with the up-firing driver built into each of the rear surround speakers, the soundbar uses three up-firing drivers to enhance overall immersion while creating a sense of height. Uniquely, one of those drivers fires up from the middle of the slim, 47-inch-wide soundbar in an effort to clarify dialogue and "place sound in the center of the TV," while further enhancing immersion with IMAX Enhanced content and object-based Atmos and DTS:X soundtracks.
But efforts to expand spaciousness and immersion don't stop there. The rear surround speakers are designed to convey six channels of information. Each speaker has front- and side-firing drivers in addition to the up-firing driver for a total of six rear-surround drivers/channels. LG says the configuration is "designed to distribute sound evenly across a wide 135-degree space," giving listeners more flexibility in placing the speakers, which can be especially helpful in small spaces.
In addition to the deploying more drivers and upping the channel count, LG used a larger subwoofer and developed new drivers and speaker chambers to further boost system performance. The system is also equipped with AI Room Calibration, which analyzes room dimensions and tailors system sound to the space to improve the overall sound, especially in the low-frequency range.
New and improved wireless receivers are used as well to increase the range between the soundbar and subwoofer/surround speakers. "With a more stable wireless connection, the LG S95QR eliminates drops or lags in audio output for distraction-free viewing and listening," the company said.
The system is compatible with Google Assistant and Amazon Alexa voice platforms and includes a Music Mode based on Meridian Audio's Horizon technology that up-mixes standard two-channel audio to 7.1 channels to create a surround-sound experience. When connected to a compatible LG TV, the soundbar works with the TV's built-in AI Sound Pro feature to "make all content sound clearer and more lifelike." The TV remote can be used to control both the TV and the soundbar.
Addressing the needs of gamers, LG has equipped the system with variable refresh rate (VRR) and auto low latency mode (ALLM) to keep audio in sync with onscreen action, though the system does not support 4K/120Hz/HDR passthrough.
Touting itself as a responsible corporate citizen, LG has designed the S95QR system and its packing materials with the environment in mind. The system ships in 100 percent paper packaging with an outer case made of recycled plastic resin. The soundbar, subwoofer, and rear speakers are also made of a lightweight composite-fiber material in an effort to reduce carbon emissions during shipping and transportation.