Kim Simmonds & Savoy Brown Master That Fine Blues Rock Feelin'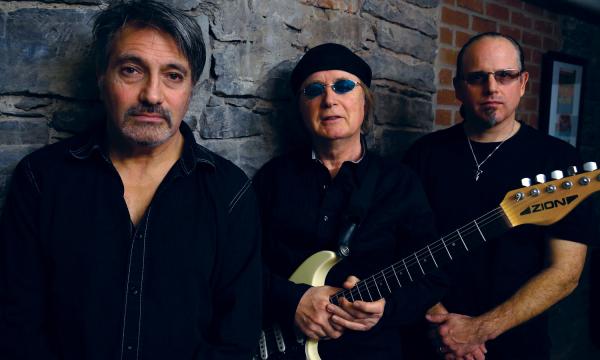 Legacy, tradition, and longevity are all hallowed traits of musicians determined to transcend the whims of whichever way the flavor-of-the-month pop/rock/your-favorite-genre-here winds blow.
One such ongoing success story is Savoy Brown, the blues-rock pioneers formed in Battersea in Southwest London in 1965, who continue to roll on to fly the blues-rock flag quite mightily on their current (and, by my count, close to if not beyond 40th) album, Witchy Feelin' (Ruf Records).
"I think the circle keeps turning," theorizes guitarist/vocalist Kim Simmonds, the lone constant in Savoy Brown since Day 1. "For example, a song like 'Needle and Spoon,' which was written back in the '60s [and released on their April 1970 album, Raw Sienna], is just as valid a song today — even moreso, probably. A good song is always relevant, and so the circle turns."
To discover more about the raw, very much relevant mystical power inherent in the grooves of Feelin', Simmonds, 70 (and the man in the shades in the middle of the above band photo), and I got on the line to discuss the importance of incorporating hooks and riffs together in songs, what he specifically listens for in order to garner creative inspiration, and why he can never relax as an artist. Hellbound train I'm on its track, too late now to turn my back. . .
Mike Mettler: Both you and John Mayall were at the forefront of the British artists who embraced the Chicago blues movement in the mid-1960s, and then you brought that heritage back to the attention of America, where it all started. And here we are now, more than 50 years later, and you two guys are still carrying that mantle forward.
Kim Simmonds: Well, John is remarkable. But, yeah, it was the Chicago blues sound that he embraced, and that also was really the whole idea of Savoy Brown too — to capture that Chicago blues sound. And we were a success with it right out of the gate, which was nice.
Mettler: It's interesting how certain blues songs were covered in those days, such as Howlin' Wolf's rendition of Willie Dixon's "I Ain't Superstitious." You guys had a version of it out there in 1967 [as a single and on their debut album, Shake Down], almost a year before the Jeff Beck–Rod Stewart version got into people's heads [via Beck's 1968 debut, Truth]. Plus, you also helped set the sonic template with that Marshall/Gibson amp/guitar combo of yours.
Simmonds: Yeah, exactly. I was the first person to do all those songs, like "You Need Love" [another Willie Dixon classic, found on their 1968 album, Getting to the Point]. My idea was to "rock up" that song and "I Ain't Superstitious," which had a great riff that lent itself to heavy guitar playing.
I was always interested in guitar riffs; still am. And for me, I didn't really want to do a blues that just had a groove. I thought I always needed a hook to go along with the song, and those great Willie Dixon blues songs — they all had hooks, whether it was "Spoonful" or "I Ain't Superstitious," or whatever. That was the kind of blues I was always interested in. And even today, when you listen to our new album Witchy Feelin', there are a lot of guitar hooks to be found within those songs.
Mettler: Oh yeah, you're putting on a clinic there, especially on songs like "Why Did You Hoodoo Me," "Guitar Slinger," and "Vintage Man."
Simmonds: Yeah, so now you've got the song and a musical hook, and I think that's very, very important. Sometimes, that gets lost by songwriters within the blues.
One song that immediately comes to mind that succeeds is that classic by Robert Cray, "Smoking Gun" [i.e., Cray's ubiquitous signature song, from 1986's Strong Persuader]. That's got a great guitar hook that starts the tune off. And that's a really important thing for songwriters in the blues to remember. You don't have to do it all the time, but a good deal of the time, you need a guitar hook. Especially for me, who's a guitar player!
Mettler: I also love that Witchy Feelin' is on vinyl. Do you still have a record player setup, by the way?
Simmonds: Oh sure, yeah! I've got a record player downstairs. And there are some records that have never been released [digitally and/or on CD], so the only way to listen to them is on the old vinyl. Of course, when I was much younger, I had a dedicated room for my hi-fi. I didn't have anything in the room but the hi-fi. The room was empty, and it had the most incredible ambiance.
Mettler: What kind of stereo system did you have back in the day, do you recall offhand?
Simmonds: I don't have a full system like it anymore, but I had the old LEAK system [i.e., some of the classic British hi-fi gear of the era]. After I had emigrated to America, I brought the whole system with me, but that got lost in the shuffle when I got divorced years ago.
But now I've gone right back to when I was 15 years old, and I've just got a record player where you open the top, you put the album on, and you play it.
Mettler: Those kinds of players have made a comeback, especially with the way the younger generation has embraced the vinyl model. Have you seen that reflected in terms of who comes to see you play live these days?
Simmonds: Yeah, and I've also seen some of the old albums, when I'm signing things. Every night, somebody brings some of these releases to be signed. The whole album thing — it was great. The CD revolution — I never completely bought into it. It was a great thing for the music business in terms of an economic shot in the arm, as people started buying all the old albums again on CD, and replenished their record collections. It was great for the record companies and some of the artists; there was no doubt about it.
But it was short-term. And for long-term, you have to go, "What was really the best product?" I think vinyl was the best product, and that's why everybody's going back to it, because they recognize it as the best. Of course, we've gone on now, way ahead, with streaming.
Mettler: For me, putting the needle down into the groove for albums like Raw Sienna and Looking In [both 1970 releases] is the best way to listen to that early-era music of yours especially.
Simmonds: I think so. And it's probably more beneficial for the listener rather than me, because as a musician, you listen to music completely differently. Normally, of course, you don't listen to your own stuff — it's like looking in the mirror at yourself (chuckles) — but we listened to all the good people of that time.
Now I listen to music a whole lot differently, because I'm playing music all of the time. Most of the time these days, I'm listening to music more for inspiration than for the fidelity. I have to keep myself inspired all the time, so I want to hear a good song and I want to hear a great guitar — all the kinds of things that will inspire me. It's not so much the fidelity of those things as it is the inspiration to me as a musician. But, of course, for the non-musicians or those great fans of music, you want to hear it in the best sound possible.
Mettler: What have you put on lately that's inspired you and/or rejuvenated you?
Simmonds: It changes all the time. I go through phases. For example, Van Morrison has that "Transformation" single out [from the first of his two 2017 studio albums, Roll With the Punches], so then I'll listen to a lot of his stuff. And I've just downloaded a whole lot of Bob Marley, so I've started listening to him again. Then there's always the perennials I like — J.J. Cale, all those kind of guys — and the blues people. I listen to the blues guys all the time, you know — Jimmy Rogers from Chicago, Muddy Waters, Otis Rush, Buddy Guy.
Mettler: I like what you've said before about Buddy Guy — that you've listened to him for around 60 years of your life now, and he's never let you down. He's always going to deliver for you, even with the new material he's been putting out in the last 15 to 20 years. That's a pretty comforting thing to have, as a listener.
Simmonds: Oh, that certainly is. And that's the great thing about starting off with the blues. The artists never got to the point where they were so famous that it destroyed them. Their "fame" was very under the radar, and most blues musicians kept playing right up until they passed away. That kind of dedication was a wonderful thing to somebody who's a fan. Once you got off on listening to Willie Dixon, you'd keep on listening to whatever he kept on doing, as I think he was at it until his 80s. [Dixon actually died at age 76, in January 1992.]
They didn't burn out, but a lot of the more popular artists on the rock scene burned out. There was a lot of fame, and fame really does destroy you. The blues guys didn't really get that, but, of course, people like Buddy Guy and some other artists now have it. Back in the day, blues was very much an acquired taste, like jazz and bebop. And if the artist keeps under the radar, they are not beguiled by success. They keep putting out good product, and they keep the interest up.
And that's what happened with the blues and the jazz people I listened to. Having said that, for the greats, it doesn't matter — B.B. King, George Benson, Buddy Guy — there are some who transcend everything. They're great no matter how popular they are.
There's no doubt about it, though — over the course of a career as long as this one I have, you're going to let yourself down, and let your followers down. There's going to be times when that happens. But at a time like this, when people like you respond to the new album in this way, it's cool. It's a nice feeling.
Mettler: Well, if there's one word to describe your career, Kim, it's integrity. It's something that's always come across in the music you make and how you play onstage.
Simmonds: Right, and I think that's the beauty of when I started to listen to music real seriously, when I was young. It was the honesty in blues music. I always look for that, period, in music. There's so much glam and glitter, and I think many young people say, "I don't want that. I want something more real." When I was listening to the blues in the early '60s, I thought, "Wow, this is music that seems to be honest — and it IS honest, and it always will be honest."
And it felt good. You're giving it your time, your emotion, your money, your energy — you're investing in music, and you're investing in an artist. And that comes back to Buddy Guy, where you're investing in the music and in the person, and they don't let you down. It's a very, very nice feeling.
So if anybody feels that with Savoy Brown music — that's the main thing, really. You try to reflect a little bit of what you got from other artists, when you get down to it.
Mettler: And by the time we hear you give that wah-wah a workout on "Thunder, Lightning & Rain" near the end of the album, that's a history lesson of the whole form right there.
Simmonds: (chuckles) Yeah, there's a little bit of the '60s stuff thrown in there. And it still sounds modern today; it's remarkable — just the whole guitar sound we came up with, in that instance.
Mettler: Sometimes you have some reverb or some echo on these tracks. Was that a choice of yours before you went into the recording sessions, or did you figure it out on the fly?
Simmonds: No, actually, I left all that to Ben Elliott, who really produced everything in the studio. I just wrote the songs, and arranged and rehearsed them with the group [i.e., bassist Pat DeSalvo and drummer Garnet Grimm] and everything. I knew what the focus should be for the songs, and that took quite a while. It was a 2-year process, really, from the day it all started to this point where we're at now.
At that point in the studio, I hand it over to Ben, who's somebody I trust as much as I trust myself. He engineered and produced the whole thing, and I left everything to him because I could trust him. By that point, I had my hands full anyway, because I had to deliver as an artist, you know? (chuckles)
Mettler: You do have to have a sharp focus in the studio, true. We've just passed the 50th anniversary of the release of Savoy Brown's debut album, Shake Down. Do you look at things like that and say, "How did we get here?" I mean, 50 years for any band is pretty impressive.
Simmonds: Yeah! Actually, no, I don't think like that. (chuckles) But when the first 50-year mark came around [in 2015], my old road manager emailed me and said, "You started in '65, rehearsing the band." I took me a while to come to grips with it. I don't think I wanted to admit I'd been around that long, you know? (chuckles again) But in the end, it was like, "Wow — this is pretty cool!"
My career is different from a lot of people's — at least the way I think it is, probably. I've never been one to be able to relax and say, "Oh wow, I've made it," or anything like that. I've always had that anxiety feeling that everything is going to end tomorrow! (more chuckling) That sort of anxiousness gives you the drive to keep going — and that's why I'm still doing it.
Mettler: So we'll get another 50 albums over the next 50 years? Is that what you're telling me, Kim?
Simmonds: (chuckles) Who knows, you know? But I do know somebody will put out all the demos when I'm dead and gone! (both chuckle)