Kenwood HTB-S715DV HTIB
The only game in town?
If you're going to mess with the Kenwood HTB-S715DV, better put on your game face. This home-theater-in-a-box comes to play. The HTB-S715DV blends a 6.1-channel surround package with creature-comfort features for the gamer of the house. It's a modern-day multitasker, too. While you're grooving to "Nasty Girl," your favorite little game-boy or game-girl can play Pikmin 2 on the big screen while immersed, oblivious to the outside world, in the gaming sounds of the HTB-S715DV's Dolby Headphone technology.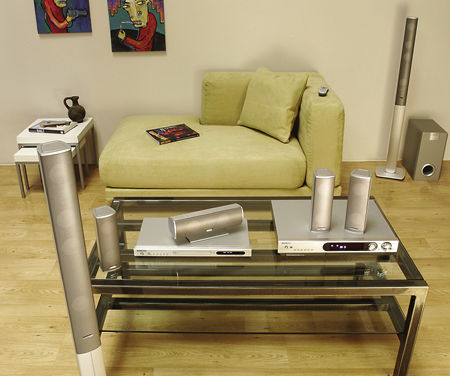 It's a breakthrough, in a way, for gamers routinely relegated to the auxiliary inputs of the typical HTIB. The $1,000 HTB-S715DV won't necessarily entice the serious, gamer-for-life types. It's more likely destined for family rooms and finished basements across the country, a happy medium for younger gamers and parental-types whose home entertainment tastes end at movies and music. The HTB-S715DV is built for the rugged duty of full-family use. The six speakers—twin-tower front speakers and svelte micro-monitors—are wrapped in brushed aluminum, with permanent metal grilles and plastic end caps. The HTB-S715DV has a standing-room-only crowd of processing modes, from the 6.1-channel Dolby EX and DTS ES Discrete formats to an Active EQ feature with a Game mode and an often-superfluous Dolby Virtual Speaker mode.
The HTB-S715DV likely sets or ties the all-time HTIB record for most manuals (four) and most remotes (two). That's because it contains a pair of sold-separately components, the VRS-7100 receiver ($500) and DVF-8100 DVD player ($150), packaged with one of Kenwood's house-brand speaker systems, the KS-908EX. This complicates the setup process, although Kenwood's oversized quick-start guide cuts through the confusion of the mix-and-match manuals.
Pretzel Logic
The front left/right speakers, silver pretzel sticks almost 46 inches tall and only 3 inches wide and deep, can't stand without their substantial screw-on bases, equally silver and metallic. The two-way speaker has five 2.75-inch white paper cone drivers and a 0.75-inch polyethylene terephthalate (more commonly known as plastic) semi-hard dome tweeter. The tweeter rests between a single 2.75-inch driver and four more 2.75-inch drivers, stacked like a totem pole.
The center-channel speaker, almost too small for its own good at 11 inches long but only 4 inches high and less than 3.5 deep, comes with a stand already affixed. Within that tiny enclosure resides one of those semi-hard dome tweeters between two 2.75-inch paper cone drivers.
The satellite speakers for the left/right surround and single rear channel are even smaller than the center-channel speaker. At about 9 inches tall, 3 wide, and 3 deep and maybe a stack of pancakes heavier than 2 pounds, they can be mounted easily on a wall with the included brackets or left on an end table or shelf. Each satellite's tweeter is positioned between two drivers. The brushed-aluminum cabinets are the big surprise here. The tiny drivers, standard for an HTIB, are not.

The SW-38HT subwoofer, while silver, doesn't get a heavy metal jacket. The cabinet, built from the same material Kenwood uses in their car subwoofers, secures a rated 75-watt amplifier and a side-firing 6.5-inch paper cone driver hidden behind a silver cloth speaker grille. The sub is taller (almost 16 inches) than it is wide (about 8 inches) and less than 14 inches deep, so it can slip into tighter spaces than a standard-issue boxy sub. The sub has only a 3-inch port, a green power-on light on the front, and a line-level input, volume control, and on/off switch on the back. The designers somehow fell asleep at the on/off switch: The sub has no auto-on/
-off feature. Without it, you must turn the sub on and off manually or leave it on all the time. Either way, it's not good. Kenwood should change this. They should also upgrade the speaker mini-clip terminals. Fitting the included speaker wire into the tiny openings was like threading a needle. It took a half hour simply to wire six speakers.
Double Play
Because it must compete with sold-separately receivers, the silver VRS-7100 is a nice upgrade from the usual HTIB pizza-box DVD/receiver unit in terms of features, connections, and especially processing modes. For the gamer, the VRS-7100 supplies a set of dedicated front-panel inputs behind a flip-down door: Although there's a choice of digital (optical) and analog audio connections, only composite video is available. If you want to use your Xbox with an HDTV set, you might want to retreat to one of the higher-quality component video inputs on the rear panel. (Oddly, there's no S-video input on this receiver.)
Once you've connected a gaming console to the front connections, set the VRS-7100 to one of two Game modes. In one, the receiver automatically shifts to the Game input, activates equalization circuitry to enhance gaming audio, and shifts into the Game mode (or choose-your-own surround setting) of Dolby Pro Logic IIx when the gaming console is turned on. The alternate mode simply shifts to the Game input when the console is turned on.
Just above the flip-down door, Dual Source/Single Mode controls allow gaming (through the headphones) and music (through the speakers) simultaneously. All you do is insert the headphones, press the Dual Source on/off button, and select the appropriate input (like Game). In Dual Source mode, however, Dolby Headphone is available only in stereo mode because of processing limitations, with volume adjusted using dual up/down buttons. When Dual Source mode is off, three Dolby Headphone modes simulate five-channel surround sound, and they do it quite well.
Meanwhile, the receiver's main controls on the other side of the front panel summon something else, like a CD or the 40-preset AM/FM tuner, through the loudspeakers, with volume adjusted using the infinitely variable volume dial. (If you try to watch TV, you'll only get the audio because, remember, the TV is already booked with gaming action.) Although it's only 3 inches tall, the VRS-7100 delivers a rated 100 watts per channel (at full bandwidth, with two channels driven) with Kenwood's Pure Path Digital amplifier. It has two sets of assignable component video inputs, a component video output, five digital audio inputs (three optical and two coaxial, with four assignable), six stereo analog audio inputs, and a preamp output for an amplifier that can expand the HTB-S715DV into a 7.1 system. That's a lot for an HTIB. There are, however, no 5.1 analog inputs for SACD or DVD-Audio playback.
The VRS-7100 attempts to simplify speaker setup but ultimately goes a little too far. Basic speaker parameters—giving the receiver details on speaker size and whether you're using a subwoofer—are input automatically by scrolling through a menu using the little joystick control (it is, after all, a gamer-friendly system). It took several tries, however, to lock in the correct setting with the finicky joystick.
Once done, Kenwood tells you that the speaker volume settings are prebalanced, so fine-tuning individual speaker volume is unnecessary. No way. For best sound, match the speaker levels. It makes a difference. The test tones were the first usable ones I've come across in an HTIB, long enough to get a good reading on each speaker. So use them.
And use one, or both, remotes. The receiver's remote, a full-size learning/universal model with a comfortable layout, duplicates every function of the DVD player's remote except one: It can't open or close the disc drawer.
Run, Flicker, Run
The DVF-8100 DVD player is just as silver and even smaller (1.75 inches tall) than the receiver, but its video performance was only adequate. It frequently needed two or three tries before accepting a CD-R or hybrid SACD. It also failed to lock onto the 3:2-pulldown image in the Snell &Wilcox Zone Plate test pattern from the Digital Video Essentials test disc. [Interestingly, it did lock onto the Zone Plate from Video Essentials.—tech. ed.] The player's 3:2-pulldown performance with DVD movies was similarly inconsistent; at worst, it appeared as image flicker during the arrival of a ski-rescue team in the Vertical Limit Superbit edition, but Armageddon and Gladiator looked fine.

In conjunction with a display device like Pioneer's immaculate PDP-5040HD, a 50-inch plasma, the diminished detail of Master and Commander: The Far Side of the World was also apparent. However, I quickly reversed this by exiting the DVD player's progressive-scan mode and letting the plasma perform the task. When Kenwood refers to the Fineline HTIB Series as suitable for plasma and LCD sets, they must be referring to its physical appearance.
Like every other HTIB, the HTB-S715DV is also limited by the quality of its speakers. High frequencies are restricted, the subwoofer supplies usable bass only to about 50 hertz, and the center-channel speaker has a definite sweet spot. Venture too far beyond that sweet spot, and dialogue becomes a little harder to decipher.
Still, the HTB-S715DV can produce goose bumps. Master and Commander rang out like so much cannon fire. A Dolby EX soundtrack with the extra rear channel, like The Lord of the Rings: The Return of the King, showed the HTB-S715DV at its best. In Dolby EX, the remastered Empire Strikes Back sounded way too good for its 1988 origins. Only the dated special effects betrayed this masterly remastering.
I recruited two seasoned gamers, ages 14 and 15, to run a few games through the HTB-S715DV on an Xbox and GameCube, and they loved the Dual Source action. While one of them strapped on his headphones to negotiate Driver 3 on an Xbox, I slipped Wilco's Yankee Hotel Foxtrot into the CD tray and listened as cries of "You are under arrest!" pulsed through the gamer's headphones. The gamers, impressed that someone actually designed an HTIB with people like them in mind, declared it "awesome."
For an HTIB, the HTB-S715DV shifted effortlessly between movies, games, and music. The subwoofer didn't chuff and bang uncontrollably and seldom required a volume adjustment with CDs. However, even after a 50-hour break-in, the HTB-S715DV blurred Scott LaFaro's nuanced bass notes on "How Deep Is the Ocean" from the Fantasy SACD hybrid-disc version of Bill Evans' Explorations.
Junior Brown's guit-steel guitar left skid marks on "Hill Country Hot Rod Man" from Telarc's Down Home Chrome hybrid SACD, although the vocals were somewhat distant. In Neo:6 mode, which turns stereo material into six-channel surround, it was a guit-steel assault from all angles. (I like Dolby Pro Logic IIx, but I love Neo:6.) As Diana Krall sang "Temptation" from The Girl in the Other Room, it was breathy and distant but sly and sexy.
A lot of HTIB systems try to cash in on the fascination with flat-panel televisions by slapping together little plastic systems with tall, thin front speakers, hideaway satellites, and an almost-flat DVD/ receiver with only rudimentary features. Kenwood certainly wants a piece of the flat-panel action, but the HTB-S715DV is more substantial than most $1,000-and-under packages. Those brushed-aluminum cabinets, the 6.1-channel speaker system, the army of processing modes, and the basic gaming features distinguish the HTB-S715DV. It's one of those strange instances in which, even though I wouldn't buy a single piece of the HTB-S715DV separately, I'd have a hard time suggesting a better HTIB at the price for a family with strong gaming interests.
Highlights
• One powerful sub
• Seven speakers means one complete soundfield