KEF KHT 5005.2 Wireless Surround Speaker System with Wireless 5000 Series Option
Spending a lazy summer afternoon running wires around the room to hook up a 5.1-channel speaker system is not a favorite family activity. Polls have shown, in fact, that most consumers who buy home-theater-in-a-box systems never even hook up the surrounds. Or if they do, they put them up front, further apart than the left and right speakers! Of course, that doesn't apply to owners of more advanced systems. Or does it?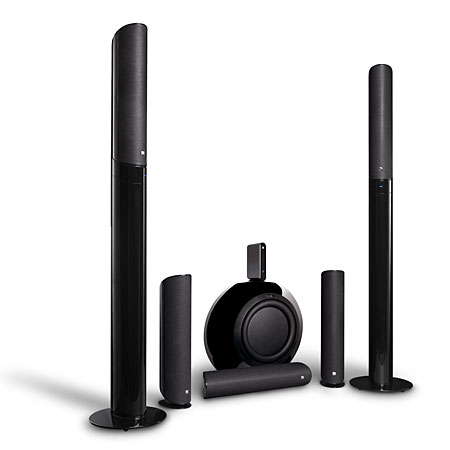 The computer world demands wireless technology, and what happens in the computer world inevitably trickles over into consumer electronics. KEF'S wireless speaker system is one of the first to address the problem of speaker cables.
For this review, KEF sent us a $2,600 5.1-channel package consisting of four HTS5001.2 speakers for the main front and rear channels, one HTC5001.2 center speaker and one HTB2 subwoofer. Also included was KEF's 5000 Series Wireless package, consisting of a transmitter module and two wireless receivers. In our review system we (mostly as you'll read) used only the surrounds in wireless mode, but the system is expandable, meaning that multiple wireless pairs can be used in the same system. (A universal wireless package is also available from KEF for use with other speakers).
The Speakers
KEF's HTS5001.2 and HTC5001.2 speakers are identical, apart from the fact that the latter is designed to be placed horizontally. It does not come with a stand, but rather with a small "leg" at the rear to stabilize the rounded enclosure when it sits on a flat surface, such as the top of a television. The HTS5001.2 is designed for left and right channel use, front and rear, and may be purchased either with a short stands for mounting on a cabinet or table (standard) or matching floor stands (optional, at $399/pair). KEF did not include the floor stands here, so I used the short desk stands. Wall mounting brackets are also provided.
These main speakers each have three 3" drivers behind a non-removable grille. Two of them are woofers, with polypropylene cones. The third is the smallest unit yet to use KEF's proprietary Uni-Q technology. The midrange is handled by an aluminum cone, and the treble by a small aluminum-cone tweeter located at the center of the cone where the dust cap normally resides. The advantage of such an arrangement is that the midrange and treble come from the same location, which should, in theory, eliminate destructive interference between the two drivers in the crossover region. This is desirable in general, but particularly so with a horizontally-positioned center channel speaker. The downside is that the cone acts as a horn around the tweeter, with the potential coloration this arrangement might suggest. But KEF has been refining its Uni-Q drivers since the late 1980's, so this should not be a serious concern. The HTB2 subwoofer's claim to fame is style. It's certainly unique-looking, and takes up little space. It may be mounted either vertically or horizontally and is finished in either black or silver. Vertically, it resembles a small, slightly flattened life preserver, with a front active driver and rear passive radiator filling the space where the hole should be. Positioned horizontally, it looks like a chubby flying saucer. Either way, it's sleek and attractive. And if its modern lines look out of place with your Early American or French provincial furniture, it's easy to hide.
The sub's controls and connections are on the bottom (when positioned vertically). They consist of a detachable power cord (not a standard IEC connector), a single line level input, and switches for bass-boost (0db, +3db, and +6dB at 40Hz), phase (0- and 180-degrees), Power, and Auto or Manual turn-on. In Manual, the sub remains powered at all times if the main Power switch is On. In Auto the HTB2 turns on when it senses a signal, and off (with an appropriate delay) when it does not.
You'll note the absence of the usual Level control and adjustable low pass filter in the HTB2. KEF anticipates that you will use your own AV receiver for these functions. There is a fixed low pass filter in the sub, but at 250Hz it's high enough not to interfere with the 80Hz crossover setting KEF recommends.
The Wireless Package
The wireless option includes two Class D amplifier modules that fit onto the bottom of each surround HTS5001.2, adding several inches to its height.
To attach them you have to remove the table-mount foot from each speaker. You then slip on the amp, add the included custom fitted spacer to that, then reattach the foot at the bottom. (If you use the speaker with the floor stand you won't need the spacer or the foot.)
LATEST VIDEO