Kaleidescape M500 Player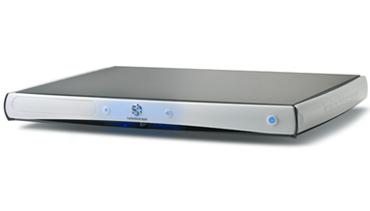 Kaleidescape and I go way back. This is the fifth time I've had one of its systems in for review, and I must say, the company's products just keep getting better and better. (If you aren't familiar with Kaleidescape, here is a review of its Mini System and another of its 1080p Movie Player.)
The company recently launched two new M-class players, the M500 and M300, which are capable of playing Blu-ray content and importing it to Kaleidescape servers. The new Profile 2.0 players are fully compatible with all of the company's existing systems. (No, they are not 3D-capable.) After years of waiting for Kaleidescape to support Blu-ray, I was eager to check one out.
SETUP
Kaleidescape greatly simplified installation for me by sending a fully racked, pre-built system. I only had to plug in power and Ethernet cables and run an HDMI link to my surround sound processor. My review system included a 1U server with 6 Terabytes of storage ($11,230), the new M500 Blu-ray player ($3,995), and an old Mini Player (which I requested for comparison).
The M500 doesn't look much different than Kaleidescape's previous 1080p player. The only differences are that the Kaleidescape logo has been slightlychanged, and a single USB jack (currently not used) has been added to the back.
Due to bandwidth intensity — up to 54 megabits per Blu-ray stream — Kaleidescape "strongly recommends" a Gigabit network. And you can plan on chewing up tons of storage capacity with Blu-ray titles: According to the company, an average Blu-ray disc eats up about 37 gigabytes. Disc importing takes roughly an hour for Blu-ray, and 25 minutes for standard DVDs.
Setup needs to be carried out over a home network via Kaleidescape's Web interface. Options here are the same as with any other Blu-ray Disc player and include Deep Color, internal audio decoding or bitstream output, and video display resolution (various options including 1080/60 and 1080/24).