Kaleidescape M-Class Blu-ray Server System
As an A/V enthusiast, you might well be familiar with
Kaleidescape
, a California-based maker of high-end movie servers.
UAV
hasn't covered its products lately because we are dedicated to high def, and they have been limited to serving DVDs—until now. The company today announced the introduction of full support for Blu-ray with its new M-Class architecture.

All components in a Kaleidescape system—importers, servers, and players—are connected to a home's Ethernet LAN and communicate with each other seamlessly no matter where they are physically located. To load Blu-ray content onto any of Kaleidescape's servers, you need the new M500 player, which includes an optical-disc drive that can accommodate Blu-rays, DVDs, and CDs.

Once the content is on a server, it can be played back by any M500 or smaller M300 player—which includes no disc drive—on the network. If HDMI is selected as the primary output, Blu-ray content is played at 1080p (including 1080p/24 if that's what's on the disc) and DVDs are upconverted to 1080p, while the component output is limited to 480i. On the other hand, if component is selected as the primary output—say, for older TVs and AVRs without HDMI—Blu-ray material is streamed at 1080i and DVDs are not upconverted.
Content on the server is a bit-for-bit duplicate of the video and audio data on the original disc, so how did Kaleidescape get around Blu-ray's copy protection? By requiring that the disc be present in an M500 player when playing a title from the server, which prevents users from copying rented or borrowed Blu-rays.
Of course, having to insert a disc into a player to watch the content defeats the whole purpose of a movie server, so Kaleidescape is developing a large-capacity loader that will hold at least 100 discs. This device will allow bulk importing and keep the discs in the system so you don't have to insert one every time you want to watch it. The disc loader will be available in the first half of 2011, but no pricing has yet been announced.
Interestingly, the M500 can play recordable Blu-ray discs (BD-R and BD-RE) directly, but it can't import them to a server, nor can it play or import AVCHD content. These capabilities could be added in an automatic firmware update.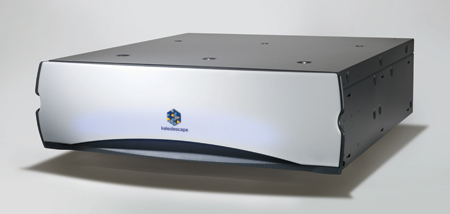 Any of Kaleidescape's current servers, which consist of an enclosure populated by 2TB hard-disk cartridges, can accommodate Blu-ray content in addition to DVDs and CDs. Two models are currently available—a larger 3U unit (pictured) with a maximum capacity of 600 Blu-rays or 3600 DVDs and a 1U unit with a quarter as much maximum capacity, depending on how many hard-disk cartridges are installed. Both models require up to 54 megabits per second of network bandwidth to stream high def and can serve up to five simultaneous Blu-ray streams on a well-designed gigabit network. (The system can stream only one Blu-ray movie on a 100Mbps network.)
All modern audio codecs are supported, including Dolby TrueHD and DTS-HD Master Audio. The player can decode the audio to 5.1-channel, 48kHz PCM or pass the bitstreams on to an external decoder, which provides up to 7.1 channels at 192kHz, but it doesn't send secondary audio in this case. The players also provide S/PDIF and analog 2-channel outputs for decoded audio, though the S/PDIF output is limited to core DTS or PCM.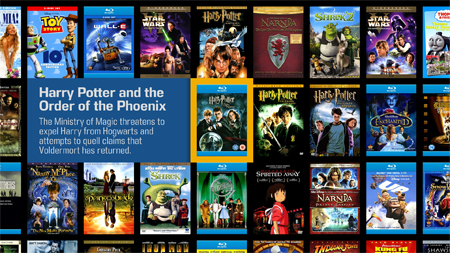 Another critical component in the M-Class architecture is an updated, high-def user interface. You can view the stored library as an array of cover art or in a list, and Blu-ray titles are clearly identified. With TV shows, you can select any episode directly, and you can display lots of info about any title thanks to the company's extensive database with more than 3300 Blu-ray titles and 135,000 titles in all.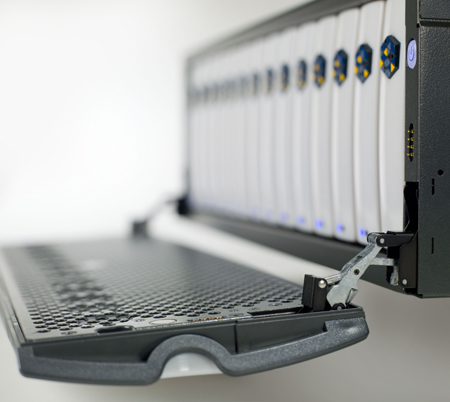 If you know Kaleidescape at all, you know that its systems aren't inexpensive. Of course, the price depends on the configuration and ranges from about $14,000 for one M500 player and one 1U server with storage for 50 Blu-rays or 300 DVDs all the way up to over $130,000 for a 20-zone system with 10 M500s, 10 M300s, and two 3U servers with capacity for 1200 Blu-rays or 7200 DVDs. That's a lot of dough, but it buys a lot of media-server capability, and I look forward to checking it out as soon as I can.