JVC SU-DH1 Headphone Surround Adapter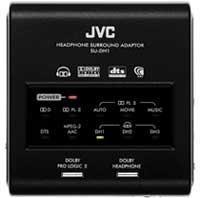 Here's the deal: It's late, the kid's in bed, the wife is reading, and I'm dying to watch the new Rob Zombie gorefest The Devil's Rejects on DVD. No chance of firing up the full surround sound rig under such conditions, but, hey, there's Dolby Headphone. This technology takes 5.1-channel soundtracks and uses advanced signal processing to bring the experience of hearing them in real space to stereo-headphone listening. Some recent-model receivers incorporate Dolby Headphone, but you can also use an external processor like the JVC SU-DH1 headphone surround adapter.
The battery-powered SU-DH1 has a digital input that lets you plug in a DVD player via a cable with a mini-Toslink connector (sold separately for around $10-$20). There's also an analog input cable that coils under the adapter and can be pulled out to connect to a laptop computer or other device. Two buttons on the top let you select the JVC's various modes: Dolby Headphone 1, 2, or 3, and Dolby Pro Logic II Movie or Music.
You'll need a digital connection between your DVD player and the JVC SU-DH1 headphone surround adapter to take advantage of its Dolby Digital and DTS processing modes. With the JVC hooked up to my headphones and its DH1 mode selected, movie dialogue sounded lifelike and the soundtrack had a proper sense of three-dimensional space. And dynamics were just what I'd expect from a real 5.1 speaker system, with low-frequency (.1) effects - something that's lost during regular headphone listening - strongly evident in the mix.
The JVC SU-DH1's Dolby Headphone 2 and 3 modes added too much unnatural-sounding reverb to dialogue, and when I combined Pro Logic II Music processing with any DH mode for listening to stereo music tracks (such as those from an iPod), they made the vocals sound disembodied. But when it came to watching movies with Dolby Digital or DTS soundtracks, the JVC's DH1 mode consistently delivered a satisfying approximation of discrete 5.1-channel surround sound.
Fast Facts
$130 / 3.3 x 0.8 x 3.5 IN / 4 OZ / JVC.COM / 800-526-5308
BOTTOM LINE
Whether you're on the go or at home, the JVC SU-DH1 headphone surround adapter will bring realistic 5.1 surround sound to your headphones. Once you've experienced it, there can be no going back.
Watch This adapter in action!
LATEST VIDEO