JVC 3D Projectors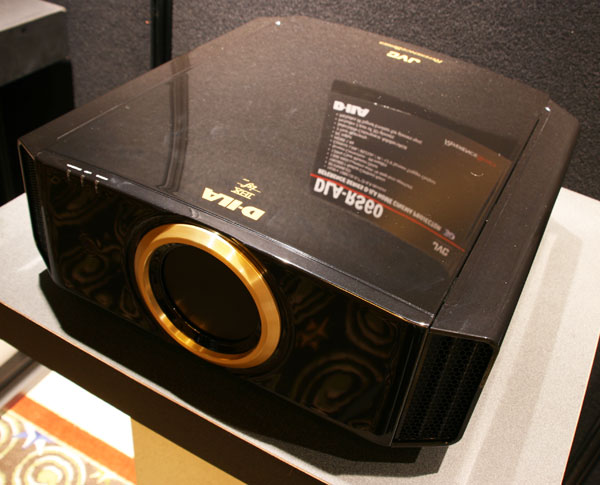 JVC's press conference was full of 3D projectors—six in all, though in typical JVC fashion, the company's pro and consumer divisions each offer the same projector with different model numbers, which means there are really three new 3D models, all of which use active-shutter glasses.
At the top of the heap are the DLA-RS60 (from the pro division) and DLA-X9 (from the consumer division), which use a new short-arc lamp to pump out 1300 ANSI lumens, 50 percent more than the previous generation. A new optical system helps these puppies achieve a native contrast ratio of 100,000:1 without a dynamic iris, and other features include a new 7-axis color-management system (primaries, secondaries, and orange for fine tuning skin tones) and a redesigned 120Hz Clear Motion Drive system that inserts black frames between image frames to lower black level and reduce crosstalk. Also provided is an internal database of screen characteristics that optimizes the projector for the specific screen being used.
The RS60/X9 will list for $12,000 when it ships in November, and it will include two pairs of glasses and an IR emitter. The RS50/X7 will be $8000 with a contrast ration of 70,000:1 and no included glasses ($180 each) or emitter ($80), though it is ISF certified like the flagship. At the entry level is the RS40/X3 with a contrast ratio of 50,000:1 and no ISF certification for $4500.
The 3D demo used an RS40 on an 8-foot-wide Stewart Studiotek 130 screen showing Despicable Me. It looked as good as I've seen that movie, which isn't saying much, given its poor use of 3D. Also on display was the RS60 in 2D mode, which looked spectacular.
LATEST VIDEO