Johnny Mathis Shares the Secrets of Recording His Golden Voice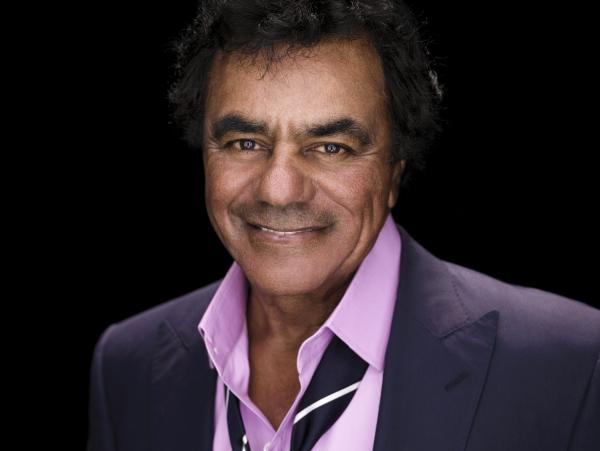 Standards: Somebody has to set them. And when it came to creating the 20th-century template for how to properly sing popular music, one need look no further than Johnny Mathis, the romantic, soulful tenor whose range and control remain just as vibrant today as when he began taking lessons in the San Francisco area in the 1950s from opera singer and vocal teacher Connie Cox. "The most important thing she felt for me as a young singer was she didn't want to harm my voice," explains Mathis. "One day I'd come into the studio sounding like a little girl, and then the next day I sounded like [baritone bandleader] Billy Eckstine. She was very, very conscious of not rushing me into the full male voice. We tiptoed around a little bit until I was about 15 or 16 and my voice settled in. Along the way, I sang 'easy' songs, and then we gradually evolved into singing opera and a lot of big, bold type of music."
Mathis was so immediately well-received as a singer and performer that he became synonymous with the concept of putting together the greatest hits album, something he and noted Columbia Records vice president and producer Mitch Miller pioneered on March 23, 1958. "That album came about because I had my first opportunity to go to England, and I wasn't around when Mitch Miller wanted to release new music," says Mathis. "So he took the first five or six songs I recorded as singles and put them together in one form, and called them Johnny's Greatest Hits." Ultimately, the 12-track Johnny's Greatest Hits spent a then-unprecedented 491 consecutive weeks on the Billboard 100 albums chart. And the hits kept on a-coming, as Mathis has sold over a staggering 350 million albums to date.
And now, seven decades (!) into such a storied career, it only seems fitting that a four-disc collection called The Singles (Columbia/Legacy) brings together 87 of his best-loved songs, including such timeless, indelible classics like "Chances Are," "It's Not for Me to Say," and "The Twelfth of Never" alongside rare but chart-busting gems like "Wonderful! Wonderful!" And it's certainly no accident that the following phrase appears in the upper-right-hand corner of the cover, right underneath the gleaming old-school/vintage Columbia logo: "Guaranteed High-Fidelity."
Mathis, still quite spry at 80, called me from his residence in Los Angeles to discuss harnessing his influences to create his original vocal style, his singular microphone techniques, and the songs he still loves to sing. Chances are, you already know many of them by heart.
Mike Mettler: You were always behind the idea of making full albums in the early days, right? You weren't into the idea of just cutting filler tracks, which was kind of the standard operation at the time. You viewed the album as a complete concept.
Johnny Mathis: Yeah. I got a chance to sing in a way that was not so bombastic on the albums. It was a little bit more pleasant. With a single record, you were always looking toward "bam bam, thank you ma'am," you know? You had to make sure the decibel levels were up. The albums gave me a chance to smooth things out, and people could hear me sing a little "easier."
But as soon as I had a little success with my albums, whenever I was available, they would get me in the studio, and we'd do some singles. (laughs) Some of the songs were pretty far out, and some of them were pretty good.
Mettler: It's interesting that you mention decibel levels. Did you always have a sense about how consistently things with your material had to sound to your ear, especially considering the time-span of this collection?
Mathis: Well, right from the beginning, my big heroes were really quite extraordinarily gifted singers like Nat [King] Cole. I tended toward the jazz singers who sang beautiful ballads, and most of them were also really good musicians. Some of them were good singers, but I had an affinity for jazz singers who sang popular music. That was the way I wanted to approach a lot of the album stuff. Sometimes, they would want me to do one "element" in the albums, like "Songs from the '50s" or "Songs from the '60s," or whatever. (chuckles)
Mettler: You got to record with some serious players right from the start.
Mathis: I was signed [at age 19] to Columbia by George Avakian, who was in charge of jazz. The first recordings we did were with some extraordinarily gifted jazz players like John Lewis of the Modern Jazz Quartet, [saxophonist/producer] Ted Macero, and, oh gosh, [pianist/composer] Gil Evans. What eventually happened was the record company wanted to take a chance and see if I could sell some records, because I certainly wasn't going to sell doing the jazz stuff; it was too esoteric.
Anyway, I got a chance to make some single records, and [vice president/producer] Mitch Miller was in charge of that department. He was a little bit new and looking to make a name for himself, and he finally did with that singalong program he had on television [Sing Along With Mitch]. He had some good ideas as far as how he wanted me to sing — pretty straight-ahead, with no embellishments.
I was a kid, and I took it to heart. I was very happy to have some direction, because I had no idea. I got along with him pretty good, and we made some hit records in the beginning, yeah.
Mettler: Right, just a few small hits like "Chances Are," "It's Not for Me to Say," and "The Twelfth of Never," songs that we consider to be standards today. And wasn't that actually one of your ideas — that you wanted to set the standard for pop material?
Mathis: (chuckles) I wanted to sing in a pleasant manner. My dad Clem was a wonderful singer — but, of course, nobody heard him because he had seven kids! I wanted to sing like my dad — very conversational. He never sang above a level where you'd be fighting with the horses, you know?
I had grown up listening to my dad, and that's who I wanted to emulate. And with these little love songs, I got an opportunity to sound that way, and it kind of stuck with me.
Later on, of course, I utilized the operatic training I had from my voice teachers, and branched out a little from there. But from the beginning, most people think of me as a ballad singer.
But, gosh, I wanted to sing everything! And then I started studying voice with an opera singer, starting from when I was about 13, for about 5 years. She influenced me a great deal.
Mettler: Was that Connie Cox?
Mathis: It was.
Mettler: How did she help you develop?
Mathis: The thing she did is she introduced me to all aspects of music, so by the time I got to record at Columbia, I was pretty rounded in my musical tastes. I grew up listening to jazz at The Black Hawk, and then with the elements of my dad singing the country & western stuff and stuff from the Midwest. And then I had the influence of my teacher, who wanted me to do Leontyne Price, Beverly Sills, Richard Tucker, and Luciano [Pavarotti]. I was all over the place, vocally.
Mettler: I'd say that all actually influenced your style, because you had all these things you could channel into your own unique vocal vibrato, which has a level of emotion to it that a lot of people connect with.
Mathis: I was aware, right from the beginning, of all kinds of influences. If I got bored of whatever was on the hit parade at the time — she traveled all of the time with her boyfriend, and she'd come back with these lovely Mexican songs. I loved trying to sing in different languages.
Mettler: You've been singing professionally for 60-odd years, so there must be some sort of regimen you have to keep your voice in shape. You haven't lost a step, or key, or anything. What's the secret, John?
Mathis: The habits that I had growing up — like most kids, they seem to stay with you all your life. From the very beginning, I was an athlete, and almost got to go to the Olympics as a high-jumper. I had a lot of good habits physically. I didn't mind the workout routines I had to go through. I've kept those. I've been working out now with a trainer for 13 years. I realize that I've got to be sound physically to support the tones. I've been lucky. I haven't had any real vocal problems. I found out very early on what I could do and what I couldn't do as a daily routine to retain my voice. There were a couple of instances where I got laryngitis, and it was the most horrible feeling in my life. Something that was me was gone, and I was frightened to death. That scared me into a process of taking care of my voice. No matter where I was, I was very conscious of the fact that I was going to have to sing relatively soon, so I've been a little bit fanatical about it.
When I started having hit records, I used to go to the opera, and I had a chance to go backstage and meet the singers. And they told me exactly what I just told you — you're going to want to sing all your life, so be a little fanatical about taking care of your voice. (chuckles) They did some extraordinary things vocally to maintain their voices, like go for long periods of time and not talk. Along the way, I had to find out what works for me.
Mettler: You're playing a long game as a singer. Some singers start out as shouters before they learn what they're doing, and then they have to take themselves down a few steps as they get along further in life, because they can no longer reach those notes.
Mathis: A lot of it has to do with who your influences are in the beginning, when you're thinking about singing and making it a career. I was lucky. My teacher told me, "If you want to sing for the rest of your life, this is the way we do it."
Mettler: Another thing I think that's impressive is that there's a level of sound quality maintained over the years in your recordings, and what listeners expect to hear with your music.
Mathis: Well, you know, I never realized how fortunate I was to record most of my music in that fabulous 30th Street Studio [in New York]. It was a rehashed church, and Columbia bought the property and started to record there. [Leonard] Bernstein was there, and then all the great Broadway shows that Columbia started to invest in.
I used to follow Mahalia Jackson into the studio! That studio had a natural sound, which still hasn't been replaced in my later recordings. I couldn't understand why they couldn't replace that sound. But that was the best thing that could have happened to me as a singer — to do my first recordings in that studio.
Mettler: A lot of studios try to replicate that church feel. Certain songs reverberate in that kind of space, and even that physical architecture lends itself to better recordings in a lot of ways.
Mathis: I remember talking to a lot of singers over the years who, like myself, have traveled all over the world, and how fanatical they were about wanting to record in certain places because the sound was so wonderful in those "temples," so I sort of agree with that.
Mettler: I want to get into some specific songs of yours. "Misty" originally on 1959's Heavenly; the single reached #12 in 1959] is one of your standards, and I think you've said that one high note was improvised. It just came to you in the moment, is that right?
Mathis: So many of the little eclectic things that happen in my instance have been just a little quirky. (chuckles) That was one of my first times where I was the person who was overseeing every aspect of that particular song. I had grown up listening to Erroll Garner at The Black Hawk in San Francisco, and he befriended me from the time I was 12 or 13 years old. I heard him play this song, and there were no lyrics until Johnny Burke later on wrote those lovely words. I had an opportunity to record it, but we ran out of time. There was only 3 or 4 days for those sessions, and I had to beg the engineers to stick around to record the song because Erroll Garner's business manager was sitting there waiting for me to do it. (chuckles)
So I took a shot at it, and it was ok. The next time, for another take, I wanted some way to be near the microphone while the instrumental was being played. Instead of running back to the microphone, I started my note away from the mike, and then walked into the microphone. That's how that song came about, because you really couldn't tell the engineer you wanted to sound like you were coming in from outer space. (both laugh) They had too many other things to think about, and the equipment wasn't what it is today.
And I was thrilled we had such success with that recording because I loved Erroll Garner; he was such a wonderful person.
Mettler: Sometimes your physical relationship with the microphone itself plays a role in how you emphasize certain notes.
Mathis: Yes! From the time I first started to sing on a microphone, in many instances, the qualities of the microphones when I was a kid were horrible, absolutely horrible. I wanted people to hear the natural sound of my voice, so on many occasions, I'd use the mike just very sparingly, and got accustomed to singing in the manner that I considered natural-sounding, rather than to be swallowing the microphone in the way some people do.
Mettler: You have such a conversational tone as a singer, that we feel like we're sitting next to you as you're telling a story. In "Misty," in the line that goes "ever knowing," "ever" is a little bit lower in register before you go to the next line. That had to be quite deliberate.
Mathis: Right, right. It's so much more interesting to the listener to have a few instances in that you're singing to keep their attention — to sing in a manner in which the song and the lyric would give you more of an understanding of why you're singing it softly, or why you have a little more emphasis on certain things.
I enjoy the aspect of really trying to bring the listener into where I was and keeping them in the mood you're in. Sometimes you get a little bit too involved, and then you hear the playback and it's too sweet, so you go, "Come on! Spice it up a little bit!"
There are so many aspects of singing that I had to learn because I had no idea until I heard it played back: "No no no, it's too dragged out!" — even though it's a ballad. Somebody told me, "Remember, they can't see you," so you have to make it very specific. When you're singing in person, people are watching you, and you can get away with murder sometimes, with your accents. When they can't see you, it has to be done where you can keep their attention.
Mettler: To me, a perfect song to embody that idea is "Wild Is the Wind," where every syllable has its own importance. [Released in 1957 as the title track to a Paramount film, "Wild Is the Wind" reached #22 in 1957, and was later covered by artists like Nina Simone and David Bowie.]
Mathis: Right, right! I remember specifically that particular song by the wonderful composer Dimitri Tiomkin, who wrote (sings), "Do not forsake me, oh my darlin' " ["The Ballad of High Noon," from the film High Noon, 1952]. He could hardly speak English. The song Dimitri gave us was 150 bars long — that's very, very long! The wonderful piano player Joey Masters picked it apart and took this part and that part, and made it 32 bars. I remember Dimitri saying, "Yes, yes, you can do anything you want!" (laughs)
Mettler: "Wonderful! Wonderful!" was a song that was only a single [in 1957; it reached #14], and hasn't really been available again until now.
Mathis: I love that song. To this day, it's one of my favorites. It's very unpretentious, and I always think of the East Coast. I think of it as a beach song.
Mettler: So when you're singing the line "walk by the sea," you're thinking of the Atlantic Ocean rather than the Pacific?
Mathis: (laughs) Yes, the East Coast! I never even thought of the West Coast; how strange! But I do sing it in a truncated way now in all of my performances. I just do it with the rhythm section, because it's a charming little song. And people love it; they love it!
Mettler: Is there a favorite gem that you rediscovered when you were going through the material for this collection?
Mathis: I had no choice in all of this stuff! It was chosen by someone else, and I didn't even remember recording a lot of it. But there are a couple that I thought were absolutely wonderful. There were a few things Jerry Fuller and I did together [like 1973's "Walking Tall" and "Turn the Lights Down"]. We became buddies later on.
There are a couple of things that are so simple, but they're so well done. I'm amazed that I could concentrate that much. When you're young and you're recording a lot as I did, you can sort of get into a rut where you just run in and do the song, and that's it. But I really concentrated a lot, and there are three songs that I play over and over again and I think, "How could I possibly concentrate and be that dedicated at such an early age?" That had a lot to do with who I was working with.
There were a lot of instances where I wasn't really crazy about the song we were going to do. In most instances, the writer, producer, or whoever was in the studio there with me would say, "Now, hang in with me. I think we can make a really, really good record." I didn't quite understand what they were talking about. I said, "If I don't like the song, how are we going to make a good record?" Maybe I wasn't familiar with the genre of the song, or maybe I was too "excited" for this unexcitable song. But I was glad that I had the temperament I had to put my feelings aside and go with what they suggested. I've been very happy that I did that.
It's the most amazing thing when the two elements — the voice and the musicianship — come together. When I'm in a quandary about what to listen to or what I want to hear, I listen to someone who does everything so perfectly. And then I realize, it doesn't really matter what the song is, you can always do it at such a high level that it would be in sync with the audience. That's what motivates me — whatever you do, or whatever you decide to do, make sure it is the best of the lot. (chuckles)
Over the years, I've met some of the most extraordinarily gifted people, and they've been aware of my singing and have complimented me on it. And maybe that's a very narrow-minded thing on my part, but that's the thing I think about whenever I'm doing anything. You never know who's listening to you.
A longer version of this interview appears on Mike Mettler's own site, soundbard.com.