Interview: Jakob Dylan's Eagle Ears Page 2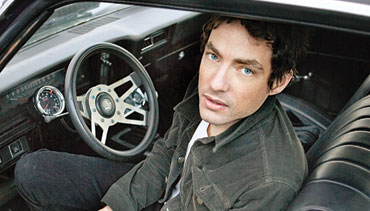 Right. We're not saying this is the only way to listen to a record. Songs can and will come up randomly for people.
For guys like me, putting it together this way is how I get the inspiration for it, and that's what counts for me. I've always seen it that records are records, and that people listen to them a certain way. And certain songs sound great on certain days at that particular time or hour. That's not a "contract," by any stretch &emdash; I mean, I didn't do "The Sound of Silence," where people want to hear it that way for the rest of your life. I can interpret my songs any way I want from here on out. That's more energizing for artists and bands. When I go to shows, I've always appreciated that. The studio environment has nothing to do with the stage environment. You can't reproduce it exactly.

Songs should also be allowed to grow. Twenty years from now, "Lend a Hand" may have a different meaning behind it, or you may play it differently, or have a line that comes to you after living with it for 2 decades or so that fits better at that point. And you should be "allowed" to do that, because it's your piece, your creation.
And hopefully you've written the songs in a way that allows you to do that. I'm happy to have any connection to any song that I wrote at any time. Now and then, certain songs pop up that I'll think, "I don't know if I can get it to- gether to sing that one" &emdash; not because it's too hard to relive it; I haven't gotten that dramatic about any of that stuff. It's just 3-and-a-half minutes of music; I can get with anything any time. But some songs you just lose interest in. You might have written one in an afternoon 15 years ago, and there shouldn't be a responsibility to have to play it ever again. But if it means something to somebody, sure, I can do it; I've always been accepting of that, too. I have favorite songs of mine, but if people are going to get in their cars and get a babysitter to come see me, I can't just go up there and say, "I'm only going to do what I want to do." Otherwise, I might as well just stay home and do it for myself.

My closing thought about Women + Country is that people should spend time with it in a nondistracted way. Maybe that's too much to ask for most people, but not for the S+V audience.
Well, I appreciate that. The people involved with making the record feel the same way. It's a good collective of people, and you can feel it on the record. We could feel it in the room. I could tell while we were recording it that we had something special.
LATEST VIDEO