Installations: Mile-High Fidelity Page 3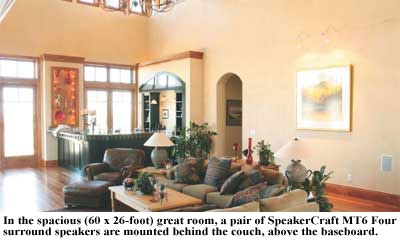 To handle the surround channels, King Systems placed two SpeakerCraft MT6 Four speakers ($725 a pair) low in the walls behind the seating area. A Sunfire True Subwoofer Super Junior ($995), hidden under a table, handles the deep bass. The system is tuned for that primary seating area, "so if you're sitting on the main couch, it delivers the proper surround sound," Adam adds.
Once the system was installed, another issue arose: Sound bleeding from the great room into the kitchen made it difficult for the wife to listen to music when the husband was watching TV. "To minimize the impact, we placed a pair of SpeakerCraft AIM Monitor One bookshelf models ($300 each) in a cabinet area aimed at the kitchen island," Adam says. "We knew there would be a bit of bleeding, but the kitchen is an independent zone, and it can be controlled from a keypad there. Now that the system's in, we keep going back to evaluate it, asking for the customer's feedback and modifying programming or moving equipment."
SOUND ALL AROUND
Audio is available throughout the house. For example, the dining room, formal living room, laundry room, and bar area all have pairs of SpeakerCraft WH6.1R ceiling speakers ($185 a pair) and MKP 1.1 keypads, while the dining-room patio has a pair of WS710 outdoor speakers ($325 a pair) mounted under the eaves, controlled by an MKP keypad. Both the wife's office and the veranda have pairs of SpeakerCraft CRS6 Two ceiling models ($425 a pair), which feature pivoting tweeters that can be angled toward the listening area. The veranda's sound is controlled by an MKP keypad, while the wife's office also has an NKP 1.0 accessory keypad ($60), which adds functions such as the ability to select radio presets simply by pushing a numeric button.
During the early discussions, the owners realized their budget didn't allow for a dedicated home theater, so they put it on hold. "I was really surprised at the cost of the theater," admits the husband. "We're waiting to see where the technology goes, but I think we'll be moving ahead with it." The room is already pre-wired and outfitted with stadium seating. Under consideration are a 120-inch retractable screen; newer, more affordable 1080p DLP projectors such as Optoma's HD81 ($8,000); and a control system that can handle the retractable screen, automatic blinds, and lights.
LATEST VIDEO