Installation Snapshot: Multipurpose Room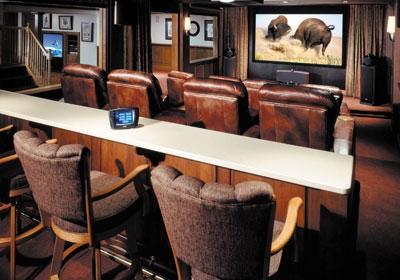 Home theater or place to party? These days, folks are opting for both when renovating a basement or a media room, says Scott Jordan, systems consultant for Piscataway, New Jersey-based Electronics Design Group (edgonline.com; 732-650-9800).
"A multipurpose room like this becomes a destination in the home, and as the kids become teens, it's the place where all the kids in the neighborhood want to hang out. The parents don't mind investing in it because then they know where their kids are on Saturday night. All they have to do is buy chips and drinks." And about $85,000 worth of electronics.
At least that's what this home­owner in nearby Holmdel did. As a sports enthusiast, he wanted a room that could not only handle parties for "big game" events like the March Madness college-basketball tournament but also - when guests were not around - serve as a dedicated home theater. The installation was more than a success; it won a 2006 CEDIA Electronics Lifestyles Award.
To create this versatile lower level, EDG mapped out an eight-seat theater with a bar area (providing four additional seats). A wall of large glass windows and oversized doorways was constructed to separate the entertainment area from the theater. With these openings, viewing the screen is possible from anywhere in the lower level. Motorized shades and draperies, using both Lutron and Somfy systems, were chosen to cover other windows and entryways.
A Runco VX-1000D front projector is paired with a Stewart Filmscreen 100-inch Firehawk screen. There are two B&W Nautilus 802 Matrix floor-standing speakers, a Nautilus Matrix HTM1 center channel, and four Nautilus SCM1 on-walls, all complemented by an ASW850 1,000-watt sub. Other gear includes a Krell Showcase 7.1 surround sound processor, a Rotel progressive-scan DVD player, and a wireless AMX color touchscreen control panel.
The installation offers the flexibility of an open floor plan with the intimacy of an enclosed theater. And there's certainly enough room for a few S&V editors to come over for one of those big games. Count us in for the Super Bowl!
More Installations Articles Back to Homepage What's New on S&V