Inner Workings: Inside an In-Wall Speaker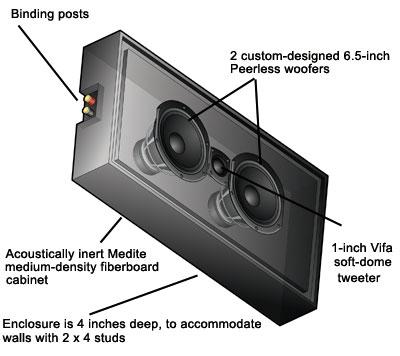 In-wall speakers have come a long way since the first models, which were essentially re-purposed car-stereo speakers. That dramatic improvement over the past decade is due largely to the boom in "architectural" audio products driven by the advent of flat-panel TVs, any-room home theater systems, and whole-house audio. Although sound quality takes a back seat to appearance in many installations, a growing number of high-performance in-wall speaker systems from well-regarded brands can give their freestanding counterparts a run for their sonic money.
Among these companies is Triad, which has been crafting high-quality in-wall and on-wall speakers as well as conventional monitors for 25 years. Triad's speakers are available mainly from custom installers, and almost all of them are built to order. Whereas many in-wall speaker suppliers assume that sound quality is going to be secondary, and build and price their models accordingly, Triad starts with the premise that there's no reason an in-wall model can't sound as good as a freestanding one.
Any maker of in-wall speakers has to deal with the often harsh environment into which its product is placed. Many companies either use the wall cavity as the enclosure or offer back boxes to try to tame some of the space's inherent sonic inconsistencies. But Triad's models have completely engineered, sealed enclosures, much like those for freestanding speakers. This has two main benefits. Since the speaker's performance is more predictable, it can be fine-tuned. And sound doesn't bleed as readily into adjacent rooms - a common issue with open-backed models.
Take, for example, Triad's InWall Silver/4 LCR model, which is designed for use as the front speaker in home theaters with a wall depth of at least 4 inches. (There's also a 6-inch version.) The enclosure is made of dense, acoustically inert Medite medium-density fiberboard (MDF). Rather than screw the pieces together, Triad glues and then cures them to form an airtight, sealed cabinet. An extensive network of internal braces imparts structural rigidity and helps eliminate standing waves. Several types of foam are used inside the enclosure to eliminate internal reflections (which can exit through the woofer cones, coloring the sound).
Almost all of Triad's speakers use drivers built specifically for the company by well-regarded Scandinavian suppliers. For example, the Silver/4 LCR has two Peerless 6.5-inch woofers and a Vifa 1-inch soft-dome tweeter, arranged in a D'Appolito array, where the tweeter is flanked by the woofers. The crossovers are mounted on the rear of the enclosure, along with the speaker terminals. The Silver/4 LCR is fully magnetically shielded and finished with a curved metal grille that can be painted to match any color. The speaker can be installed either during construction using new-constriction brackets, which mount between standard wall studs, or in existing walls using slide-out retrofit brackets.
Triad speakers aren't cheap - in-wall models range from $500 to $3,650 each - but you'd be hard-pressed to find another speaker in that price range with a comparable balance of performance and appearance.
Read Last Month's Inner Workings Back to Homepage What's New on S&V