HT Talks To . . . Morgan Spurlock
The creator of
Super Size Me
continues to break new ground with his TV Show 30 Days, letting viewers see what life is really like in someone else's shoes.
For Super Size Me, the Academy Award–nominated documentary with a bold premise and the director as a guinea pig, Morgan Spurlock ate nothing but McDonald's for 30 days and limited himself to the minimal exercise of the average American. He miraculously survived, with quite a story to tell. His success brought the opportunity to try a variety of even edgier eye-opening, month-long sociocultural experiments, in some cases aided by thoughtfully chosen volunteers, for his series 30 Days on the FX channel. With season one now on DVD from Fox and season two underway, Spurlock gave us 30 minutes to chew the fat.
Much of what makes your work special is your personality. You are, in a sense, the anti–Michael Moore. Have he or any other documentarians influenced your work?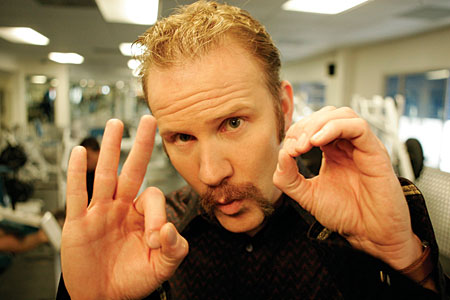 Michael was a tremendous influence on my work, as were a slew of other doc filmmakers, like Errol Morris, Steve James, and Barbara Kopple. But I was heavily influenced by many narrative directors, as well, such as Stanley Kubrick, Elia Kazan, and Frank Capra. Michael really showed me that you could make a documentary that has a sense of humor, that sometimes it's all right to go for the joke. For me and my sensibilities, that was a breakthrough.
It's a gift to find humor in situations where most people, well, just wouldn't.
Well, I think that comes from my parents. When we were growing up and things got hard, they never seemed that bad. Both my folks always had a sense of humor about everything, and I firmly believe that will get you through more rough spots in life than anything else.
You were a production assistant on Luc Besson's The Professional?
Yeah, that was the first film I worked on after I graduated from film school. I also worked on a bunch of other films where I went uncredited but was fortunate enough to be near some great directors, if even for only a month or so, like Woody Allen on Bullets Over Broadway, Barbet Schroeder on Kiss of Death, and Herb Ross on Boys on the Side. I learned so much working for other people over the years.
Is now the right time for your show because people have become more closed-minded and need this enlightenment, or because they are genuinely curious and want to learn about other ways of life?
I think it's a combination. When you look at most reality television, we have lived through an era of humiliation and gross-out ratings to find ourselves wanting more on the other side. I think most of us, when given the chance, will be open to other people and other experiences. Unfortunately, most of us have been closed off from them in our lives due to a variety of influences, both geographical and economic. This show serves as a catalyst to begin difficult conversations by making the topics accessible and also gives you and me the chance to live vicariously through the person going on the journey.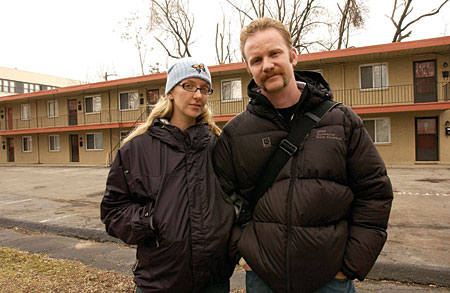 But why did you have to pick a place so cold to try to live on minimum wage for a month?
Believe me, we thought it would be in the 40s in Ohio in March, but we were met with a rude awakening. And think about this: As cold as we were walking to work or working outside, there was a cameraman—a camerawoman, actually—following us around! But she at least got to go home to a warm bed in a non-ant-infested hotel at the end of the day.
Where do you manage to keep finding people willing to submit to these challenges?
Casting a show like this is a tough proposition, because you can't just have an open cattle-call audition like American Idol. The last thing we want is someone who just wants to be on TV, but we still cast a very large net. We contact groups surrounding both sides of an issue and have them post requests on their message boards or mailing lists. Or, if we know we are looking for someone from a certain region, we may reach out to local media in some of those markets for help. But our show is different; no one's walking away a millionaire, so the fat gets trimmed away pretty quickly. After a few weeks, we're left with a handful of strong possible candidates who are into the project for all the right reasons: personal growth, curiosity, education, etc.
Have there been any themes this season where you said either, "I wish I was the person going through this experience," or, "I am so glad this won't be me!"?
I would have loved to have gone to India for the outsourcing episode, just because I've been dying to go there, but the guy we picked was by far the best choice. His job was outsourced to India a few years before, and he's been searching for gainful employment in the States ever since. So, to see someone who was directly affected by corporate outsourcing actually go to India to search for his job was pretty amazing.
Have any subjects been too controversial, too outrageous, or just plain taboo?
No, thank goodness. If we were on network television, I have a hard time imagining any of the big four being on board with some of the topics we're doing this year, like abortion or atheism in America. That's why I have so enjoyed working with the FX Network on this show.
What can we look forward to in Season Two?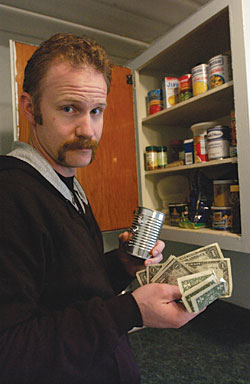 Well, I didn't think it would be possible, but season two is even better than last season. This year, we tackle immigration—by having a Minuteman move in with a family of illegal immigrants—outsourcing, atheism and Christianity in America, abortion, New-Age medicine, and the U.S. jail and prison system, where I personally got sentenced to 30 days in the big house.
I'm sure you know this, but you're very lucky to have a special someone to join you in these adventures.
I was lucky to have [my girlfriend] Alex [Jamieson] with me last year. . .but, this time, I had to go to jail all by myself. Cue the Eric Carmen song.
My one annoying technical question: Why is the DVD of Super Size Me widescreen but not anamorphic?
That's a good question. I'll call Rupert Murdoch to find out.
Are you really playing a fast-food-restaurant manager in the upcoming horror film Drive-Thru?
Yes! A friend of mine called and asked if I would be into it, and I jumped at the chance. I love horror films, and I thought it would be hilarious. In fact, it was the moment where the guy's head exploded in Scanners that made me want to make movies. I saw that movie in the theater when I was 10 years old! My mom should win the Coolest Mom of All Time Award for taking me to see that.
Can you tell us how your next film, The Republican War on Science, is shaping up?
We are in preproduction right now and are hoping to start shooting this fall. If everything works out, this could be in a theater near you next spring or summer.
LATEST VIDEO