High-Power Remotes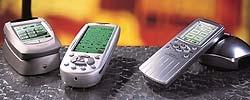 Unbelievably, in the distant past, primitive humans had to get up and walk across the room to change channels on their TVs. Then they invented fire - and remote controls. Today, languishing in our high-tech La-Z-Boy recliners, we wonder how our ancestors ever survived. From our sedentary positions, we also wonder why we seem to gain an extra pound every weekend.
It's almost impossible to imagine operating an A/V receiver, DVD player, or even a TV without a remote. Today's home-entertainment products have so many features, and there are so many channels even on basic cable, that if you took away our remote controls, we'd have to spend our time channel-surfing or choosing favorite CD tracks crouched in front of the TV or electronics stack.
The trouble is, now that virtually every A/V component comes with a remote, even in a modest system there are too many of them! And if you're lucky enough to grab the right one from the coffee table, you still might not be able to do what you want right away if it isn't one you use frequently. Unlike computer keyboards and telephone numeric keypads, remote controls have no standard layout. So the power button, say, might be on the upper right corner, or the upper left, or somewhere else entirely.
Fast Facts
ONKYO USR-5RF Dimensions (WxLxD) 3 5/8 x 6 x 1 5/8 inches Weight 10 ounces Price $500; BCC-5 docking station, $150; RFR-5 RF receiver, $150 Manufacturer Onkyo USA, 18 Park Way, Upper Saddle River, NJ 07458; www.chadremote.com; 800-229-1687
PROTON SRC-2010 Dimensions 2 5/8 x 8 1/4 x 1 inch Weight 7 1/2 ounces Price $200; SDS-2000DBC docking station, $110 Manufacturer Proton, 13073 E. 166th St., Cerritos, CA 90703; www.proton-usa.com; 562-404-2222
RCA RCU1000B Dimensions 3 3/8 x 7 1/2 x 1 1/4 inches Weight 121/2 ounces Price $130 Manufacturer RCA, 10330 N. Meridian St., Indianapolis, IN 46290; www.rca.com; 800-336-1900
Enter the "super remote," which consolidates many remotes into one, freeing up space on your coffee table for more Doritos. It also frees up brain cells since you'll have to remember how to operate only a single remote instead of half a dozen or more. In addition, super remotes use "soft" (software-programmable) buttons that you can reconfigure based on the specific components you need to control, making the handset more intuitive than one of those all-in-one remotes with a generic button farm.
But is it really possible to merge many remotes into one and still have it be easy to use? Or are super remotes just confusing toys to play with during the boring parts of the movie? To answer that, I rounded up three of them at different price levels and started pressing buttons: Onkyo's USR-5RF ($500), Proton's SRC-2010 ($200), and RCA's RCU1000B ($130).
All three remotes share some features. They all have backlit LCD touchscreens with reconfigurable soft-button displays. The backlighting is more than a convenience. It's a necessity because you can't operate them by feel in the dark - despite the name, touchscreens don't provide tactile feedback the way physical buttons do. Frankly, some users just don't like touchscreens, preferring to use a familiar remote by feel. Fortunately, all three of these super remotes also have hard buttons for controls like mute, channel, and volume that you'll want to get to quickly without drilling down through menus.

Key Features
---