HDTV Year in Review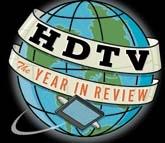 Illustrations by Jack Gallagher
Whether you think the transition to digital television (DTV) broadcasting made a lot of progress in 2002 will depend on whether you tend to see water glasses as half empty or half full. Sales of high-definition digital televisions (HDTVs) gained momentum as prices dropped. But almost 1 1/2 million of the TVs sold to retailers between January and October were HDTV
monitors
, which require an outboard tuner to receive digital broadcasts. Only slightly more than 100,000 were HDTV sets with built-in tuners. At the same time, sales of outboard tuners actually declined as people waited to see how the copy-protection battle between the Hollywood studios and the consumer-electronics and computer industries would play out. Meanwhile, the ranks of DTV stations nationwide grew to 550 by the fall of 2002, which means about nine out of every ten households can now receive digital TV signals (although the amount of actual programming varies by region). That might sound like a lot of stations, but you also need to know that 70% of the commercial broadcasters actually failed to begin digital transmissions by the Federal Communications Commission's mandated May 1 deadline. Most of these stations were in smaller markets, however, with a limited viewership compared with big-city network affiliates. For the first time, cable operators made a serious commitment to carry DTV programming, but ongoing battles with TV makers over standards for compatible equipment threatened to hinder the rollout of both cable-ready HDTV sets and outboard DTV tuners, also known as set-top boxes. In an effort to move things along, FCC Chairman Michael Powell gave the squabbling TV manufacturers, movie studios, broadcasters, and cable and satellite providers a kick in the pants by issuing a set of "voluntary guidelines"-with the implied threat of action against sectors that didn't comply. The TV manufacturers, many of which were initially reluctant to embrace Powell's guidelines, later felt the brunt of his boot when the FCC issued a mandate that all sets include digital tuners by 2007-a move that could drive up the cost of TVs over the next five years. The really good news is that things were changing for the better heading into 2003, as more cable companies pledged to begin offering HDTV programming. Also, several cable and broadcast networks announced plans to deliver major sporting events in high-def, including the Super Bowl,
Monday Night Football
, and both the NHL and NBA playoffs.
JANUARY
Super Bowl Airs in "Fox Widescreen"
High-def set owners who were looking forward to watching Super Bowl XXXVI got a shock when the Fox network broadcast the game not in HDTV, but in "Fox Widescreen," the network's term for its 480p (progressive) enhanced-definition digital programs. Although the picture wasn't true HDTV, it was widescreen and included all the fancy graphics and effects like slow-motion instant replays that viewers are used to seeing in conventional broadcasts. By contrast, CBS and ABC had offered the two previous Super Bowls in true HDTV resolution, but without many of the effects they used in the analog versions of their broadcasts. To provide some HDTV hoops excitement on Super Sunday, Dallas Mavericks owner and HDTV evangelist Mark Cuban arranged for a pre-Super Bowl high-def telecast of his team playing the Los Angeles Lakers. The game was shown on both Cuban's HDNet DirecTV satellite channel and on participating NBC affiliate stations.
FEBRUARY
The Olympics Carry the High-Def Torch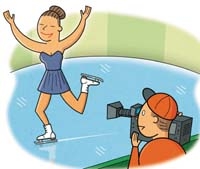 While Fox let down HDTV enthusiasts with its Super Bowl broadcast, NBC's digital affiliates and HDNet came through with true high-def 1080i (interlaced) pictures and 5.1-channel Dolby Digital sound for the Winter Olympics in Salt Lake City. By providing high-def production trucks, the all-HDTV satellite channel was able to strike a deal with NBC to carry the broadcasts. The only wrinkle was that the high-def version had to be shown 24 hours after the regular broadcast because NBC's non-digital affiliates didn't want to lose any viewers to HDNet. There's no question that broadcasting the Winter games in high-def was an important showcase for HDTV, putting its outstanding picture quality in the spotlight and impressing everyone who was able to tune in.
MARCH
Cable Companies Commit to HDTV
Good news came when two of the country's largest cable providers announced plans to add HDTV channels and expand services to select areas. Comcast, which had launched high-definition a year earlier in Philadelphia, added the service in Detroit, Indianapolis, and the Washington Metro/Virginia region. Initial programming included both the major broadcast TV networks as well as the HBO and Showtime channels. In Washington, DC, Comcast also added the regional PBS station, WETA-HD, and Comcast's SportsNet regional sports network. Charter Communications began offering high-def programming in the spring of 2002 in Birmingham, AL; Alhambra/Pasadena and Glendale/Burbank, CA; South Miami, FL; and University Park, TX. By the summer, it had also expanded the service to its Kalamazoo, MI, and St. Louis, MO, markets. Although it wasn't promoted or, in some cases, officially acknowledged, Time Warner Cable and Cablevision had been providing HDTV in select New York City area neighborhoods since 1999. But the high-def channels on Time Warner's systems were encoded with the "8VSB" modulation scheme used by digital broadcasters, which couldn't be decoded by its set-top cable boxes. In 2002, the company began distributing a proprietary Scientific-Atlanta set-top tuner that uses the "QAM" modulation scheme favored by cable systems. The move will allow more HDTV broadcast channels to be delivered over cable as additional programming becomes available and the base of subscribers to digital cable grows.
APRIL
FCC Pushes HDTV Transition
FCC Chairman Michael Powell issued "voluntary guidelines" for broadcasters, cable and satellite providers, and TV manufacturers to help speed up the transition to digital TV. The main thrust of the Powell Plan, as it has been dubbed, is to increase the amount of compelling digital programming and ensure that it will soon be delivered over cable. Powell urged broadcast and cable networks to provide HDTV or some other form of "enhanced" digital TV content during at least half of their prime-time schedules starting with the 2002-03 season. He also called upon local network affiliates in the top 100 markets to pass through digital network programming, including HDTV, by January 1, 2003 without stripping out program-guide data or downconverting it to a lower, non-HDTV resolution. By the same date, satellite TV providers and digital cable systems (those having a 750-MHz or greater channel capacity) were advised to carry up to five DTV broadcast stations or other enhanced digital programming for half of their prime-time schedules. Cable operators were also urged to give subscribers the options of leasing or buying an HDTV-capable cable box with digital connectors such as FireWire or DVI (Digital Visual Interface). Powell's request appeared to go down smoothly with the broadcasting and cable industries. But TV makers bristled at his request that tuners be included in effectively all sets (those with screens 13 inches or larger) by the end of 2006.
MAY
Most Broadcasters Miss FCC Deadline
About 70% of the country's commercial stations failed to meet the FCC's May 1 deadline to begin broadcasting digital television. Most were smaller-market stations that filed for extensions, claiming financial hardship or difficulty in erecting transmission towers. Sen. John McCain (AZ)-the ranking Republican on the Senate Commerce Committee-blasted the tardy stations, calling them "promise breakers" and "squatters on public spectrum." These statements are understandable when you consider the history of DTV broadcasting. The National Association of Broadcasters (NAB) pushed hard to secure the spectrum rights of commercial stations in the digital era, offering HDTV's improved picture clarity as a key selling point in government hearings. By missing the FCC's deadline to begin digital, let alone high-def, broadcasting, the dawdling stations are biting the hand that feeds them.
Cable Gets with the Plan
The National Cable Television Association responded to the Powell Plan by announcing that the nine largest operators would carry at least five TV stations or cable networks that provide high-def or other "value added" digital TV programming. The operators, which account for 85% of U.S. cable subscribers, are AT&T Comcast, Time Warner, Charter, Cox, Adelphia, Cablevision, Mediacom, Insight, and CableOne. They planned to start offering the services along with high-def-capable cable boxes by January 1, 2003. New boxes with digital connectors aren't expected to be available until late 2003. After several years of being strangely silent on the topic of HDTV, the cable industry's newfound support for the format-most likely spurred by competition from satellite-is a welcome development.
HDTV Copy Protection Heats Up
Representatives of various industries converged on Washington to testify on digital TV content protection before the House Subcommittee on Telecommunications and the Internet. Members of the film, television, and consumer-electronics communities announced they had reached an agreement on a method to prevent retransmission of digital broadcasts over the Internet. The scheme-the so-called broadcast flag-is basically the "5C" Digital Transmission Content Protection (DTCP) system originally developed for FireWire connections with safeguards against Internet piracy added. But a group of manufacturers led by Philips objected to the broadcast flag, claiming it would impinge on consumers' fair-use rights by giving studios control over whether a program could be recorded. Philips also contended that the flag would confuse people and would prove expensive, complicated, and unreliable.