HDTV Bargains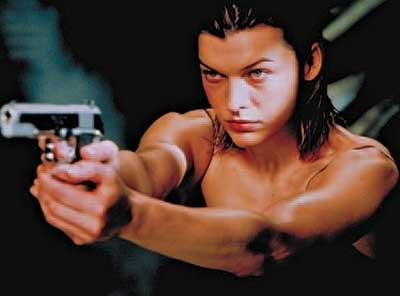 Equipment photos by Tony Cordoza
Once upon a time, HDTVs were really, really expensive. Glancing at Sound & Vision's early set reviews while writing the HDTV segment of "5 for 5" (
click to read this article online
), I was reminded that in the late 1990s some big-screen projection TVs cost $10,000 or more. Ten grand! That kind of loot will buy you a new Hyundai or some classes at a swanky private university. It took a few years for HDTV prices to get in step with the real world, but they're finally settling down. And unlike those early days, when high-def programming was scarce, today there's plenty to watch on broadcast TV, cable, and satellite channels.
The rich colors and menancing shadows in Resident Evil made it a good test DVD for these bargain-priced rear-projection HDTVs.
If you're in the market for a new digital TV, the best deals are rear-projection HDTV monitors with 42- to 47-inch (diagonal) screens. The average price is about $1,600, but if you shop around you'll find them selling for as low as $1,300. To see what you can get at that bargain basement price, we rounded up a trio of TVs: Panasonic's PT-47WX53 ($1,500), Philips's 46PP9302 ($1,600), and Toshiba's 46H83 ($1,700). Each one of these widescreen sets needs to be hooked up to an outboard high-def tuner to display HDTV signals, which will cost you about $400 more unless you're using an HDTV cable box. But once you make the HDTV connection, I'm sure you'll agree that the upgrade was worth it, especially when there's great stuff like football to watch. So let's dim the lights and take a look.
LATEST VIDEO