HDTV Bargains Page 2
Panasonic PT-47WX53Panasonic has a good track record of delivering price-busting HDTVs, and its PT-47WX53 is no exception. This attractive set has a compact cabinet and a silver-framed screen that seems to "float" above a narrow bottom section draped in dark-gray mesh. A group of control buttons and an A/V input are clearly visible directly below the screen, but they don't distract from the TV's clean look. The cabinet's side panel tapers in at a steep angle, but there's still room on top for a compact center-channel speaker. Unfortunately, when I sat on my couch, the set's screen was below eye level, giving me more of a balcony view than a head-on presentation.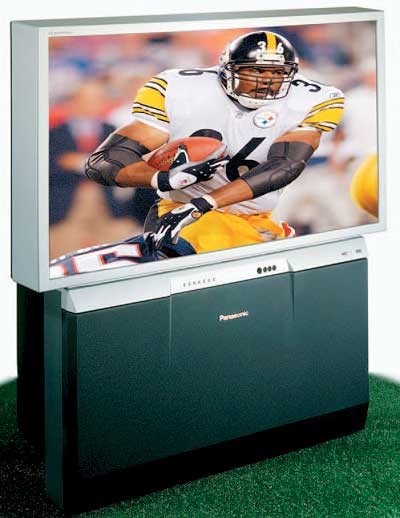 Connection options include two sets of wideband component-video inputs and a copy-protected Digital Visual Interface (DVI) jack for hooking up an HDTV tuner or DVD player. Neither high-def input accepts 720p (progressive-scan) HDTV signals, so you'll need to set your tuner or receiver to deliver all programs in the 1080i (interlaced) format. But that's not a problem since the vast majority of program providers use 1080i.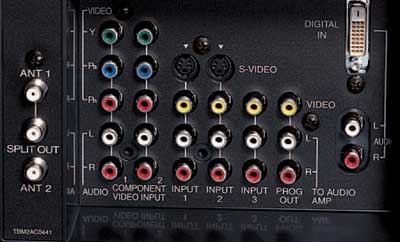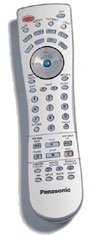 The PT-47WX53's remote control has a fully backlit keypad, and it fit comfortably in my hand. You toggle through the TV's inputs by pushing a button labeled TV/ Video. The Aspect (ratio) button lets you switch between display settings, which include 4:3 (this displays standard programs flanked by vertical gray bars), Full (for HDTV and anamorphic widescreen DVDs), Zoom (evenly expands 4:3 pictures), and Just (horizontally stretches 4:3 pictures).
The Panasonic offers plenty of setup options, including a nine-point convergence control and a setting to turn scan-velocity modulation (SVM) processing on or off. Although SVM, which emphasizes the transitions between dark and light parts of an image, can make analog broadcast channels and VHS tapes look sharper, you'll get a more natural-looking picture by switching it off for high-resolution sources like DVD and HDTV. While you can modify each of the TV's three picture presets and save your changes, you can't store a custom picture setting for each of the TV's inputs.
PANASONIC PT-47WX53
DIMENSIONS (WxHxD) 43 3/4 x 48 3/4 x 24 3/4 inches WEIGHT 180 pounds PRICE $1,500 MANUFACTURER Panasonic, Dept. S&V, One Panasonic Way, Secaucus, NJ 07094; www.panasonic.com; 800-211-7262
After selecting the Warm color-temperature setting and making some further tweaks in the Panasonic's service menu (
see "in the lab" for details
), I put on Sony's Superbit DVD transfer of
The Fifth Element
, a trusted reference disc. The picture looked very crisp, and the set's color rendition was natural. In
Resident Evil
, another movie starring
The Fifth Element
's Milla Jovovich, the colors of the lush curtains and bedspreads in the mansion that the amnesiac Alice (Jovovich) wanders through looked vivid and clean. And when she entered a dark hallway, I could see patterns in the ceiling tiles all the way to the end of the hall - a good demonstration of the TV's ability to draw out fine shadow details.
The Panasonic also proved to be a standout performer with HDTV. Watching the Steelers play the 49ers, I could clearly see the texture of the stadium's green turf. And when the camera swiveled to capture Pittsburgh's Plaxico Burress making a 19-yard dash on a pass from Tommy Maddox, the widescreen image looked solid, with no visible breakup of the grid lines covering the field. I was amazed by how much on-field action could be conveyed in a single image on the Panasonic's 47-inch screen, which is on the small side for a projection set.
Considering that you can buy it for less than $1,500, the Panasonic's performance was impressive overall, but its line doubling of standard video programs was slightly noisy, and its "beamy" screen made the image darken when I moved more than a foot or two from dead center. You can avoid the first problem, at least for DVD movies, by using a progressive-scan player. Unfortunately, the only way around the beaming is to sit directly in front of the TV.
Panasonic's PT-47WX53 might be small in stature, but its display is big and crisp enough to deliver lifelike HDTV images. This set needs some coaxing to perform at its best, but with a few careful tweaks it can look great. If you do a lot of solo TV watching and like to sit front and center, this Panasonic is an HDTV bargain that I can absolutely recommend.
PDF: In the Lab
PDF: Features Checklist
LATEST VIDEO