HDTV Bargains Page 4
Toshiba 46H83 Toshiba is no stranger to smaller-screen projection TVs - in addition to its 46-inch models, the company offers a 42-inch set. But extra inches count for a lot with HDTV, so spending a bit more for the 46H83 makes sense in my book. A tabletop model that needs to be placed on a low table or cabinet, the Toshiba has a clean look with a dark-gray cabinet and black-mesh bottom section. A flip-up door below the screen hides control buttons and a front A/V input. Even though the Toshiba is the slimmest set of the three by an inch and a half, there's still plenty of room on the cabinet's top surface for a center speaker.
Video hookup options include two sets of wideband component-video inputs and a copy-protected DVI jack. All of these accept standard 480i/480p and both 720p and 1080i HDTV signals, so you won't have to mess around with output formats on your HDTV tuner/receiver.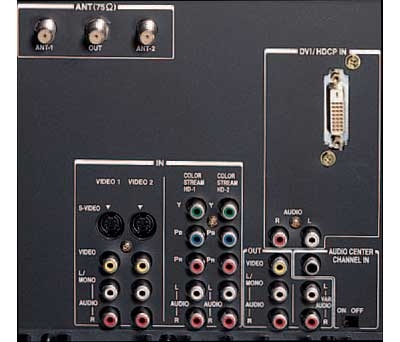 Toshiba's remote control has a fully backlit keypad with large, clearly labeled buttons. This is one remote you won't have trouble using in a dark room! To switch inputs, you press the TV/Video button, and a menu appears onscreen that lets you key in the number of the input you're looking for - a quick, two-step process. You use a similar method to select from the set's five display modes, which include 4:3, 16:9, and three Theater Wide settings that either stretch or zoom in on the picture to fill the screen with standard-format programs.
Press the TouchFocus button on the Toshiba's front panel, and it automatically converges its three tubes, but you'll get better results by going straight to the nine-point manual convergence control. The set has three picture presets plus a Preference setting that can store your picture adjustments for each of the TV's inputs. Looking through the manual, I couldn't find a way to manually defeat the TV's scan-velocity modulation processing, but I got around this by selecting the Movie picture preset, which turns off SVM (the set will automatically default to the Preference setting the next time you next make picture adjustments, but SVM remains off).
TOSHIBA 46H83
DIMENSIONS (WxHxD) 43 3/8 x 40 1/2 x 21 7/8 inches WEIGHT 143 pounds PRICE $1,700 MANUFACTURER Toshiba America, Dept. S&V, 82 Totowa Rd., Wayne, NJ 07470; www.tacp.toshiba .com; 800-631-3811
After selecting the Toshiba's Warm color-temperature setting, I made minor service-menu tweaks - the set's grayscale wasn't very far off from the 6,500-K NTSC standard, but it still benefited from some adjustment. Then I gave
Resident Evil
a spin. In the bathroom scene, Alice's blue/green eyes looked remarkably vivid, and her pale skin showed a wide range of subtle purplish shades where it had been bruised. And in a closeup of a handwritten note, the letters looked solid, with no breakup of the finely inked lines. The only thing that bugged me was a bit of color noise in Alice's red dress when she walked out into the hall. Interestingly, the noise all but disappeared when I watched the scene with V Inc.'s DVI-equipped Bravo D1 DVD player hooked up to the TV's DVI connector.
The Toshiba's solid performance carried over to HDTV as well. During Monday Night Football, the colors of the player's uniforms looked vibrant, and the picture had good shadow detail and punchy contrast. In closeups I could clearly see fine points like dirt and scrapes on Niners' safety Tony Parrish's skin. When I skipped back to the high-def cooking show during a commercial, the picture held up equally well in shots of heirloom tomatoes, which displayed a seemingly infinite variety of rich red, yellow, and orange hues. Another plus for the Toshiba was its uniform brightness over a wide viewing angle - I had to move way off to one end of the couch before I detected any falloff in the picture brightness.
Toshiba's 46H83 offers many of the benefits you'll find in the company's more expensive HDTVs, including an attractive design, excellent color rendition, and a wide range of video connection options. And its picture looks good right out of the box without a lot of fussy tweaking, although a few careful adjustments will make it look even better. So if a low-priced HDTV is high on your wish list, Toshiba's budget big screen is worth serious consideration.
Once a rich person's plaything, rear-projection HDTVs today are finally priced so many people can afford them. Not every program on TV is in high-definition, but the list is constantly growing. So if you're waiting on the sidelines until absolutely everything gets produced in high-def - including weight-loss infomercials, Flipper reruns, and those freaky shows on your local community-access channel - I can tell you that you're missing out. It doesn't matter if you like to watch movies, sports, or cooking shows - they'll all look great on a widescreen HDTV.
LATEST VIDEO