The HD Deluge is Here! Page 3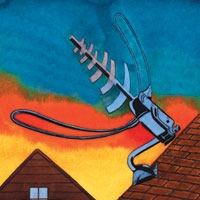 Despite fiber's inherently greater capacity, Verizon is already planning a beefier network - as is AT&T for the new neighborhoods where it's using FTTH. Both companies currently employ passive optical networks (PONs) that allow multiple homes to share fiber. Rather than running individual fibers for each user, in a PON, splitters are placed at junctions within the fiber loop that let a single optical fiber serve multiple users - typically, 32. Although both companies use broadband PONs (BPONs), which are capable of 622-Mbps downstream data rates, there's now a technology called GPON (gigabit passive optical network) that can boost downstream speeds to 2.4 gigabits per second (Gbps).
Verizon plans to go to GPON later this fall; AT&T's timetable is less clear. But Verizon is thinking about moving within the next 3 to 5 years to an even more robust technology called wavelength-division multiplexing (WDM), which gives each customer his or her own 1-Gbps wavelength into the home. And by that time, the company might have a purely IPTV network.
Although it gets far less press than AT&T and Verizon, Qwest Communications has also been rolling out an FTTN network. But it appears to be waiting to see how AT&T's IPTV service fares before making a stronger commitment. Qwest's main video service is DirecTV, but it also offers a video DSL service called ChoiceTV to about a half-million homes in Arizona and Colorado.
It's too early to tell whether telco TV will succeed, but the early results have been promising. Telcos can offer compelling "quad" bundles, which add cellphone service to the mix, and both AT&T and Verizon have some unique services. AT&T's DVRs, for example, can record as many as four programs - including one in HD - simultaneously, and they can be programmed remotely over the Internet or by cellphone. A Verizon DVR lets you put your TV and computer on the same network so you can watch PC content on your TV. It also lets you build local news, weather, and sports alerts that scroll across your screen.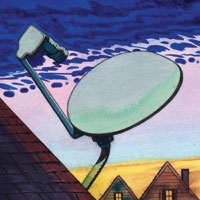 Satellite: New Birds in Flight Unlike cable TV, which was saddled with analog systems it had to bring into the digital world, satellite TV was digital from the get-go, enabling first DirecTV and then EchoStar's Dish Network to set the standard for picture quality and sound - and to take the early lead in offering HD programs and movies to its subscribers.
But limited capacity has, until recently, kept DirecTV - once the leader in HD content - from adding new HD channels, despite continued claims that it would offer 100 HD channels by the end of this year. With the launch of its D10 satellite this summer, though, DirecTV appears to be well on its way to making good on that promise - assuming that all the new HD feeds promised by content suppliers materialize. DirecTV plans to launch a second bird in 2008, which should help it hit its goal of offering 150 national HD channels - and 1,500 local ones - next year.
As part of its HD expansion this fall, DirecTV is rolling out 11 HBO and Cinemax channels that had been available only in standard-def, plus four Discovery HD channels. (Two more yet-unnamed Discovery HD channels will be launched later in the year.) It also plans to carry three new Starz HD movie channels, along with A&E HD and The History Channel HD. In addition to its popular NFL Sunday Ticket HD package, DirecTV will offer all Major League Baseball games produced in HD starting in 2008.
EchoStar, which bought Voom's satellite when the all-HD service went under (its 15 niche HD programs are still available on Dish and Cablevision, among others), hasn't had the same bandwidth constraints. In fact, despite DirecTV's bold predictions about HD leadership, Dish Network has offered more HD content than any other provider for most of the year. Like DirecTV, Dish has been adding HD channels aggressively, and the roster is likely to grow even broader as the company launches two new satellites in 2008.
Both DirecTV and Dish Network are finding ways to compete with cable's ability to offer bundles and VOD services. Both, for example, have deals with EarthLink and various telcos to offer bundles of TV and phone services in various markets, and both have partnered with a company called WildBlue to offer satellite-delivered broadband, mostly in rural areas. This summer, DirecTV and Dish signed deals with Clearwire to offer that company's WiMax-based high-speed Internet access to their customers (with Clearwire selling satellite-TV services to its customers).
Dish has been offering a quasi-VOD service for some time. Basically, subscribers can pick from a selection of movies that are downloaded via broadband to the Dish DVR's hard drive. DirecTV will do a full rollout of its VOD offerings this fall, although the bulk won't be HD. Blockbuster movies, for example, will be "pushed" to the DVR hard drive each month for immediate viewing, while subscribers can use their set-top box to browse catalog titles, which are then delivered via broadband connections.
With more content coming, and with cable, satellite, and the telcos tweaking their systems to handle the extra bandwidth it requires, HDTV owners might soon have to find something else to complain about - like the quality of the shows themselves. For example, is a sitcom starring the Geico cavemen really necessary, HD or not?
LATEST VIDEO