Hands On: Apple TV App Update Gets it Right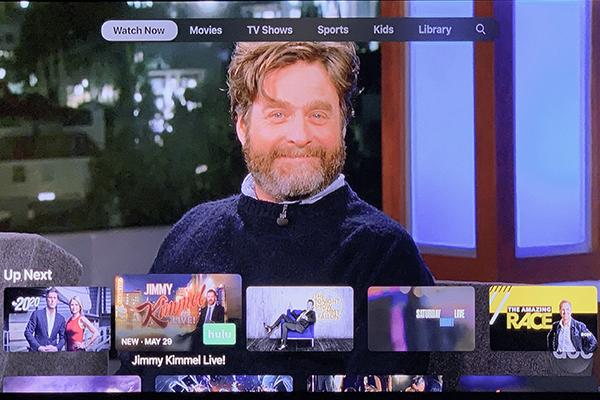 Days before its
Worldwide Developer's Conference earlier this month
, Apple released an update for its Apple TV app that drastically changed the menus, features, and content. And in doing so, it created the best streaming video experience available.
In the past, Apple clung tightly to directing users to iTunes content. With the new update, Apple has partnered with a number of apps. It now displays more options for viewing TV shows, movies, sports, and more. My initial hands-on experience has me considering a return to Apple TV for all of my video streaming.
With the update, the Apple TV app will track the shows you watch on several more partner apps than in the past. Like before, the next episode of recently watched TV shows appears in the Up Next list displayed at the top of the home screen when the Apple TV app is highlighted. With one click, you can watch a new episode as it becomes available or quickly get to the next episode of a show you are binge-watching.
There are now more than 100 streaming services that can be accessed through the Apple TV app — from A&E and BBC America to Food Network, Lifetime, Travel Channel, SYFY, TBS, and many more. It also follows ABC, NBC, and CBS All Access, along with live TV on fuboTV and DirecTV Now. As before, it lists the next episodes of the shows you watch on Hulu, HBO, Showtime, and STARZ, and adds Amazon Prime to the list. As with Amazon Prime and Roku apps, you can subscribe to services (channels) directly from the Apple TV app and manage subscriptions through your iTunes account.
Unfortunately, Netflix is noticeably missing from the Apple TV app. In March, Netflix CEO Reed Hastings said the company wouldn't be participating in the Apple TV app. "Apple is a great company (but) we want to have people watch our shows on our services," he said. Hastings further discussed that being part of the Apple TV app would not be a great benefit to Netflix — that any possible new Apple TV viewers were unlikely to add significant numbers to their subscriber base.
Beyond the additional streaming partners, the updated app offers new menus and a new browsing experience. It's now easier to discover and find Movies, Sports and Kids (Family Programming), as well as your iTunes library (which includes movies bought on other services through Movies Anywhere).
Browsing the Watch Now menu screen, I found it easy to peruse titles I might like to view. I could play the title or add it to my Up Next list. In What to Watch, there were suggested titles of shows based on what I had been watching. A Free Episodes list offered teasers of popular shows from various partner apps even if I didn't subscribe to the partner channel. Some of the series include one or two free episodes; others include full seasons of lesser-known shows. If you decide you want to subscribe to a new channel, you can scroll down and subscribe directly through the Apple TV app.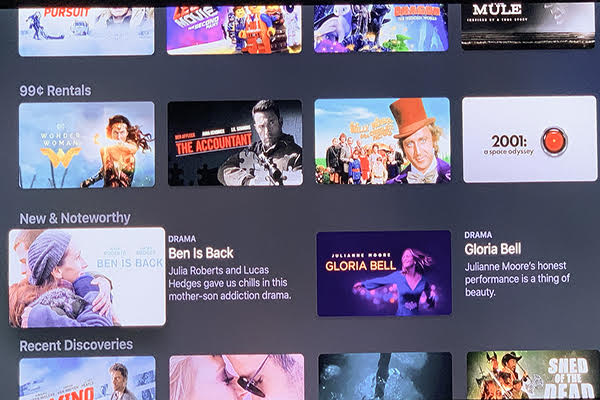 Click on the Apple TV channels icon and you can see the popular series available from each channel. When you click on a show title, you have the choice to rent/buy the series, open it in another app, or sign up for a free trial of the channel. There is no complicated sign-up process. Subscriptions through Apple TV are easier to manage than subscribing to each service separately, as they are consolidated in your iTunes account, where you can quickly cancel or restart a service.
Under Discover a Great Series, there are several sub-genre lists. Under Groundbreakers you'll find Six Feet Under, Hill Street Blues and The Wire; Cult Hits includes Twin Peaks, Pushing Daisies, Deadwood, Lost, The Prisoner, and The Leftovers. Under Reboots, you'll see Hawaii Five O, McGyver, and The Twilight Zone. (original).
The Apple TV app includes more than TV shows. Top Movies and Recent Hits are at the top of the Movie menu screen. What's unique here is that the app displays the movie titles, not the services. When you click on a title, it displays where you can watch it: Renting or buying from iTunes as only one option. Apps to which you subscribe are listed as the first option of where to watch, including those you have signed up for outside of the Apple TV app. Crazy Rich Asians was listed on HBO Go, Overboard on Hulu, and Ben is Back on Prime Video.
If you are looking for something from Apple iTunes, you can find a list of titles available for rental or purchase. The Weekly Spotlight lists specials, with categories like "Movies under $4.99."
Recent Discoveries is a list of lesser-known films available on many of the apps to which you subscribe. You can browse by Genre — not just comedies and dramas but also Action, Classics, Documentary, Horror, Independent, International, Kids and Family, Music, Romance, Sci Fi, Sports, Thriller, and Westerns. When you click on a movie category you get a drill-down with sub-genres, popular titles, and a mix of movies that match your viewing habits.
One of my favorite browsing features is the app's New and Noteworthy category, which displays a few titles with short descriptions. I could quickly decide if a show might be worth watching or adding to my Up Next list. New and Noteworthy shows up in a number of menus and sub-menus, including documentaries and different genres. This is also where the start date of a show's new season is announced.
To make it easier for children to find shows in the Kids menu, they can follow a favorite TV character. They can pick their pals from a list that includes Mickey Mouse, Peanuts, Scooby Doo, Daniel Tiger, Sponge Bob, or the Sesame Street gang. To help families find educational shows, the top row is Learn Something New, which lists Nova Wonders, Peanuts in Space, and many others. Other rows display shows that are age appropriate: 2-5, 5-7, and 8-10. The 11- 13 age group includes series like Dr. Who. The Kids menu also lists collections of movies such as the Disney Princess Collection, Star Wars, Pixar, and more.
As before, Apple TV has sports, too. Choose your favorite teams and you'll be notified when a game is coming up. Notifications appear on your iPhone, Apple Watch, or on the Apple TV itself. Or you can browse the Sports menu for different recorded or live Sports events.
Along with easy browsing and useful lists of titles in each menu, there is a wealth of information available when you click on a title. On the movie or TV show's page, there are the usual How to Watch options, a synopsis of the show, a display of similar or related shows, and a top-level cast and crew list.
Apple adds more useful information with Quick Lists. A Tomato Meter shows ratings from Rotten Tomatoes. Because I'm always looking for trivia about a show I'm watching, I enjoyed the bulleted list that displays the studio that made the title, year released, other useful information, including MPAA rating, a list of available languages, and audio formats available to stream, including Dolby Atmos.
The Common Sense guide gives a specific age at which a film or a TV show is appropriate to view. Clicking on this box brings up information about why the film was rated for that age. It includes ratings not only on violence and sex, but consumerism, language, drinking, drugs and smoking, and whether there are positive role models or messages.
All in all, the new Apple TV app makes it is easy to search for shows you want, without going through Hulu, Amazon, or another service to find them. It's also fun to browse and discover titles that weren't on your radar. Once you find them, it's easy to access them through the Up Next list. This experience proves that Apple knows how to offer its users a better experience outside of iTunes.
The Apple TV app is also available on iPhone and iPads and will be on several smart TVs including Vizio and Samsung. The app will update again in the fall when original programming becomes available through Apple TV+.