Grand Zeppelin
B&W
makes some of the best-sounding speakers in the world, so when the company set its sights on the iPod market, something special was sure to surface. First introduced in 2007, the Zeppelin melds exquisite design and sound quality into a stunning, single-piece iPod dock/audio system that seems to define the state of the art in this burgeoning field.
Audiophiles often scoff at the iPod's highly compressed music files, but the Zeppelin is packed with technology that wrings the most from such limited resources. A central 5-inch Kevlar-reinforced woofer is flanked on either side by a 3.5-inch glass-fiber midrange and 1-inch aluminum-dome tweeter. The woofer is powered by a 50W digital amplifier, while a separate 25W amp powers each mid/tweeter pair through a high-quality passive crossover. All three amp channels incorporate proprietary DSP to fine-tune the response of each driver and actively adjust the balance between them in relation to the volume level.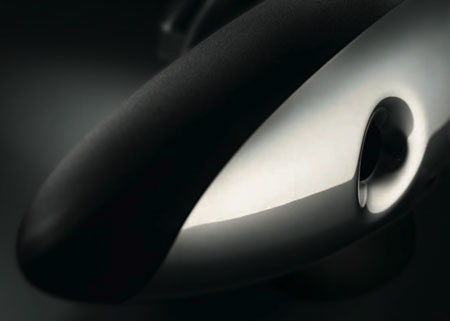 The woofer's bass extension is enhanced by twin rear-firing ports, and the tweeters benefit from a modified tapered-tube waveguide first developed for the amazing Nautilus, resulting in a frequency response that's down by 6dB at 47Hz and 22kHz. Even the case itself contributes to the sound quality—a highly damped constrained layer is sandwiched between a stiff polymer inner layer and a heavy stainless-steel outer surface, resulting in very little vibration to color the sound of the drivers and amps.
Form follows function in the Zeppelin's design. The ovoid shape from which it gets its name is intended to minimize diffraction of sound from the drivers, and the dock itself sits atop a curved, spring-loaded metal bar that emerges from beneath the case, maintaining a small space that lets it accommodate iPods of different sizes. The resulting form is beautiful in its own right, garnering the 2008 Good Design Award in the electronics category from the Chicago Athenaeum Museum of Architecture and Design.
After the success of the Zeppelin, B&W introduced a smaller version called the Zeppelin Mini, which is just now starting to appear at retail. With only two 3-inch full-range drivers, each powered by an 18W digital amp, the Mini achieves an impressive frequency response that's down by 6dB at 38Hz—even lower than its predecessor—and 20kHz, due in no small part to a similar DSP engine and specialized vent called the Flowport.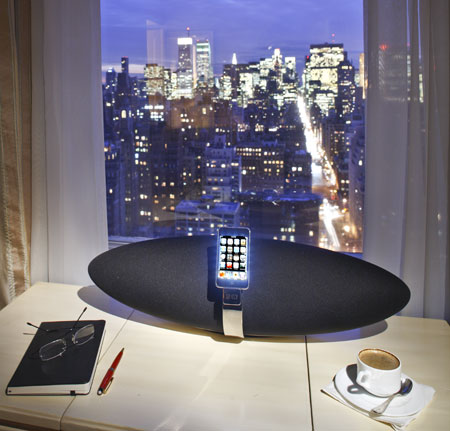 For all their technology and beauty, the Zeppelin and Zeppelin Mini aren't all that expensive—$600 and $400, respectively. Yet they bespeak a level of quality that belies their relatively modest price, which is perhaps why upscale hotels like the Carlyle in New York City have installed Zeppelins in their guest rooms. If you're looking for a one-piece iPod sound system that offers the ultimate in style and substance, these could fill the bill.