Good Riddance 2020: New Gear for a New Year Page 2
LG Smart TVs Now Support Facebook Watch TV
Good news if you own an LG webOS-based smart TV from 2014 or later: Your TV can now access Facebook Watch so you can watch videos on the big screen. The Facebook Watch TV app provides access to videos related to Facebook pages and topics you follow with recommendations based on what your friends are reacting to.
Available for download at LG Content Store, the app also provides access to original programs such as Red Table Talk with Jada Pinkett Smith, the recently launched Red Table Talk: The Estefans with Gloria Estefan, the Steve Harvey talk show Steve on Watch, and Returning the Favor, a show hosted by Dirty Jobs star Mike Rowe that spotlights everyday heroes. Since its launch in 2018, Facebook Watch is said to attract more than a billion viewers a month around the world.
Dan Clark Audio Livens Up the Sound of New Aeon Series Headphones
Dan Clark Audio (DCA), the high-end headphone company formerly known as MrSpeakers, has expanded its award-winning Aeon series of planar-magnetic headphones with a closed-back model voiced to deliver "richer bass, an airier midrange, and a more lively top end than the existing Aeon 2. More specifically, the frequency response of new Aeon 2 Noire aligns almost perfectly with the Harman Curve, a headphone response curve developed by Dr. Sean Olive that, in his words, "mirrors the perceived tonal balance of an accurate loudspeaker in a reference listening room."
Compared with the original Aeon 2, the Noire has a "lighter midrange tone" and expanded soundstage — traits attributed to the use of proprietary 2.5 x 1.3-inch diaphragms and perforated earpads. Weighing in at less than 12 ounces, they're also lighter thanks to the use of carbon fiber, aluminum, and titanium. The headphones fold down to half their size and have earpads covered in synthetic protein leather from Japan, which is described as "unbelievably comfortable." Slated to ship in early January, the Aeon 2 Noire headphones list for $900 but as of this writing are being offered for $765 on danclarkaudio.com.
CEntrance Unveils Portable Amp/DAC for Enthusiasts on the Move
CEntrance, a company with deep roots in pro audio, is hailing the HiFi-M8 V2 as the "world's most advanced" headphone amplifier/digital audio converter (DAC) combo. Given its impressive set of features, it just might be.
Distinguished by its prominent LED VU meters, thumbwheel volume dials, and recessed controls, the $750 device can drive any set of headphones and is compatible with most computers and smartphones, according to the company. In addition to a "pitch-black noise floor," it boasts lower noise and distortion than its predecessor, and brings aptX Bluetooth streaming into the fold along with USB digital and 3.5mm analog inputs and four headphone outputs — two balanced and two unbalanced — which can be used simultaneously to compare headphones or listen to music with friends.
Described as easy and intuitive to use, the M8 V2 is housed in a lightweight aluminum chassis designed to fit in the palm of your hand and supports standard sampling rates from 24-bit/44.1 kHz to 32-bit/384 kHz as well as DSD. Remarkably, eight amplifiers are on board: four are designed for use with in-ear monitors and four deliver higher power for hard-to-drive headphones; the high-power outputs can be disabled to extend battery life from 11 hours to 15 hours. For more information, visit centrance.com.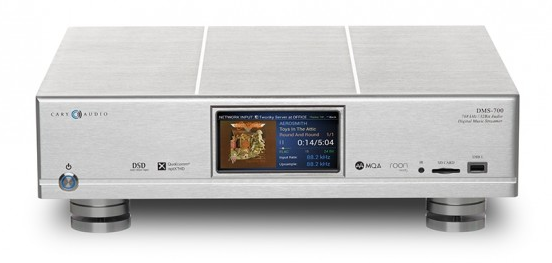 Cary Brings Analog-Like Sound to New Digital Audio Player
North Carolina-based Cary Audio has been selling high-end audio gear for three decades. The company started building vacuum tube amplifiers in 1989 but expanded into other audio categories over the years. The DMS-700 is an evolution of its DMS-600 network audio player, which was borne out of the desire to create the "best sounding streamer on the planet."
With the DMS-700, the company says it has taken a significant step forward in sound quality with the inclusion of AKM's new flagship digital-to-analog converter (DAC), the AK4499EQ, which is based on a different architecture than the AK4497EQ chip used in the DMS-600. In technical terms, the 4499 is an R2R (resistor to resistor) Ladder DAC with current output as opposed to a Delta-Sigma design with voltage output, which required Cary to completely rethink the DMS-700's digital circuitry. In sonic terms, the new chip "can sound much more analog like, revealing copious amounts of detail while retaining a very natural, smooth, and musical response."
To make its flagship digital source component even better, the company mated the DAC with a field programmable gate array (FPGA) to eliminate crossover distortion. In the press release announcing the DMS-700, the company writes: "Few companies use FPGA DACs and even fewer use R2R Ladder DACs. Almost no one uses both. This is how committed we are to perfection and to pushing the DMS platform even further!" Cary goes on to explain that the DMS-700 is divided in three shielded sections: the digital circuitry, a "spectacularly musical analog" stage, and a power supply.
Cary's audio obsession doesn't end with sound quality. The DMS-700 supports Spotify Connect and boasts an LCD screen with twice the resolution of its predecessor, a Crystek oscillator clock, seven independently regulated power supplies, a "pure audio" mode, sleep timer, USB/SD card inputs with NAS drive capability, and four digital inputs with support for PCM at 384 kHz and higher: one AES/EBU, one optical, and two coaxial. The player even supports Bluetooth streaming and is designed so that cueing tracks and moving between sources doesn't interfere with the track/source that's playing.
The DMS-700 is expected to ship in late January with a retail price of $7,995 but, as of this writing, Cary is offering an introductory $2,000 discount on a "limited number" of orders. The company offers free shipping, interest-free financing, and a 30-day in-home trial period for products purchased through its website. For more information, visit carydirect.com.