Good Riddance 2020: New Gear for a New Year
Ringing in the New Year has new meaning as we say good riddance to a year besieged by a deadly virus and transition to what we all hope will be a fresh start in 2021 — new beginnings without tragic loss, social isolation, and economic devastation. While you contemplate the better world that awaits us, here's a peek at some of the latest news and products AV companies have to offer.
Apple Expands AirPod Line with First Over-Ear Model
Less than a week before Christmas, Apple introduced the AirPod Max headphones, its first over-ear design. Naturally, the iconic brand touted their arrival as the Second Coming, hailing the ordinary looking headset as "a radically original composition…a perfect balance of exhilarating high-fidelity audio and the effortless magic of AirPods."
As with all Apple products, the new headphones aren't cheap at $549 but they check all the right boxes: They're wireless, provide active noise cancellation with a transparency mode so you can hear what's going on around you, and are rated to play up to 20 hours with noise cancellation and spatial audio enabled and the volume half way up. Telescoping arms make it easy to adjust the stainless-steel-framed headband, which is wrapped in a mysterious "soft-to-the-touch material" and topped with a knit mesh designed to reduce pressure on the top of your noggin. The arms support aluminum cups with memory foam ear cushions covered in a textile mesh instead of a common leather or leather-like material.
Each earcup houses a large custom-built dynamic driver and Apple's proprietary H1 chip that "helps block outside noise and adapt audio to the fit and seal of your ear cushions" while adaptive equalization (EQ) uses inward-facing microphones to tailor the sound to the type of music you're listening to. You adjust volume, skip tracks, activate Siri, and answer phone calls using a small knob atop the right earcup. An array of six "beamforming" microphones face outwards in a configuration that detects noise and isolates your voice so it can be heard clearly even when the wind is howling.
About that spatial audio mode: Apple is seeking to create an immersive listening experience through the use of "spatial audio with dynamic head tracking" — built-in gyroscopes and accelerometers that track the motion of your head — when watching movies or TV shows on an iPhone or iPad through apps that support spatial audio.
As with any Apple product, simplicity is key with one-tap setup, automatic switching between Apple devices, and one-tap sharing with nearby devices. The AirPod Max headphones are available in black, silver, blue, green, and pink and include a simple "smart case" that leaves the headband exposed while protecting the earcups. Visit apple.com for more information.
Get Back Loretta
The turntable specialists at Pro-Ject are celebrating the highly anticipated 2021 release of the music documentary The Beatles: Get Back with a unique collection of Fab Four-inspired turntables guaranteed to delight fans of the world's most influential band.
Ranging in price from $500 to $1,700, there are eight models to choose from. The Sgt. Pepper, Ringo Star Peace & Love, and George Harrison turntables cost $500 and are based on Proj-Ject's Essential III model, featuring a clear acrylic platter, aluminum tonearm with sapphire bearings, and Ortofon OM10 phono cartridge. The Ringo model boasts colorful artwork (with a prominent '60s-inspired peace sign) designed by Ringo himself to commemorate the 30th anniversary of Ringo & His All-Star Band.
The dazzling Yellow Submarine model ($550) brilliantly captures the spirit of the 1968 animated movie and features an S-shaped tonearm and Ortofon Concorde pickup. The Beatles 1964 model ($750) commemorates the 1964 tour that kicked off Beatlemania in the U.S. and is based on the Carbon Debut Esprit SB turntable, featuring a lacquered base, low-noise AC motor, carbon tonearm, and acrylic platter. The colorful Beatles Singles model (bottom left in photo, $1,000) is also based on Pro-Ject's Carbon turntable.
At the top of the line are two limited-edition models based on Pro-Ject's 2Xperience SB turntable: The White Album model (bottom right in photo, $1,700) and the Sgt. Pepper Limited Edition ($1,600), featuring a natural non-resonant wood base, 9cc Evolution carbon-fiber tonearm, "high-end tonearm," and Ortofon 2M phono cartridge; the table also boasts a record mat made from recycled LPs and a record clamp that secures the disc to the platter.
All models are belt-driven, fitted with decoupling feet, and include a dust cover. Visit pro-jectusa.com for more information.
Click here for a sneak peek of the Peter Jackson film that has been rescheduled for release in August. The film is based on 56 hours of footage captured in the studio during the making of what would become 1970s Let It Be, the last official Beatles album.
Atlantic Technology Promises Big Bass from New Tower
More bass from a smaller cabinet is the promise of Atlantic Technology new AT-3 tower speaker ($3,000/pair), which deploys the company's patented Hybrid Pressure Acceleration System (H-PAS) technology to achieve bass comparable to a floorstanding speaker twice its size.
The secret is a proprietary cabinet design that directs the woofer's back wave through an "inverse horn structure" and couples it to an internal chamber to effectively expand enclosure volume at low frequencies. According to Atlantic, the result is bass that extends to 29 Hz (–3 dB) at sound-pressure levels that exceed 106 dB without pushing harmonic distortion beyond 3%. All this from lightweight 6.5-inch concave woofer featuring a high-resonance design said to react three to five times faster than a typical driver.
The woofer is mated with a 1-inch silk-dome tweeter in a ported cabinet that stands 42 inches with cast-iron feet and adjustable spikes. The tweeter is liquid-cooled and framed in foam to ensure uniform dispersion and a smooth tonal balance. The AT-3 also uses a lower-than-usual crossover point of 2.2 kHz to ensure a "top-to-bottom transient response that belies its price" and provides a switch on the back panel for boosting or cutting high-frequency output.
The AT-3 boasts gold-plated binding posts with removable terminal straps for bi-wiring, grilles that attach magnetically, and a gloss-black, metal-flake finish. Visit shop.atlantictechnology.com for more information.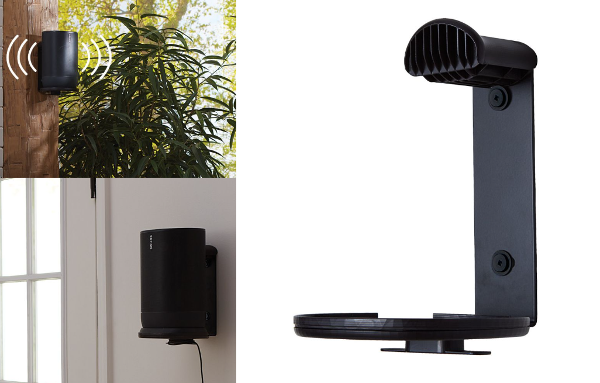 Sanus Helps the Sonos Move Stay Put
As we get ready to close out this dreadful year, it's time to look ahead to better times. Summer by the pool. Sipping a beer on the patio while revisiting musical treasures from the past, courtesy of a nice outdoor speaker (or two). Which is precisely why Sanus is rolling out a $70 "grab and go" bracket/shelf (WSSMM1) for the popular Sonos Move.
The bracket is built to fit the Move and provides a place to put the speaker whether you're listening or not. It takes only 15 minutes to install and doubles as a charger when you attach the supplied charging ring to the shelf.
"Our mount is designed to deliver an exceptional listening experience, while providing a convenient location for storage and charging," explained Mark Plummer, director of product management for Sanus parent company Legrand. Galvanized wood screws and drywall anchors are provided for installation. Visit sanus.com for more information.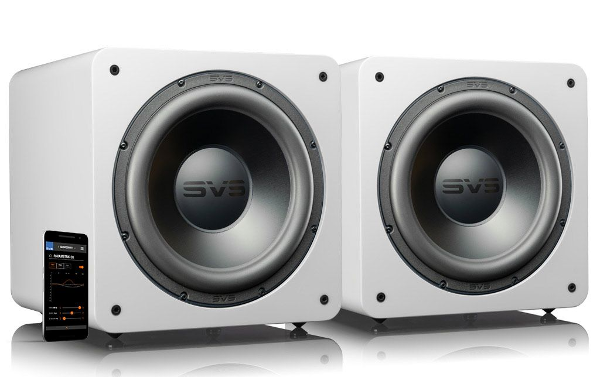 SVS: Let it Snow
The subwoofer mavens at SVS Sound have announced that their most popular subwoofer model — the SB-2000 Pro — is now available in season-appropriate white gloss for $900. The subwoofer, which made our Top Pick list a few months ago, is also offered in piano black ($900) and black ash ($800).
The limited-edition white finish is also available on a number of other SVS speakers, including the Ultra Bookshelf, SB-1000 subwoofer, and a number of models in the Prime series. Click here to see all SVS models offered in white.
In his June review, Michael Trei praised the SB-2000 Pro's ability to deliver clean, hard-hitting bass for a reasonable price and loved using the SVS app to fine-tune performance. Visit svsound.com for more information.