GoldenEar TritonCinema Speaker System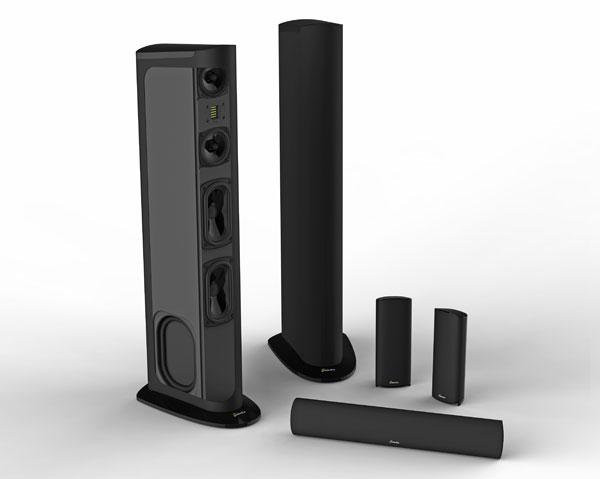 One of the biggest audio sensations at CES wasn't a megabucks speaker—it was the Triton Two tower from
GoldenEar Technology
. The company was recently started by Sandy Gross and Don Givogue, who had been partners at Definitive Technology (Gross also co-founded Polk), to raise the bar on speaker performance and value. They seem to have hit a home run with the Triton Two, which is available in a stereo pair or as part of the TritonCinema multichannel system for a price that will surprise you.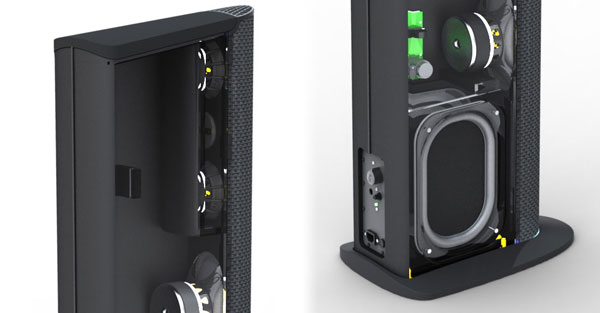 The slim Triton Two stands four feet tall and weighs only 60 pounds. Bass frequencies are handled by two front-firing, long-throw 5x8-inch quadratic drivers coupled to two side-mounted 7x10-inch passive planar radiators, and the active drivers are powered by a 1200-watt class-D amp designed by the company for its ForceField subwoofers. Two 4.5-inch mid/bass drivers with computer-optimized cone design and GoldenEars' Multi-Vane Phase Plug (MVPP) reproduce the midrange and upper bass.
Nestled between the two mid/bass drivers in a classic D'Appolito array is GoldenEar's High-Velocity Folded Ribbon (HVFR) tweeter, a descendent of the Heil Air Motion Transducer. The ribbon in this design is pleated, squeezing air between the folds as it vibrates with the audio signal instead of pushing it like a conventional diaphragm. All told, the Triton Two's specified frequency range is amazingly wide, extending from 18Hz to 35kHz with a sensitivity of 91dB/W/m.
In a multichannel system, the SuperSat 50 serves the center channel. With two 4.5-inch mid/bass drivers coupled to two 4x7-inch quadratic passive planar radiators and one HVFR tweeter, this puppy achieves a frequency response from 60hz to 35kHz with 92dB/W/m sensitivity.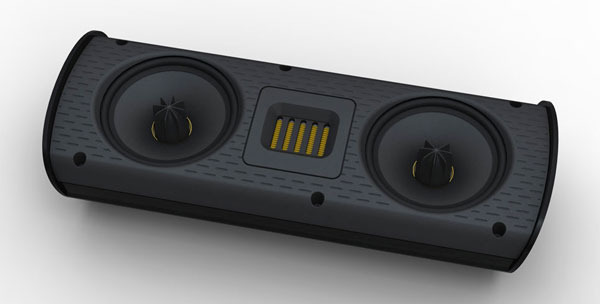 The surround channels are reproduced by the SuperSat 3, which sports two of the same 4.5-inch mid/bass drivers and HVFR tweeter, but no passive radiators. The result is a frequency range from 80Hz to 35kHz with 92dB/W/m sensitivity.
At the outset, I mentioned that GoldenEar's goal is to raise the bar on speaker performance and value. The performance part is obvious—everyone I know who heard the Triton Two at CES in January and CEDIA last September raved about the sound. But what about value? Given its high performance level, how does $2500/pair sound? Pretty darned good if you ask me! And a complete TritonCinema 5.1 home-theater system (no outboard subwoofer, but who needs one when the main speakers go down to 18Hz?) is only $3500, making it an ultimate value in my book.