Gold Rush
In my never-ending quest for the ultimate in performance, design, and/or price, I came across the GA Star from a British company heretofore unknown to me—
Gold Acoustics
. This unique speaker is unlike any other I've seen, and while it certainly looks shiny, I can't help wondering if it delivers the sonic goods.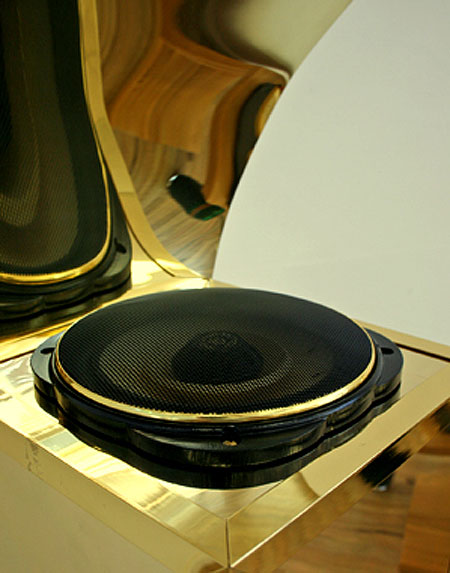 Standing almost five feet tall, the GA Star includes a single 8-inch Lowther EX2 horn-loaded driver at the top of a mirror-polished column, firing straight up into a curved-brass reflector. According to the company, this configuration "amplifies all sound waves into the listening room and opens up the full audio spectrum to dazzling results, [delivering] a true auditorium style listening experience." With a bass-reflex port at the bottom, the specified frequency response extends from 40Hz to 20kHz—quite a wide range for a single driver. And with a sensitivity of 100dB/W/m, it should play mighty loud with relatively little amp power. Gold Acoustic's website pegs the price of the GA Star at 5995 British pounds (nearly $10,000 as of this writing), which I assume is per pair.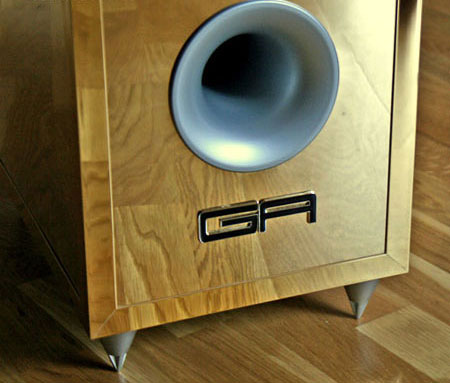 Also available is the GA Earth subwoofer, another ported design with one 8-inch driver. There's very little about it on the company's website, and my request for more info went unanswered, but the specs are very uninspiring—frequency response from 45 to 140Hz and a 100W power amp. The low end is higher than the GA Star's! No price is listed, but if these specs are correct, who cares?
Gold Acoustics seems intent on conquering the luxury-speaker world—at least, if the many Photoshopped images on its website are any indication. The GA Star certainly looks interesting, and it should satisfy any designer's desire for bling, but only a good listening test will reveal if its sound is anywhere close to ultimate.