Glenn Hughes, The Voice of Rock, Continues to Resonate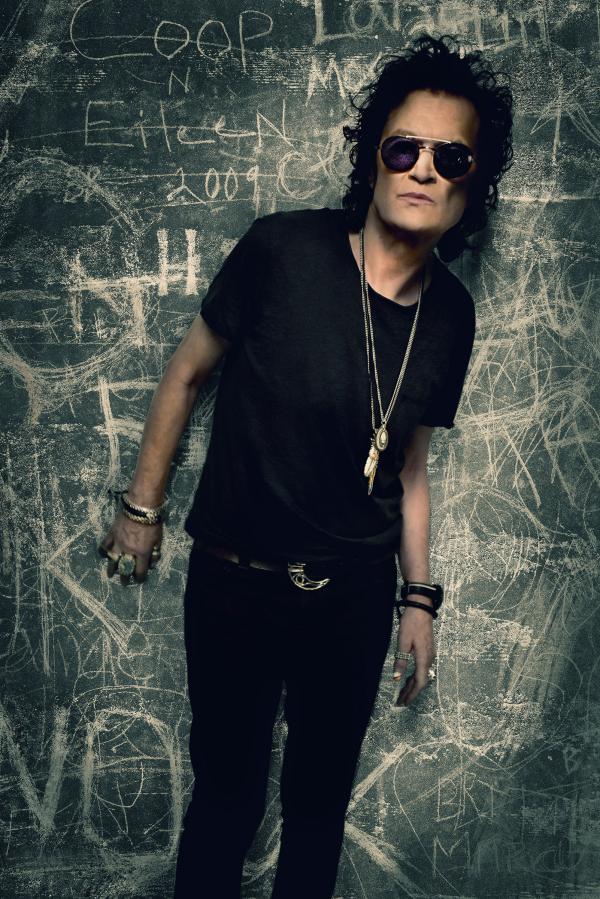 Glenn Hughes is known as "The Voice of Rock" for good reason. In fact, the bassist/vocalist's long and storied C.V. reads like a playlist that's been culled from the best British-bred AOR from the '70s right up to the present day. Its entrants include the likes of Trapeze (proto-hard rock with keyboards), Deep Purple (circa the David Coverdale-led
Burn
and
Stormbringer
era), Phenomena (an '80s supergroup also featuring keyboardist Don Airey and drummer Cozy Powell in its initial iteration), Black Country Communion (a modern supergroup featuring guitarist Joe Bonamassa and drummer Jason Bonham), and California Breed (also featuring Bonham) — not to mention Hughes's own many solo projects.
And speaking of said solo career, the latest album entry under Hughes's own name, Resonate (Frontiers), does exactly that by mixing equal parts uber-heavy riffage ("Heavy," "Stumble & Go"), funk jams ("Landmines"), and self-aware cautionary tales ("When I Fall").
"People ask me, 'Why did you call the album Resonate?' Well, we all know what the word means," Hughes observes. "For me, it's an emotional response to the way I have lived my life for the past few years. I just wanted to get into the center of where I am. I want my music to resonate with people and have it linger in their soul."
I called Hughes, 65, while he was on a break from recording a new album with Black Country Communion, touring the U.K., and writing his next solo release ("I want to make another album in the same vein as Resonate because it's such a strong piece of work") to discuss the latest twist on his writing process, how also being Resonate's producer enabled him to stretch creatively, and how spinning vinyl and streaming music are very different listening experiences.
Mike Mettler: You told me earlier that the material for Resonate came together in a way that was unlike any other record you'd written in the past. How so?
Glenn Hughes: I wrote this record in February, March, and April [2016], and I did it one song at a time. Before that, I had always hopscotched around by working on other songs while normally finishing the lyrics later. But in this case, I completed each song as I went — that is, I finished each song's music, arrangement, and lyrics before moving on to the next one — and it was a really beautiful thing.
Mettler: Why do you think it worked out that way this time around?
Hughes: I don't know! I didn't set out to do it that way. The first song I wrote was "Steady." I already had the title for it. The titles always come to me before I finish the lyric. As I'm singing the melody (sings) — "ba-da-bahh, ba-da-bahh" — I'm thinking, "Well, what can I sing about here?" If you follow all of my work since I've been sober [since 1991], it's all about the human condition. It's not about politics, Hobbits, boll weevils, and witches (MM laughs) — it's about what happens to us as people.
I hate to say the seven deadly sins are alive and well — but they are. So, I sing about feeling faith, and feeling fear. There's even some anger on this album. You can hear how my voice gets pretty heavy in some aspects of this work.
Mettler: I sure can. Would we count "God of Money" under that umbrella?
Hughes: Yes! It's only because I understand the state of the record industry and the career I have. I have a team of people who work with me on the business model of "Glenn Hughes." But I'm all about creating the music. I've never done anything for the money. Money's not my bag, baby! (both laugh)
Mettler: By the time we get to the back half of the record with "Stumble & Go" and "Long Time Gone," we're fully invested in the relationship you've built up with us over the course of these 11 songs.
Hughes: Right, right — and oh, I love those songs! I think "Stumble & Go" is such an odd song for Glenn Hughes. That riff — it's such a New York-sounding song. It's also got a Beach Boys harmony that's very Brian Wilson (sings the "ahhh-ahh" harmony).
Not only did I write this record but I produced the thing, so I didn't have anybody chirping in my ear like, "You can't do that!" Can't do what — be me? I wanted to do a little Lennon and McCartney here, some Brian Wilson there, and a little swagger over there, because I'm that kind of a music creator.
So many of these songs are deeply heavy and that's because they're riff songs, especially when you throw on some really dirty fuzz guitar on there. I also wanted to use some different sounds on this album. I wanted to reintroduce the Mellotron, like I did on "Flow." And that's a real Mellotron from 1970 that you're hearing there. I found it in Copehagen. My keyboard player, Lachy Doley — he's an astonishing player. Super-incredible.
Mettler: Oh yeah. I especially love the intro organ riff he does on "God of Money."
Hughes: Yeah! I didn't play any of the music to the guys in my band until we got into the studio. The first song we cut was "Steady." I'd roll out the guitar and they'd sit around and take notes on what I was playing, and then we set about to making the songs the way I wrote them. The way I wrote the changes and played the structures of the chords — it was important for me to have them on the album the same way I wrote them.
Being the producer, I had to check myself and think, "Hey, can I actually do this?" I've worked with many producers in my life, and I don't think they would have appreciated what I was doing here, but I thought, "Hell, I'm going to do it!" I set about doing what I thought was the right thing for this record, and when I look back at it now, I think that I did do the right thing.
The fact of the matter is, when I sing something, I want you to believe me, so I have to get into it. And if I can't get into it, all bets are off. I remember doing a session with a guy 5 years ago — the song was great, but I just didn't believe it. I didn't believe me singing it, so I couldn't sing it.
Mettler: Since you're the album's producer, I'm guessing the sequencing was also your call, right?
Hughes: Yes, of course! Absolutely. The order never really changed for me that much. Well, "Steady" was going to start the album and "Heavy" would have been Track 3 or something, and then about a week before we mastered the album, we put "Heavy" first, because the song was begging to be played first. I wanted a shorter song at the top of the album to have something to ram down people's throats, because this was the lead track and obviously the first single, and people have reacted quite positively to it.
Mettler: It's a manifesto. By the time we get to the line, "We should all be free," we really feel like that's the template for what's coming.
Hughes: Yeah! You know, when I wrote those simple lyrics, it's so natural for me to get down in the dirt and sing, "We should all be free." I sing the word "free" a lot, and I talk a lot about people being "one." We're all the same. We're all one person here, and we're all listening to this together.
I'm just a hippie in that way, and that's never going to change for me. I can't change who I am. I can change the way I am, and I can become even kinder and more considerate, if you will, but I really am who I am now. I've learned so much in my life through the decades of indifference and people going, "Oh my God, is he going to make it this year? Where's he going now?" I mean, I don't remember the '80s! I've come so far since I've gotten sober.
Mettler: Is "Landmines" an example of opening up the album's production, with that Jimi Hendrix kind of funky underpinning to it?
Hughes: Yeah, yeah! Follow those chords, and resolve those major sevenths. It's like what Jeff Lynne does. He's a major sevenths/minor ninths kind of guy with Electric Light Orchestra, and they sound dense. That's where I wanted to go with this album. I wanted it to be distinctive within my work.
When I knew I was going to produce this album, I went, "OK, I'm going to use these chords." Some of my chords are very jazzy, and I don't think some producers would approve of them. So I said, "I'm going to layer some really dark jazz chords here, and throw them into a rock album. I'm going to play some really wild chords that aren't really of the world of rock." And that's what this album is, you know. I mean, a song like "Stumble & Go" — I'd never written a song like that before.
Mettler: What it says to me is that Resonate is the kind of album I'm going to want to play again and again to get all the layers you've put into it. And it's something you can't wait to drop the needle on too.
Hughes: Yes! I made sure we got a good vinyl representation for this one. I investigated the company who made it, and I made sure it sounded great in that format.
Mettler: Now, the opposite side of that coin is a lot of people are going to pull Resonate up on a streaming service like Spotify and listen to you in that way. As an artist, how do you feel about streaming?
Hughes: Well (slight pause)... it's the future, my friend. And it's come about real quick too. The next few years no doubt will be all about streaming, streaming, streaming, and we have to get ready for that. Spotify is huge and we don't make a lot of money from it yet, so the only way to really make money now is to play shows.
Mettler: It's the opposite of what it used to be in the '70s. When you were in Deep Purple, you would put out an album like Stormbringer [in 1974], and people would buy the album, and then you'd go out to support it. Now it's the other way around.
Hughes: You gotta play live, and I play like 100 shows a year now. It's the way to make a living. And merchandise and the VIP experience are vitally important for us too. The record industry can't support itself anymore.
Mettler: Are you finding multiple generations of fans coming to your shows now? The universe of Glenn Hughes seems to have opened up even more lately.
Hughes: Oh yeah. I honestly do see parents with kids — a lot, and all over the world. When I was in South America, I saw 16- and 17-year-old kids with their parents who are big Glenn Hughes fans. A lot of them know my work, and I feel that. It's incredible that they're coming to see me, and that I get to meet these people. I'm very, very aware of the fan relationship to the artist they love. I've never been one to miss an autograph-signing session.
Mettler: It must be great to know some of those young fans are going to go back and find those first two Trapeze records from 1970 and get something out of them.
Hughes: It really is important. I love the fact that I've touched so many lives. I'm very aware of the human condition, and sobriety has brought out the reason why I'm here. Like I said earlier, I sing about hope and working through fear a lot.
Mettler: We can all relate to overcoming something in life. Not necessarily to the degree that you have, but we like to see the resulting music from someone who has conquered demons. We can relate to you even more directly now because of that. The music touches you on a deeper level. Glenn "won," and we're getting the benefits.
Hughes: Mm-hmm. Oh, it's incredible. And I'll say this again, Mike — there's nobody more grateful than me. I should be dead 10 times over. I'm not being grandiose. I've been stabbed, pistol-whipped, and left for dead. But I'm here, and I'm grateful. I know the path that was set for me was about being a messenger, and that it's all about love, you know?
Mettler: We're glad to have you here, Glenn, and we want you to be around for a long period of time. I mean, I want more records like this one. Maybe I'm greedy in that way, but... (both laugh)
Hughes: Well, there's going to be another one next summer. I'm going back to Copenhagen to do that one, and I'm also doing Black Country [Communion] in January. My year is booked. My knees are fine, my voice has never been better. I'm in a really good spiritual place, and just happy, happy, happy.
For more on Glenn Hughes, visit GlennHuges.com.