Giving Receivers Page 3
Harman Kardon AVR 7200
Unless you count its EZSet automatic level-setting function, Harman Kardon's new AVR 7200 is the only one of our three receivers without an obvious gimmick-er, unique feature. But come to think of it, maybe the AVR 7200's angle is that it delivers flagship-class size, power, and versatility without a battleship price.
Harman Kardon AVR 7200
DIMENSIONS 17 1/4 inches wide, 7 5/8 inches high, 20 1/2 inches deep WEIGHT 53 pounds PRICE $2,000 MANUFACTURER Harman Kardon, Dept. S&V, 250 Crossways Park Dr., Woodbury, NY 11797; www.harmankardon.com; 800-422-8027 Click here for Features and Specs
The AVR 7200 is far from ill-equipped, offering seven-channel power, full-bore Dolby Digital EX/DTS-ES decoding and DPL II/DTS Neo:6 processing, plus Harman's highly regarded Logic7 processing (developed by its Lexicon subsidiary) and MP3 decoding. More significant, perhaps, to audio wonks, the AVR 7200 has one of the most adaptable bass-management systems I've seen. Not only can you dial in separate crossover frequencies for the front L/R, center, and surround channels, but if you set the crossover to Independent mode rather than Global, you can tune a different array of crossover settings for each input-very handy for fussy audiophiles who demand "purist" settings for music but also want the real home theater deal for movies and videos.
Setting up a receiver this configurable is no trivial matter, but the AVR 7200's clear menu system and complete and detailed manual was a big help. The EZSet system employs a calibrated wireless microphone built into the remote control to balance channel levels. Unfortunately, I had a hard time getting it to work correctly. You can calibrate manually, too, but I found that calibration using the receiver-generated test noise disagreed with that derived using calibrated noise from the Sound & Vision Home Theater Tune-Up DVD by 3 dB or so at the surround channels. I stuck with our test disc-a known quantity.
Features aside, this A/V receiver delivers impressive performance, leaving little for other, considerably higher-priced models to bring to the table in this respect. Power was never an issue with even the most dynamic material. The Bandits DVD held little enough audio challenge for the AVR 7200, whose Dolby Digital playback was unfailingly theater-quality. Nor did a quick sampling of known-toughie scenes from DVD movies like The Phantom Menace and Tomorrow Never Dies turn up anything to break a sweat even with my moderately low-sensitivity speakers.
Pro Logic II 5.1-channel playback was equally excellent. Harman Kardon offers an interesting alternative with Logic7, which performs similar processing on stereo and matrix-encoded material but delivers 6.1-channel playback (assuming that you have a suitable setup). The differences are subtle but distinct. With excellent natural-acoustic stereo recordings, Logic7 Music gave superb results. And I suspect I'd use Logic7 Cinema in my 6.1-channel system for most stereo or matrix-encoded two-channel films, too. A bit surprisingly for a receiver that's otherwise so customizable, the AVR 7200 does not provide access to any user-adjustable parameters for Logic7 or Pro Logic II.
I should mention that DTS Neo:6 processing is also available, as well as three ambience-generation modes and Harman Kardon's VMAx virtual surround mode, which you can call up in Near or Far versions depending on your seating distance from the pair of stereo speakers. I found VMAx to deliver some of the most convincing surround effects I've heard from just two speakers-and it can also be used for headphone listening.
A few other AVR 7200 features deserve your attention. You can configure the receiver to perform whatever bass management you specify at setup time, not only on incoming multichannel or stereo digital audio signals but also on multichannel analog audio signals (DVD-Audio or SACD) as well as stereo analog audio, making it one of a relatively few A/V receivers that can do so. Of course, this management is performed in the digital domain, so regardless of the "native" resolution of the source, the analog signal is reconverted to digital via the AVR 7200's all-96-kHz/24-bit signal paths.
Next, the AVR 7200 includes HK's nifty front-panel connections, including both coaxial and optical digital audio inputs-but all of these can all be changed (via a menu) to outputs, which is a real boon if you want to dub to and from, say, a laptop computer or a DV camcorder. Along with multiroom outputs via both conventional line- and speaker-level jacks, the AVR 7200 is also one of the few receivers to provide an A-BUS output, an RJ-45 network-style connector that supplies line-level audio and control signals along a single CAT-5 cable.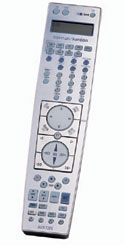 Harman Kardon supplies the AVR 7200 with a spiffy new full-system remote control. It's well equipped, comprehensive in its functions, and has a small, two-line LCD to show the current component-mode and command, plus full lighting that shows off the sleek, modern design. It looks great-but ergonomically speaking I wasn't crazy about it. The graphics are small and hard to read (they're better when lit in the dark, though), button spacing is tight, and the similarity of the almost-flush volume/channel and cursor-control rockers can be confusing. Back on the plus side, the remote's library of preprogrammed codes is fairly broad, and setting them is easy thanks to self-prompting brand and code lists, which are displayed on the LCD. (Harman Kardon also provides a handy Zone 2 remote for a second room.)
The ergonomic shortcomings of its main remote are about my only complaint regarding what is a very fine A/V receiver. Powerful, clean, capable, and complete, the Harman Kardon AVR 7200 should easily satisfy the expectations of even very demanding home theater fans.
This is an impressive trio, especially when you consider that that each of these companies offers at least one "better" A/V model, with more features, more power, more size-and a higher price. These three receivers don't make those flagships literally redundant, but they reinforce my belief that most of the time the "top-of-the-line" stuff can safely be reserved for those whose dedication to A/V "perfection" trumps all fiscal concerns.
Each receiver combines generous power, accurate surround decoding, and a usable human interface in distinctly different ways. Their performance quality was amply evident both at the test bench and on the couch in my studio, watching movies and listening to music. Harman Kardon's AVR 7200 justifies its price with superior input/output facilities, a powerfully flexible suite of second-room features, and the truly superb, all-purpose Logic7 surround mode, while JVC offers that rare combo of sexiness and simplicity in its RX-DP9V. Onkyo's entry is one of the only shows in town for anyone who'd like to have Internet radio and PC audio on tap through a traditional home theater component, but it doesn't stint on the basics, either. There's something for just about everybody here, and plenty for lots of somebodies.
LATEST VIDEO