Giving Receivers Page 2
Onkyo TX-NR900
Onkyo was among the first of the big brands to introduce Internet-audio capabilities in the shape of more or less traditional audio components, so it's not too surprising that it's also the first to bow an A/V receiver with Internet-radio and home-network capabilities. But the TX-NR900 is a very well-equipped conventional A/V receiver as well, with seven channels of power and the full rotation of Dolby Digital EX/DTS-ES modes, THX Select status, and more.
Onkyo TX-NR900
DIMENSIONS 17 1/8 inches wide, 6 7/8 inches high, 18 1/8 inches deep WEIGHT 39 pounds PRICE $1,500 MANUFACTURER Onkyo USA, Dept. S&V, 18 Park Way, Upper Saddle River, NJ 07458; www.onkyousa.com; 800-229-1687 Click here for Features and Specs
It certainly looks conventional enough, with an attractive front panel that conceals secondary controls behind a drop-down door, which also conceals the TX-NR900's front-panel A/V input. The receiver's rear panel is well equipped with digital inputs and outputs and, of course, an Ethernet (RJ-45) port for home networking. Among its seven-channel speaker outputs, the back surround pair can be reconfigured to power a pair of speakers in a second room.
The Onkyo's setup and calibration went smoothly. But there's a good deal more to tweak here than on many A/V receivers, even leaving aside for the moment the receiver's network abilities. Digital audio inputs and component-video routings are freely assignable, and the multichannel analog audio input, typically employed for a DVD-Audio or multichannel SACD player, can be assigned to any source.
The TX-NR900 has the full range of surround modes for multichannel and stereo sources, including both 5.1- and 6.1-channel versions of Dolby Digital EX and DTS-ES, each with THX variants, plus Dolby Pro Logic II and DTS Neo:6, each with its full range of user-adjustable parameters. (There's also a Mono mode for optimizing old movies, complete with an Academy Filter option that compensates for overly bright sound.)
Six ambience-generation modes-labeled Orchestra, TV Logic, and so on-run about the average range of naturalness and effectiveness, and as always, are highly dependent on the program material. User adjustments for each mode are limited to Low/Mid/High options for reverb level and time delay and provide the welcome ability to defeat reverb and delay processing for signals directed to the front channels.
Moments after I hit the play button on my DVD player, it became apparent that the TX-NR900 could deliver a very high level of performance. The shotgun blast in the opening sequence of the exasperatingly goofy Bandits made me jump but good-that's the whole point of a wide dynamic range-and the picture's uniformly clean and crisp Dolby Digital soundtrack sounded, well, uniformly clean and crisp.
The Onkyo had ample power for anything I asked, including serious multichannel music listening such as a Silverline DVD-Audio disc of the ultra-late-Romantic Richard Strauss tone poem Ein Heldenleben, recorded with five full-range channels. The sound with stereo sources and DPL II processing was consistently excellent, too, and I appreciated having access to DPL II's Panorama and Center Width controls to adjust the overall front image and the width of the center image (some DPL II-equipped receivers do not include these controls).
I began my network adventures with the TX-NR900's Internet-radio feature, using my home network's Ethernet router and cable-modem broadband service. This worked transparently: I connected an RJ-45 cable between the receiver and the router and hit the remote's NET A key. I was able to navigate the onscreen menu to troll for stations by Genre, Location, or Language without having to endure any elaborate setup routine.
Onkyo's Internet-radio features are served by the XiVA-Net database and tuning features, but everything works invisibly behind the scenes. For example, the Classic Rock genre yielded a list of about a dozen subgenres, each with several stations from which to choose. (Despite different call labels, however, multiple stations turned out to deliver the same streams-go figure.) Around half the time, the station I wanted would fail to connect, which is about average in my Internet-radio experience. Unfortunately, even just to try the next station on a list, Onkyo makes you go back to the top of the station-searching menu structure, a trip that can take a full minute or more while the unit awaits Internet responses. But you can preset Net-radio stations you like.
Most stations yielded Windows Media Audio (WMA) streams at 20 kilobits per second (kbps), which is fine if your idea of musical enjoyment is listening down a length of 4-foot pipe with a skillet of bacon frying somewhere off in the distance. (Okay, I'm exaggerating-a little.) However, I did find several stations, one Scandinavian classical and a couple of jazz, that sounded dramatically better thanks to higher-bandwidth streams: 128 kbps MP3 and 64 kbps WMA. These offered a wide range of music, with quality good enough for genuine listening pleasure.
I heard a lengthy piece of small-combo jazz featuring a sax player who may or may not have been Jan Garbarek (sounded like him to me) and a fascinating post-minimalist string-quartet movement I liked a lot. Both sounded good enough that any audio flaws were trumped by my musical interest. The TX-NR900's onscreen display puts up Title, Program, and Artist lines for Internet-radio text streams, along with data rate, but except for data rate these were almost always blank.
The TX-NR900 can also stream audio files (MP3, WMA, and WAV formats) from your PC if that's also connected to your network. You have to first download Net-Tune software from Onkyo's U.S. Web site (after registering) and configure it as directed. Theoretically, this gets you set up to browse files on your network and play them over your "big" audio system via the TX-NR900. Theoretically. Me, I failed in several attempts. My Pentium-III Windows 98SE machine apparently lacked a required .dll file, and I'm not enough of a Wintel geek to figure it out. (Alas, there's no Macintosh client, so far, for the Net-Tune feature.)
Nevertheless, I can see the value in the concept. The Net-Tune software supports various library-storage routines, allowing you to use your PC as a compressed-audio file server. With 60-gigabyte hard drives going for near pennies these days, you could easily drop an extra one into your PC and assemble a 10,000-song music-base (assuming you had the time and patience to rip all those tracks).
Of course, the TX-NR900 does "regular" radio, too. FM performance was about average with weak signals, but on stronger ones the audio quality was very good. AM reception was average, which is to say not very good.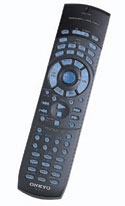 I give the Onkyo a solid B on the ease-of-use front. The supplied remote control earns high marks on function. It's both preprogrammed and learning capable, it can control up to seven components, it has separate keys for selecting inputs and component commands, and there's a sensible division of keys between surround decoding and extra DSP modes, with direct-access buttons for the most important modes. You can illuminate all of the keys by pressing the Light key, but the labeling is small.
To be sure, Onkyo's TX-NR900 is an A/V receiver with a difference. But the way I see it, the Internet-audio feature is pure gravy. This receiver's solid-in fact, excellent-performance easily justifies its value even without it.
LATEST VIDEO