Giving Receivers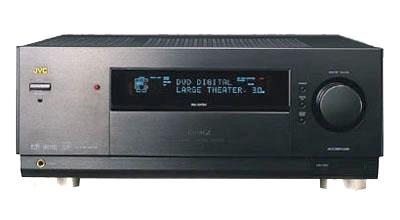 Homepage photo, remotes, and back panels by Tony Cordoza
Sure, when it comes to A/V receivers, the $4,000 flagships get most of the attention in our fantasy lives, and the $399 loss-leaders get most of the play in the Sunday-paper circulars. But the fact of the matter is, out where the silicon hits the road it's the $1,000 to $2,000 price category that sees most of the action from people shopping for serious home theater. Why? Probably because this is the range where the law of diminishing returns kicks in, beyond which you must spend greater and greater sums to purchase smaller and smaller increments of significant improvement in audio and video quality.
So what, exactly, do receiver makers need to play in this league today? To find out, we whistled up three current designs from three well-respected and experienced companies: Harman Kardon, JVC, and Onkyo. But even without so much as cracking a carton (or a manual), here's what I knew I'd find: Plenty of power, of course-at least 100 watts per channel from a five-, six-, or seven-channel amplifier section that's ready to rock-and plenty of surround options. Dolby Digital EX and DTS-ES 6.1-channel decoding are givens, but a number of proprietary surround modes are sure to be onboard as well. Of course, there'll also be a full roster of "extras" like a multicomponent full-system remote control, component-video inputs, and facilities for sending music to a second room-see our features table on page 39 for details.
But this is America, and if you want to play here you need one more thing: an angle. Harman Kardon's AVR 7200 ($2,000) has an automatic level-setting system with a wireless microphone in the remote. The JVC RX-DP9V ($1,100) has a way cool, motor-driven door/control panel that magically floats up and down at the touch of a button. And Onkyo's TX-NR900 ($1,500) has an Ethernet port as well as Internet-radio and home-networking capabilities built in. All right! But wait a minute-let's keep our eyes on the ball here and note that, flashy features aside, each of these receivers has a lot to offer.
JVC RX-DP9V
You can't help but notice the JVC RX-DP9V's automated, motor-driven door/control panel. On power up, it glides silently down an inch, revealing a row of tiny source-selection keys. Press the adjacent Door Down button on the fixed front panel, and it glides down further to reveal the more seldom-used controls hidden deeper within. Normally, I reserve a special measure of scorn for this sort of gee-gaw, but JVC's sliding panel is so sexy and restrained that it melted even my icy heart. When the panel's all the way up it gives the receiver a strikingly Spartan, knob-only look.
Along with the irresistible door, you also get a very competent, powerful, THX Select-certified A/V receiver. It is a little stingy on digital inputs, and it lacks amplifiers for one or two back surround speakers in a 6.1-channel setup, but it more than holds its own for a receiver with an $1,100 price tag.
In fact, the RX-DP9V performed admirably well on straight stereo and Dolby Digital/DTS programs alike. Its reproduction was very clean, defined, and controlled, creating tight, accurate sound, and there was ample multichannel power for anything I played. For instance, the JVC sounded effortless and airy across the very broad palette of Bela Fleck and the Flecktones' Live at the Quick DVD-a Dolby Digital soundtrack. Cuts like the 'Tones' refraction of Copland's "Hoedown" (from Billy the Kid) had impressive breadth and dynamics.
Movie surround sound was equally fine. I heard no surprises from the JVC's Dolby Digital EX and DTS-ES decoding, whether auditioned "straight" or using either system's THX Cinema or THX Surround EX variants, on any of my usual audio-check scenes. The results were reliably dynamic and clean every time.
The RX-DP9V's facilities for surround playback from two-channel sources are sparse by today's standards. The popular Dolby Pro Logic II (DPL II) and DTS Neo:6 modes for creating 5.1-channel sound from stereo or Dolby Surround-encoded programs are not offered in the mix. Instead, you get original-flavor Pro Logic. On the other hand, you get ten digital signal processing (DSP) surround modes of the Large Hall, Dance Club variety, including a couple with Pro Logic channel-steering.
All of these DSP modes blend reverberation processing into the front channels, which I usually consider anything but an improvement. In most cases, though, the JVC's processing was natural and restrained enough that I could enjoy it. The pick of these modes, for my money, is the engagingly subtle and natural-sounding Recital Hall, which was cohesive and believable even on exposed solo-piano recordings, like Keith Jarrett playing Bach (ECM). While I missed Pro Logic II-my gold standard for multichannel playback of TV programs, movies, and music that aren't already 5.1/6.1-channel-encoded-it has no bearing on the RX-DP9V's Dolby Digital/DTS performance, which was uniformly excellent.
Turning to the often-neglected tuner section, the JVC's weak-signal FM reception seemed slightly less than par for today's receivers (which are mediocre enough), but sound quality with medium-strong or better signals was excellent. AM reception was distinctly better than average-the RX-DP9V tuned in several times as many stations as a run-of-the-mill receiver.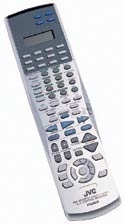 I liked the overall simplicity of JVC's ergonomic design. The receiver's big remote took some getting used to, mainly because when you select an input using the handset's top tier of keys, you also set the remote's cursor and transport keys to operate that component. This is the simplest way of doing things, and probably the least confusing, but it makes it difficult to control another source without changing inputs. On the other hand, this arrangement also means that the handset keeps basic source-component controls (like play/pause and search) and all of the primary receiver controls active simultaneously so you don't have to toggle between operating modes-a reasonable compromise. To return the handset to total receiver control, simply press the Sound key.
The handset is generally well laid out and spacious, and the clear graphics help make up for the lack of backlighting or key illumination. Note also that this is a preprogrammed-only remote: it has no learning capabilities and a modest library of codes-just ten brands for DVD players, for example.
The RX-DP9V's list of "extras" leads with a menu-adjusted three-band (bass-midrange-treble) equalizer you can set independently (±6 dB) for front, center, surround, and back surround channels. Since each band's center frequency can be selected over a roughly two-octave range, JVC calls it a "parametric" EQ-not quite accurate, because a true parametric EQ includes a variable bandwidth, or "Q," control.
Also onboard is JVC's A/V CompuLink integrated-remote system. Nearly all brands have an equivalent intercomponent system, but the RX-DP9V also features JVC's Text-CompuLink, which lets you display track, album, and disc info on your TV and use it to search your library for discs and tracks. (Of course, this feature works only with MiniDiscs and newer CDs that include text.) The system requires a compatible JVC disc player/changer, which I didn't have on hand for this audition. But I've used it in previous incarnations and can tell you it's a pretty cool and easy way to catalog and access your music.
The most important "extra" of any receiver, of course, is performance, and in this regard the JVC delivered the goods. Its basic Dolby Digital/DTS playback was outstandingly clean and dynamic, as evidenced by the well-produced soundtrack from the movie Bandits. I watched the DVD straight through shortly after setting up the RX-DP9V and forgot about my "official business" within minutes. Performance good enough that you notice only the movie and not the equipment is precisely what you want from home theater gear, and that's what I got here. JVC may have left out back surround speaker power and Pro Logic II to hit this price, but it has applied the savings wisely to power and quality and a thoughtful design.