Gary & Dale Rossington Take It on Faith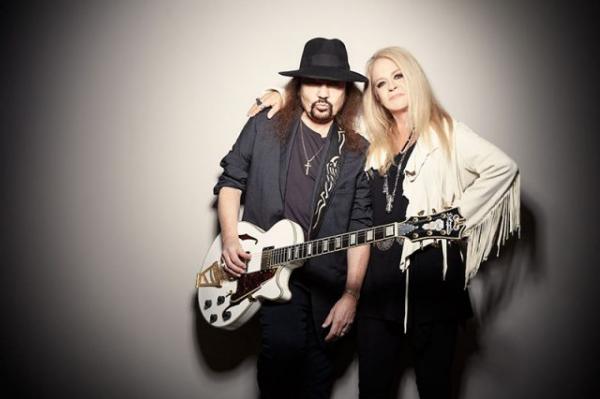 Nestled within the grooves of certain kinds of great music is a secret ingredient that can be summed up in one simple word: love. That's the special elixir that fuels Gary and Dale Rossington, who have been making beautiful music together in their special union for over 35 years and counting — much of it as fully integrated members of the extended Lynyrd Skynyrd family.
"We fell in love making music together in the Rossington Collins Band days in the '80s, and I just think she's a great singer," guitar maestro Gary says of the admiration he's always had for his wife Dale's vocal prowess. "To me, she's one of the best there is, and I'm proud to play with her every night."
Dale, whom many rightly call The First Lady of Southern Rock, admits she was instantly drawn to Gary herself: "Oh gosh, I was pretty crazy about him from the get-go," she recalls. "He's such a great guitar player. I was singing with 38 Special when they opened for Skynyrd in '77, and as soon as I saw them play, ohh! That made everything clear. That's when I got Southern Rock. Being respectful of our personal situations at the time, we worked together for over a year before we actually got together. I feel very much a part of this family now."
Dale and Gary (a Skynyrd co-founder who also happens to be known as "The Prez") have further cemented their musical bonds by stepping back out on their own again as Rossington to produce a heartfelt, soul-grabbing, and absolutely blues-tastic new album, Take It on Faith, which will be released Friday, November 4, on Loud & Proud Records. Faith was produced by David Z (Prince, Etta James, Buddy Guy) and Ben Fowler (Lynyrd Skynyrd, Hank Williams, Billy Currington, Sara Evans), who also provided additional mixing and production for the album. From the unstoppable drive of "Highway of Love" to the gritty lament of "Shame on Me" to the gutsy guitar showcase of "Too Many Rainy Days," Faith spotlights the many facets of Gary and Dale's intuitive chemistry, hearkening back to the roots of choice Rossington Collins Band hits like "Don't Misunderstand Me," "Prime Time," and "Opportunity."
The 12 songs that comprise Faith are ably supplemented by an ace studio band David Z put together. "I have always been a fan of Southern rock music with one foot in the blues, so when the Rossington management mentioned that Gary and Dale wanted to do a more blues-based recording, I jumped at the chance," David Z recounts. "I tried to combine a great mix of players and songwriters from Memphis, Nashville, Los Angeles, and Minneapolis — artists who have made historically great records. Recording this rhythm section with Gary on guitar and Dale singing lead vocals is the reason I love making music."
I called Gary and Dale, both 64, during a Skynyrd tour stop in Dale's home state of Indiana to discuss the genesis of Faith, Gary's guitar-tone mastery, and why Skynyrd's music must endure. Turn it up...
Mike Mettler: Dale, if I remember this correctly, you started singing in church when you were growing up in Indiana — isn't that right?
Dale Rossington: Oh goodness, yes. Yes. I did sing in church all my life. All of my family took piano lessons, and one other instrument. One sister was on clarinet, and the next sister was on viola, and I was on cello. It was quite a musical family.
Mettler: I think your churchgoing roots lends to the character of how you sometimes "testify" in your singing.
Dale: Yeah, I think it does. And I also listened to Motown out of Detroit all my life! I had some wonderful soul input, more than some would. I got to live through all of the wonderful music out of there.
Mettler: I'd say there's definitely a little Aretha Franklin in your vocal approach —
Dale: Oh, I wish! You can hear me wishing that were true!
Mettler: — and I would also say other singers like Bonnie Bramlett come to mind as well.
Dale: Oh, yes, I have an old Delaney & Bonnie album lying around here somewhere. I just thought she was awesome. I'm so glad I had a chance to meet her. Actually, on this new album, we've got a song that [her daughter] Bekka Bramlett is singing with me — the Billy Burnette song, "Highway of Love." I was so tickled to have her on it! She was sick the day she recorded it with us, but she added some ad-libs and put on some harmonies with me, and I just felt so honored, you know? She's a very well-respected little girl in Nashville.
Mettler: One of the most telling lines in that song is, "You gotta keep running until you're out of road."
Dale: That's right — that's right! (chuckles)
Mettler: When did you and Gary decide, "Hey, we need to make a new record"?
Dale: Well, I'll tell you what. When we started back up with Skynyrd [in the late '80s], people said very kind things about Rossington Collins, like, "Gosh, Dale, we wish we could hear you do some more of that." This went on for a long time and Gary and I kicked it around, but obviously, the Skynyrd situation had its own drama to it.
Years would go by and we would go on these Simple Man cruises where everybody said, "When are you going to do something new?" We had also kicked around the idea of doing a little blues/love-song album for a while, but again, we put it off for years and years. Finally, when we had some time off, we thought maybe it was time to do a little sumpin-sumpin.
Mettler: And we're glad you did! Well, Gary, to borrow another album title of yours, you guys are returning to the scene of the crime, so to speak.
Gary: (laughs) Hah hah, there you go! I like that. You know, it's kind of like what Dale said — we do these meet and greets every night when we're on tour, and the fans just kept asking us if we were ever going to do anything, and we kept saying no. Even our bandmates in Skynyrd would say to us, "Hey, go do something — the fans want to hear it." People would be asking them if we were going to do it, so finally, we thought, "Well, let's just do it." We did it for the fans, and I hope they like it.
Our record company at the time encouraged us to go in and just cut a few tracks to see how we felt. We got a few songs going that were written by other people and we wrote a few ourselves, and then we went in did the basic tracks in about a week, if it even took that long. And then I just overdubbed a little here and there. We really got into it a lot and got into working with the guys we played with, and that was a lot of fun. We never really did anything on our own since the Rossington Collins Band and the Rossington days in the early '80s, so it's been a long time coming.
Mettler: And it's well worth the wait, I think. As for me, I have to say my favorite track is "Too Many Rainy Days."
Dale: Oh, yeah, thank you! I love that one. I love the blues side of us. The upbeat ones were a lot of fun too — but, you know, I like the drama. (chuckles)
Mettler: (laughs) Yeah, there is a little bit of drama on this record.
Dale: Oh yeah, yeah; and Gary just nails it at the end of that song. I do love that. It was such a delight. We had heard the songs and worked on them at home, but these guys just brought the magic. That made it easy to stand back, and let them all play their bits.
Mettler: Magic is a good word for it. And there is a lot of strife and stress in the lyrics. Was that a main goal of yours as the singer to get across some of those conflicts?
Dale: Oh, you know, I had a lot of that drama years ago, so I'm almost kidding about some of that. I like drama in the music — I don't need it in my life anymore. So that's a nice distinction. But, yeah, those kinds of songs really speak to me.
Gary: Yeah, we could relate to them so much. There was, with Skynyrd and with me, a lot of drama — old feelings, different people's feelings, and friends of the band's feelings. We all had to deal with them — and get over them, I guess.
Mettler: Gary, you really got to pull out your blues side on "Too Many Rainy Days," big time.
Gary: Oh, thanks. Yeah, I love that song, man. It was fun playing that one. We started out where we were going to do a whole blues album like Dale said, but then we started writing a little bit differently. Take It on Faith is not really blues — but then again, it is. It's got some sad lyrics and some sad songs on it, you know?
Mettler: That first "Rainy Days" solo is purely in the right channel and has a Stevie Ray Vaughan/Lonnie Mack tone to it (Gary chuckles), and then you have a nice piano run [by Bruce McCabe] that's followed by the next solo, which is centered down the middle and has another different tone and feel to it. Is that you doing both of those solos?
Gary: Yeah, and I had a lot of different guitars in that session too. I had about four or five different guitars there with me. I always play Les Pauls, but I got a little bit of different sounds with some of 'em.
Mettler: Which guitars did you use on the album?
Gary: Oh, I had a Gretsch Tennessean, a Stratocaster, and an EL35, one of those big Gibsons. And then, of course, I played my Les Paul through some of the songs. I just changed it up to be different than how I record with Skynyrd.
Mettler: Your tone is so distinct on so many songs like "Shame on Me" and "Good Side of Good" that I have to call you "The Tonemaster." It's like you're putting on a tone clinic here for us from start to finish.
Gary: Well, that's how we tried to do it in the old days — if we can talk about the old days! (both chuckle) In the '60s and '70s when we were starting out, we wanted to be different, so you made a different tone. That's how you made it back then — you came up with a little different style than everybody else going around. I just get my own tone, and then I try to run with it.
Mettler: Dale, I like how there's sometimes a really gritty character to your vocal on certain songs, and then we get breathy tones on some of the others you're belting out. Did you approach each song with an individual feel like that in mind?
Dale: We took every song on its own merits, yeah. For example, I got such a kick out of "Something Fishy." That was fun to do. I came up with the idea to talk about it like while you're cooking something. And we got to do it with Delbert McClinton [on harmonica] and Gary Nicholson [on guitar]. That was fun. They were a hoot. They had worked together before.
But whether it was the "Shame on Me" side of things or the really fun ones like "Fishy" — we just took each song one at a time. There was not necessarily a theme to the album, but these songs were picked out, and we let each one of them do their own thing.
Mettler: People like to put the label of Southern Rock on what you do, Gary, but I think it should just be known as American music.
Gary: Right — though back when we started, they did label it that way. It didn't really hurt us. In our minds, we were like, "We're just a rock & roll band from the South." But you know how people label things, so we got labeled Southern rock. And that's fine with me, you know?
Mettler: It's all part of a bigger legacy anyway. We saw you and Skynyrd play in New in Jersey back in June, and it was great watching the multiple generations of fans in the audience. That makes me think you have a stage for playing Skynyrd music for as long as you want to do it.
Gary: Yeah, man! I know we just love playing for the people. That's the kick I get out of it. I used to not really enjoy the crowd as much because I was kind of shy, and in the old days, we were drinking a lot (chuckles), but that no longer happens. Now it's just great to see two or three generations getting emotional to the lyrics of "Free Bird," "Simple Man," and "Tuesday's Gone." When I see that, it just thrills me. I can't believe it, that people are touched that much. It's a great thing to do.
That's why we keep it going, so I can talk about [members of Skynyrd who have passed away like] Ronnie [Van Zant] and Allen [Collins] and Steve [Gaines], and keep their music and their legacy alive. If we just stopped, everything would kind of fade away. As long as I'm around, I'm going to keep going.
Mettler: Do you have one particular favorite song you like playing every night, or is it all of them?
Gary: Well, with me, it's all of 'em, but it's really enjoyable to play "Simple Man" these days. It's really emotional. We dedicate it to the soldiers and their families, and in the audience, you can feel the emotions. It's really great. It's like no drug you could ever imagine taking.
Mettler: That's a good point. We've all come through stuff; we've all been there. Music is all we need, right?
Gary: Yeah, man. Right on, brother. I'm just happy to be here, still doing it. Besides our kids and grandkids, music is the only other thing we live for. We love it. We love everything about it. We're older now, and we just appreciate everything more. It's great to be in this business.