Full Immersion: Auro-3D Auriga Home Theater Receiver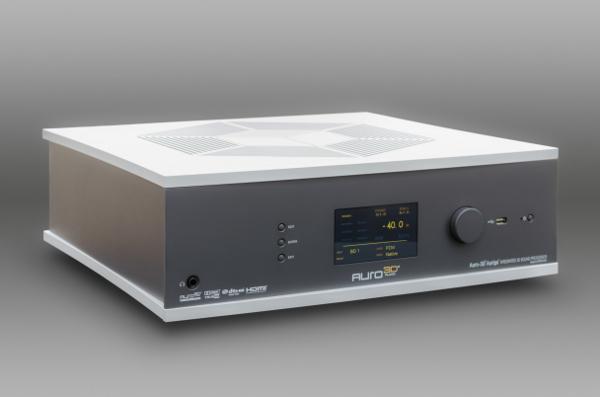 Note to readers: See Clarification at the end of this article for an update.
Weeks before Onkyo and Pioneer announced the first Dolby Atmos-equipped AV receivers, we received a press release touting the "first ever immersive sound receiver"—the Auro-3D Auriga from Belgium-based Auro Technlogies. Intrigued by its high-end looks—and $16,700 price—we reached out to CEO and Auro-3D inventor Wilfried Van Baelen to learn more about the product and the Auro 3D surround-sound format at its core. Auro 11.1, which adds height and overhead channels to an existing 5.1 surround-sound setup, debuted in theaters in 2011 and today supports almost 500 screens worldwide, according to the company. Recent movies mixed in Auro 11.1 include Oculus, The Amazing Spider-Man 2, How to Train Your Dragon 2, and a number of foreign films.
S&V: Tell us about Auro-3D.
Wilfried Van Baelen: Auro-3D is the next generation three-dimensional audio standard. The format is designed as a "one cross-market solution" for movies, games, broadcast, and music. By fully immersing the listener in a cocoon of life-like sound, Auro-3D creates the sensation of "being there" by adding a very specific ingredient to the sonic mix: height, the crucial third and final dimension in the evolution of sound reproduction.
S&V: How does Auro-3D differ from Dolby Atmos?
WVB: There are many differences. The only thing we have in common is that we add height to the existing surround format. Immersive sound is all about the vertical spread of sound in a hemisphere around the audience, so the speaker layout is crucial. Dolby Atmos has two vertical layers while Auro-3D has three vertical layers around the audience to achieve a more natural spread of sound energy and more precise location of sources and their reflections in the vertical axis, starting from ear level to the top. What is unique to Auro-3D is the vertical stereo field of 30 degrees in front of and around the listener, which creates a more natural reproduction of the sound sources and their 3D reflections compared with our competitor's format.
Another major difference is that Auro-3D is based on high-resolution audio (PCM) in each channel, while Dolby Atmos uses the [new] AC-4 lossy codec (successor to AC-3). Additionally, to achieve the precision of object based technology like Dolby Atmos, you need more amplified channels. I wonder if people are really going to install a true 3D speaker layout to listen to a lossy quality of sound like AC-4. Having PCM sound quality is very important for true 3D sound—lossy codecs delete spatial information that is crucial for our subconscious brain to achieve a true 3D sound experience. Our technology also allows you to use your existing Blu-ray player without the need for any upgrade. These are just a few differences but there are many more.
S&V: What's special about the Auriga AV receiver?
WVB: The Auriga is the world's first integrated 3D sound processor for consumers. It's a state-of-the-art device that has multiple HMDI inputs, 16 output channels—13 of which are powered by high quality 200-watt amplifiers—and it's upgradeable to 4K. 3D processing is handled by the Auro-3D Engine, which automatically recognizes whether an Auro-encoded track is present or not. When it is, the Auro-Codec Decoder reproduces it from that Auro-encoded standard 5.1 PCM track as it was intended by its creators without any audible loss in the sound quality. Auro encoding is contained in the same file as the standard 5.1 PCM surround master on the Blu-ray disc.
If there is no metadata, the Engine will recognize which legacy format is present (mono, stereo or 5.1/7.1 surround) and send that signal through the Auro-Matic algorithm, which enhances the emotional connection and brings the audience subconsciously closer to the soul of the artist or to the action on screen. That means you can enjoy Auro-3D with everything you are listening to or watching because it creates a life-like envelopment of sound that can only be reached by adding height speakers as defined by the Auro-3D format.
S&V: Why Auriga?
WVB: I was always intrigued by the magic of the universe. I had already named my company Galaxy Studios in 1982 and I wanted to bring the names of star constellations to our devices because they are based on an audio format representing the three-dimensional space around us. Auriga is a special star constellation and I chose that name for the first AV receiver with true 3D Sound capabilities.
S&V: Can you run through the possible channel/speaker layouts?
WVB: Auro-3D has scalable true 3D sound formats for different size rooms. For a smaller home cinema, Auro 9.1 is the most efficient system with height channels in front and around the listener, and it is backward compatible with 5.1. This compatibility is the basic idea behind all Auro-3D formats. Having that "vertical stereo field" between ear-level and Auro-3D's unique height layer all around the listener creates the most immersive experience.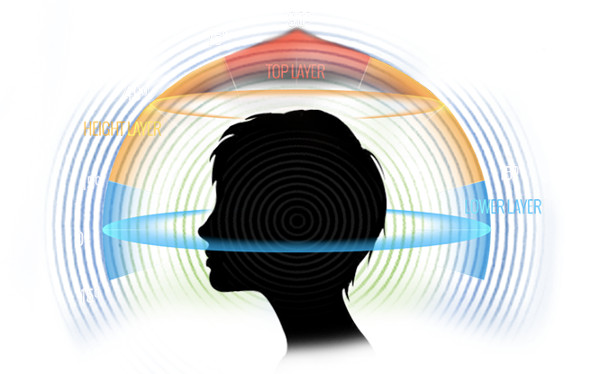 For larger rooms, we add a center height channel and a top (overhead) layer directly above the listeners, which results in Auro 11.1. I designed this format especially for the theatrical world and it has been embraced by our partner Barco, the worldwide leader in digital cinema projectors. The Auro 13.1 format is the same but based on an existing 7.1 surround system.
Another difference with Dolby Atmos is that our speaker layout in theaters is based on the existing 5.1 and 7.1 surround standards while Dolby Atmos is not. The distance between speakers is smaller and they are all directed to a reference position in the room, which creates more clustering and phasing effects. Last but not least, Dolby Atmos surround speakers are elevated more than the 5.1 or 7.1 surround standard, which doesn't allow vertical precision of ear-level sounds, which is where most sounds in nature occur. This is not the case with the Auro-3D, which can playback the 5.1 and 7.1 tracks as defined by the standards used in theaters worldwide as well the ITU standard for home applications.
S&V: How many Auro-3D movies on Blu-ray do you anticipate by the end of 2014?
WVB: The number of Auro-3D films coming out on Blu-ray before the end of the year is not yet defined but it will be an impressive list. The consumer market is also now demanding more titles, which will help bring more Auro-3D movies to the home market.
But Auro-3D is not only about films—music is very important as well. Auro-3D is a mixing format as well as a native recording format, which Dolby Atmos is not. We have developed a range of professional audio production tools and are working closely with the industry to release music titles. Several labels will announce Auro-3D content within the next few weeks. Blu-ray is an ideal format for high-resolution audio encoded in Auro-3D.
S&V: Will Auriga be available in U.S. retail stores?
WVB: We are currently in the process of executing agreements with U.S. distribution chains to bring the Auriga into people's homes. Right now, you can order directly through Auro Technologies or email us at sales@auro-technologies.com.

Clarification: After our publication of this story online and in the October issue of Sound & Vision magazine, Dolby Labs contacted us to clarify what they saw as inaccurate statements by the interviewee in his description of its Atmos technology. The company supplied the following information:
Dolby Atmos is currently supported for Blu-ray through the Dolby TrueHD codec, a lossless format that is equivalent to uncompressed PCM sound quality upon playback. The lossy codec Dolby Digital Plus supports Atmos for streaming and broadcast applications, and has been updated to carry Atmos soundtracks without compromising spatial information.
Existing Blu-ray players meeting current Blu-ray specifications can pass the Dolby Atmos bitstream with no upgrades required, though Dolby always recommends updating to the manufacturer's latest firmware.
The channel-based bed component of Dolby Atmos as used in theaters is based on the standard 7.1 surround configuration. Two additional height bed channels are added for a total of 9.1 bed channels. Dolby Atmos then adds up to 64 additional speakers to reproduce up to 118 placed sound objects in addition to the 9.1 bed channels to achieve fully immersive sound. Dolby Atmos in the home playback space is 100% object-audio based.
Dolby Atmos and the Dolby Atmos production tools are equally applicable to film and music productions.