Focal Profile Speaker System: Short Take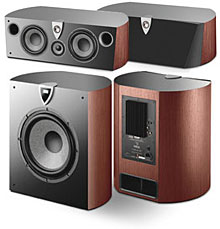 Price: $10,970 without stands
Profile 918: Ported, "2.5-way," three drivers, floor stander, 3,995/pr.
Profile 908: Ported, two-way, two drivers, stand-mounted, $2,295/pr., $495/pr. for stands.
Profile CC908 Center: Three-way, four drivers, stand/cabinet mounted, $1695/ea.
Profile SW908 subwoofer: Ported, 13" driver, 500-watt (700-watts peak), $2,995/ea.
The new Profile system from Focal (formerly Focal-JM Labs) may be smallish in size, but the soundstage it creates is definitely theater filling. Expect lots of depth, and not just the 5.1-channel variety. In stereo, the Profile 918 floor standing speakers proved worthy by their loving treatment of my favorite vinyl LPs. While the 918's bass by itself would not make it the first choice for lovers of pipe organ music, the bass in the jazz and rock recordings I mostly listen to was well articulated. High frequencies are nicely reproduced, being extended and not subject to noticeable strain. The human voice is very detailed and male voices, in particular, devoid of any artificial upper bass chestiness. Timbre matching from 80Hz and above is this system's claim to fame, with the center channel CC908 producing highly intelligible dialog. Unfortunately, the strong Euro means this system faces a lot of stiff competition in the over-$10,000 market. This is a sneak peak from Fred Manteghian, who is in the process of completing a full review of this speaker system for UAV, stay tuned.