Focal-JMlab Chorus S Speaker System
Trickle-down economics, audio style.
While those on the left and right sides of the political fence are bound to debate the pros and cons of trickle-down economic theory for the rest of time, it's hard to deny the way in which many high-tech developments that began life in projects bearing stratospheric price tags eventually came to benefit the masses, in products we can use every day. Today, many of us can afford gadgets like GPS navigation systems and laser pointers, whereas a few years ago this type of technology was available only to the largest institutions and military powers. This access to technology has had a major effect on today's audio components; for example, most of the latest surround processors have far more computing power than the in-flight computer used for the Apollo 11 moon landing in 1969.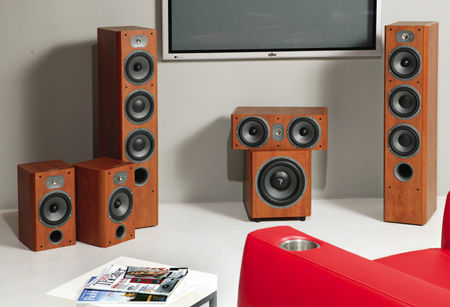 High-Tech Tweets
Although they aren't exactly restricted to people with Pentagon-sized purchasing power, Focal-JMlab's Utopia Be Series speakers, with their exotic beryllium tweeters, remain out of reach for many audiophiles. While these ultra-pricey tweeters are also too costly for use in a budget speaker line like the Chorus S, Focal-JMlab's engineers have been able to use many of the lessons learned while developing them to create a new, more-affordable version. Dubbed TNC, this new tweeter features a special low-density aluminum/
magnesium alloy formed using a similar technique to the Utopia's beryllium dome, which is claimed to endow it with incredible rigidity and lightness while retaining excellent damping properties. In plain English, this means that the TNC tweeter is touted to combine the best aspects of a good metal dome with those of a soft dome in one budget-priced offering.
French Home Cooking
For many years, JMlab loudspeakers and Focal drivers have been two of the most well-respected brand names around, but even many seasoned audiophiles never realized that both were actually parts of the same French company. Now, by joining the two names together, they can emphasize their advantage over the majority of high-end speaker companies that don't build their own drivers in-house. In fact, many of those other companies use Focal drivers in their finest products, and the Focal inverted dome tweeter has become a familiar sight in many top-flight designs. While excellent results are clearly possible even if you buy your components from an outside vendor, it's easy to see how building everything yourself allows you to develop an entire speaker from scratch, using a single coherent design approach.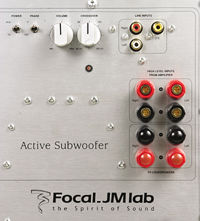 Creating a line of budget-priced speakers usually involves a series of shortcuts and compromises, and the real skill is in making the savings in the right areas. What's so impressive about the Chorus S speakers is that it's really hard to figure out where the savings were made. To complement the TNC tweeters, each model uses Focal's well-established Polyglass drivers for the midrange and woofer duties; also, by incorporating similar 6.5-inch drivers in every speaker, odds are improved for correct timbre matching between all of the speakers in the system.
Is It Real, or Is It Vinyl?
Cabinet quality is one area where cost savings are often made, and sure enough we find that Focal-JMlab chose to go with a simulated wood-grain finish sourced from the petrochemical industry rather than from a forest somewhere. This is no ordinary vinyl wrap, though. My review samples were finished in what the company calls "Calvados," which was realistic enough to prompt a call to the importer just to confirm its manmade origins. All of the speakers, including the subwoofer, had this finish on all sides. Light alder wood and black oak finish options are also available to match your personal preference.
The cabinets themselves are really quite solidly built using a fine grade of MDF, and the 726 S tower and 706 S monitor use a forward-firing port. Each speaker sports a pair of five-way binding posts on the back, with the floorstanding 726 S adding a second pair to allow for biwiring. The attractive, curved fabric grilles are stretched over a plastic supporting structure that has been engineered to minimize diffraction.
The SW700 S subwoofer is just a tad bigger than some popular mini subs like those from Sunfire, but it's still small enough to tuck inconspicuously into a corner. With a rated 300-watt BASH amplifier driving an 11-inch Polyglass woofer, there's plenty of grunt on hand for most situations. Thankfully, in addition to the normal speaker- and line-level inputs that go through the built-in crossover, there's a full-range LFE input that makes it easy to hand over all of the bass-management duties to your surround processor.
A Simple Load
JMlab speakers have a reputation for being quite easy to drive, and the Chorus S speakers, with their relatively high impedance and sensitivity ratings (see our measurements box for details), continue that trend. I used a Parasound amp with a rated 125 watts per channel, but even a moderately powered receiver will work fine if the room isn't too big. While each of the speakers has more than enough bass extension to keep it clearly out of the satellite category, I found that I got the best overall balance in my room with the CC700 S center and 706 S surround speakers crossed over to the sub at about 60 hertz, while I ran the 726 S mains full-range.
Sounding Off
Right from the get-go, it was clear that all of the fuss JMlab has been making about the tweeter is much more than mere hype. These speakers had a decidedly rich, refined sound to them, with a level of fine treble detail and resolution normally heard only with much more costly products. With Charles Mingus' Ah Um SACD, I could savor the clear differences in tonal color between each of drummer Dannie Richmond's cymbals. Mingus' bass sounded perhaps a bit more tight and tuneful, rather than weighty and deep, but there was a fine sense of transparency right through the midband. Once I positioned the front speakers optimally, a well-dimensioned and finely focused soundstage was possible with appropriate stereo recordings, while the excellent timbre matching allowed for seamless panning around the room with multichannel sources.
When it came time to break out the popcorn and switch to movie mode, refinement continued to be the buzzword with the Chorus S. If your idea of great home theater is blasting your neighbors away with the depth-charge scene in U-571 or seeing how loudly you can play the opening of Goldeneye, then perhaps this isn't the system for you. If, however, you prefer to watch entire movies and value detail, space, and dialogue clarity, the Chorus S is tough to top at this price. Don't get me wrong, these speakers can handle onscreen dynamics without difficulty, just with a little less dynamism than something like a Monitor Audio Silver or a Klipsch Reference.
At a time when it seems as if all of the budget-priced speakers have turned into little sub/sat setups that rely heavily on an overburdened subwoofer, it's refreshing to see a system that includes real speakers that can also stand on their own. While their refinement and tunefulness make the Chorus S speakers particularly rewarding with music sources, there's more than enough grunt available for any real-world movie soundtracks. When you add in the fine way they've been built, it becomes clear that this is a tremendous amount of speaker for the money—proof perhaps that some trickle-down theories can work under the right circumstances.
Highlights
• Homemade ingredients make for a tasty recipe
• Terrifically refined TNC tweeter used throughout
• Hard to believe it's a vinyl finish
LATEST VIDEO