First Take: Seth Green & Matthew Senreich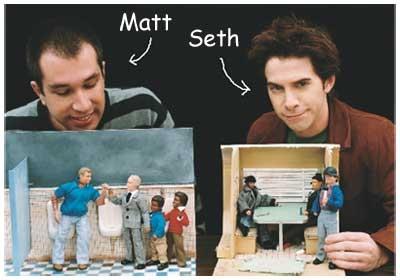 On Robot Chicken, action figures are stop-motion animated in humorous, wacky, and sometimes violent sketches - and I can't stop watching. Why does the show work? MATT: Our big thing is that we play off of nostalgia. Otherwise, viewers would have to remember topics that might have become dated, because we write so far in advance. SETH: Certain pop-culture stuff you can't rely on. Britney Spears' life changed dramatically from the beginning to the end of last year, so it's hard to make a joke about the birth of her baby if, say, her husband walks out on her after we're done.
"Citizen Spears" [a sketch in the DVD's deleted-scenes section] will just have to be an ongoing miniseries, then. MATT: Obviously we'll have to think about that. SETH: I'm so curious about people's reactions to that sketch. MATT: Seth loves it, I hate it. SETH: [laughs] I still feel it's valuable. The problem was that when we wrote it, it was one thing, but... MATT: It lost its relevance really quickly. SETH: And then we made it the best we could.
You guys did commentaries on all 20 episodes for the Season 1 double-disc DVD. What do you like about them? SETH: They're a lot of fun whenever people are stupid, get drunk, or tell secrets. Occasionally, there's some cool technical information or a fun on-set story. The main reason I like to do commentaries is because it's one of the few times you get to reflect on a project along with the cast and crew. It gives you an opportunity to point out all the neat things that happened. It's also a chance to brag about how cool you were when you were making it. [all laugh] MATT: I'm a longtime Star Wars fan, so it was fascinating to have Mark Hamill come in to comment on our Spoilers sketch [in Episode 11, "Vegetable Fun Fest"], where we have him re-enact the "Luke, I'm your father" scene from The Empire Strikes Back.
Seth, how about that other animated show you work on, Family Guy - any extras or commentaries that stand out for you? SETH: You know, getting to do Family Guy commentaries is a lot of fun because I have limited responsibility. I go in there, and [creator] Seth McFarlane and the producers have so much to talk about with back stories and other technical and creative things, so all I have to do is occasionally interject a "jewel of comedy."
When we did the commentaries for the third season, it was the first time I'd seen the episodes because they hadn't even aired yet. That's not a really exciting insight, is it? [chuckles] Fox realized that the real money to be made with Family Guy was on the DVDs, so they wanted them ready the second the season was done airing. To do that, they had to fabricate everything that would go on the DVDs before the season even aired.
People now watch TV on their cellphones. Would that work for Robot Chicken? MATT: Maybe. We're talking to a couple of different companies about that. SETH: Certain things on the show just won't work in a 2 x 2 format. We're big on physical gags, and I don't think the subtle stuff is gonna play on a phone.