The Finishing Touches
Lighting, acoustic treatment, and other details to really make your theater your own.
Home theater interiors are like fingerprints; it's kind of trite, but it's true. No two are identical. There are dozens of styles and hundreds of variations within them. If you're going for a true dedicated-theater look, you can choose from a traditional design, art deco, or even a theme (such as Star Wars or the Old West). Within the general theater concept, there is a staggering variety of color treatments, acoustic panels, fabrics, flooring, seating, columns, cabinetry, lighting, trim, curtains, speakers (yes, they can be a design consideration), stages, prosceniums, and paint to choose from. Here again, you can consult a professional designer for varying levels of assistance or go it alone.
Plan Ahead
Unless you want to incorporate specific architectural details, like a barrel-vaulted ceiling, you can address most of the interior details after construction is substantially complete. You will, of course, need to think about things such as cabinetry, ventilation, lighting, and speaker placement a bit earlier to ensure that everything ends up in its proper location when construction is complete. Generally, you should plan the overall look of the theater during the construction stage so that you'll be able to address details such as equipment storage, ceiling profile, projector location, and other things. The little details sometimes make a huge difference in how your theater comes together and your satisfaction with the completed project.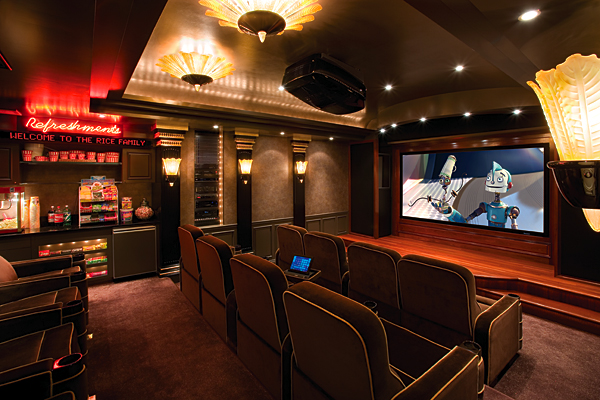 You may not need to choose your specific lighting fixtures, for example, until construction is complete. Still, when you're in the early stages, you should determine the type of lighting you want to use. For instance, if you will be using sconce lights along the sides of your theater, you won't need to specify the actual sconces you plan on using, but you will have to know where you'll be placing them, such as on the wall or on a column. If you'd like them to be column mounted, you'll have to plan the column layout before the electrical rough-in so the electrician can wire them where you'll be placing the columns. You can just plan the column layout around the lighting layout, but that may impact other details such as acoustic panels or speaker locations.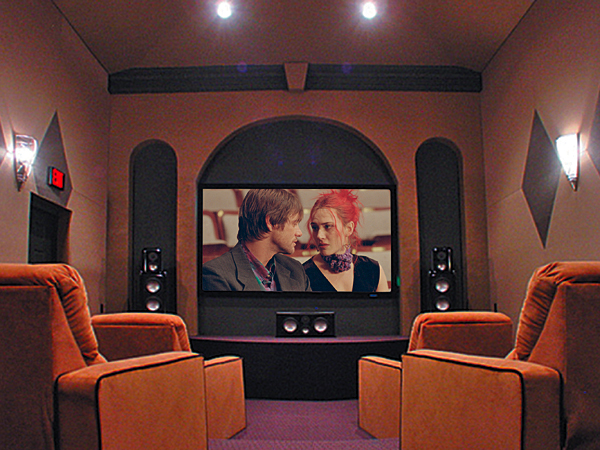 Once you've got the general idea and overall layout of your theater, you can begin to plan the more advanced details. One design element that obviously has a major impact on the overall look and feel of your theater is the color scheme. The best idea is to surround the screen with a neutral gray. Although this isn't the most attractive solution, it is the one with the least impact on the onscreen image. Light, bright colors can distract you from your involvement in the film, so it's best to stay away from them. In addition to the distraction, bright colors, especially shades of red, green, or blue, can scatter light back to the screen, potentially causing a color shift in your video material. Light colors around the screen area can reduce the perceived contrast of your video image and take away some of the pop. Lastly, any color you surround the screen with will "subtract" that color from the image. So, if the area around the screen is red, you will perceive the image on the screen as not having enough red.
Acoustic Panels: No Longer Just for Sound Treatment
The use of acoustic treatments throughout your theater can be as much a design choice as a functional one. The application of acoustic panels at strategic locations throughout your room can go a long way toward creating the true theater look. Such panels are made of acoustic fiberglass wrapped in acoustically transparent fabric. The fabric itself is available in hundreds of different variations, so you can find one to complement almost any décor. For something really special, Cinema Design Group International will customize acoustic panels with your own images. They also offer faux treatments, such as stone or wood, and they can create theater interiors with realistic cityscapes or landscapes. The company can make it look like your theater has windows to the outside, when, in reality, it doesn't. You can even have an "inside the aquarium" look with visions of the sea.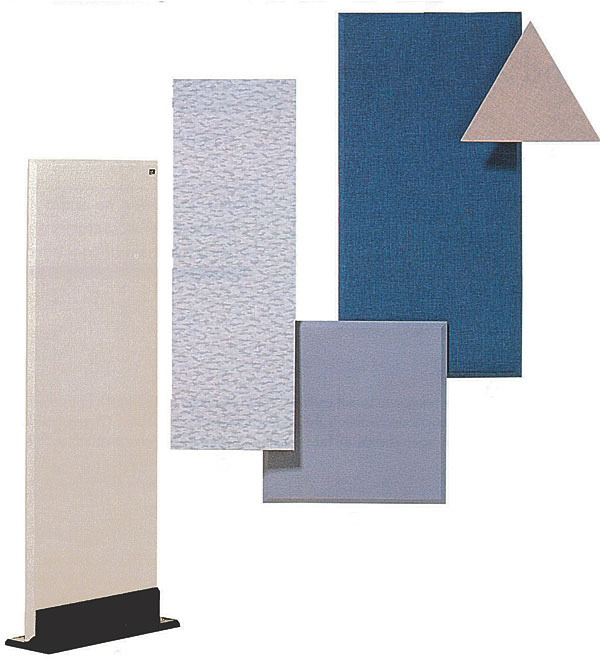 In addition to the fabric, you'll have to select the size and shape of your panels. There are basic rectangles, rectangles with rounded corners, and flat and rounded bottoms and tops. Panels are also available with beveled, bull-nosed, or square edges. Some acoustic-panel manufacturers offer wood-wrapped edges, which can be a classy touch if it fits with your design. You can also create some interesting looks by stacking panels of different sizes and colors on top of each other. Another acoustic-panel variation that often lends a nice design touch to the theater is acoustical corner traps. Acoustically, they reduce the bass boost that the intersection of multiple boundaries creates. Aesthetically, they can give an otherwise dull, boring corner a bit of excitement or just make it more interesting.
Take a Seat
Seating is an interior-design element that can have a tremendous impact on not only the look but the functionality of your home theater. Plus, the seating is something you'll use every time you're in your theater. One way or the other, the quality and comfort of your seats will have a huge impact on your overall experience. There is a large variety of companies that provide dedicated theater seating such as Acoustic Innovations, CinemaTech, and Fortress Seating. There are so many different styles available from various manufacturers, it would take a huge catalog to show them all.
In addition to the styles, you'll have a dizzying array of fabrics and colors to choose from. Most manufacturers allow you to choose different grades of leather. Some leather upholstery can be had in your choice of solid or perforated styles, as well. If fabric is more your speed, there's no shortage there, either. Cloth, microfiber, and simulated suede are all available in dozens of colors and patterns. In addition to the seat upholstery itself, some seating styles are available with contrasting-color piping around the edges, if you prefer. You can choose from love seats, separate chairs, or attached chairs that form a row of single seats. The rows can be straight or—if you use wedge-shaped arms rather than rectangular ones—curved. It all depends on your space, budget, and décor requirements.
You'll want to revisit your guest requirements, as well. If you want to seat 12 people and maintain a theatrical look in a 12-by-19-foot room, large theater recliners with 27-inch-wide cushions are probably out of the question. They may be comfy enough to put you to sleep, but you'll never fit everyone in your theater while maintaining good sight lines and an optimum viewing distance. You'll have to use a more traditional theater-style seat, such as those from Irwin Seating. These are more akin to what you'll find at the local cinema, where true recliners aren't an option, but they can fit everyone in during that Saturday matinée. You may have to forgo the large, plush recliners, but they do look just like real theater seats (because they are), and they won't give quite the hit to your budget that some of the more opulent seats will. If you've got the space, you can compromise with rocker-style seats. These don't give you the option of fully reclining, but they'll let you rock back like the stadium seating at your local Cineplex.