Emotiva DMC-1 Preamp/Processor and MPS-1 Multichannel Power Amplifier
Throughout his career, Mark Schifter has created affordable, high-fidelity products that compete with price-is-no-object high-end gear. His resumé includes stints with Audio Alchemy and Genesis Speakers.

Shifter's latest creations, the Emotiva DMC-1 A/V preamp-processor and MPS-1 multichannel power amp, feature specifications and ergonomics that challenge components at double their price tags. Obviously, every manufacturer would like to accomplish this near impossible task. How does Emotiva do it? By combining state-of-the-art US design with modern Chinese manufacturing and Internet-based sales and customer service.
Emotiva products can be purchased only on the www.av123.com Website. Besides being an Internet sales portal, the site offers extensive information, including a library of technical white papers and an active message board full of information compiled by a cadre of avid users. Guy Kawasaki, one of Apple's original McIntosh marketing gurus, coined the term "evangelist" to describe users who are passionate about a manufacturer's products. At www.av123.com, you will discover a flourishing subculture of Emotiva evangelists eager to share their passion and enthusiasm.
Unlike many Internet sales sites, the AV123 site offers service before, during, and after your purchase. I discovered Emotiva's exemplary customer support firsthand. I've used four different DMC-1 units during my four-month review period. The first unit was in my system about a month when I received an email from Emotiva indicating the software had been upgraded and they wanted to replace it with the latest version. The second unit arrived a day later via UPS along with a return label for the original. Unfortunately, the replacement unit exhibited a far greater sensitivity to ground loop problems created by my DirecTV satellite installation, so Emotiva replaced it with a third unit, which fared much better, with virtually no hum issues. After another month, an early summer thunderstorm produced a nearby lightning strike that rendered it brain-dead. Once more Emotiva sent me a replacement via UPS and collected the damaged unit.
Each time, the replacement process was quick and painless (except for having to unpack and repack and de-install and re-install the processor). I never waited on hold for more than a few seconds, and the service specialists handled each situation quickly and efficiently.
Did I get special treatment because I'm a reviewer? No, I think not. I used the same phone numbers and talked to the same customer service representatives who work with Emotiva's regular customers. AV123's service system simply delivers the level of attention that all home theater customers deserve but few receive from manufacturers or sales outlets.
In the world of high-end collectables, there's an expression: "Buy the seller, not the item." It refers to the fact that when you purchase something from an established and reputable dealer, you are guaranteed that it is genuine. Many companies offer fine home theater hardware, but few provide service that exceeds long-established norms. Emotiva's customer support is a major sales incentive, and hopefully will inspire other manufacturers to improve their service.
The Front End
The Emotiva DMC-1 preamp/processor includes a remarkable amount of technology and features for $2499. Based on Motorola's Symphony DSPD56367 DSP chip, with an Analog Devices AD1853 24-bit/192kHz ADC (analog to digital converter) and Cirrus Logic CS5394 24-bit/192kHz DAC (digital to analog converter), the DMC-1 offers "broadcast quality" upconversion to component for all S-video and composite video sources, onscreen menus from all video outputs (including component), and provisions for up to 7.1 balanced or unbalanced audio channels.
The Emotiva also supports all the latest audio and video formats, including Dolby Digital, Dolby Digital EX, Dolby Pro Logic II/IIx, DTS, DTS-ES, and DTS Neo:6. It also provides direct analog passthrough for analog 2-channel or multichannel sources such as turntables and SACD players. The DMC-1 can support one multichannel system, plus a second zone of 2-channel audio (if the source for the second zone is multichannel, it will be downmixed to 2-channel for the second zone). Not only that, it includes an AM/FM radio tuner. In short, it delivers a combination of design and features that would have cost at least twice as much only a year ago.
Only two features are missing. First, you won't find DVI or HDMI inputs and outputs. Second, the DMC-1 lacks the usual plethora of DSP modes for 2-channel music. The first omission is certainly more serious. If you have more than one DVI or HDMI source, you will need an external switch box (few displays offer more than one DVI/HDMI input).
With separate 12-volt trigger controls and infrared outputs for two independent zones, the DMC-1 can be configured as part of a very sophisticated and user-friendly custom home theater installation. Because its set-up is relatively simple and the instruction book is fairly comprehensive, a hobbyist can successfully install a DMC-1 in their home system. Judging by the AV123.com's message board, I'd say a much higher percentage of Emotiva users successfully self-install than customers of other products.
The DMC-1's installation menus facilitate an easy and remarkably efficient setup. Bass management is not be quite as flexible or sophisticated as my reference Lexicon MC-12 pre/pro. But the DMC-1's options do include variable crossovers with independent crossover points for the front, center, and rear speakers, multiple subwoofers, and speaker distance settings with 1-inch increments. I particularly appreciated this last feature. I found that spending a bit of extra effort to get the speaker distances spot-on resulted in noticeably more precise imaging and soundstaging.
In the past, mid-priced pre/pros whose interior components competed with much more expensive units suffered from exteriors that resembled boring steel project boxes. Manufacturers who invested their capital on technology left little in their budgets to spend for style and ergonomics. The Emotiva DMC-1 avoids this pitfall. It looks commandingly sharp with its rich multi-leveled front panel, blue-backlit knobs and buttons, centrally located LCD front display, and removable wood side panels. The styling may appear imposingly masculine, but it doesn't look or feel cheap.
Instead of crafting their own remote, Emotiva chose to use Universal Remote's MX-500. This fully featured learning remote can run not only the Emotiva, but also an entire home theater system. The Emotiva instruction book devotes quite a bit of space to the remote's operation, but to fully exploit its capabilities, you need to download its own instruction book from Universal's Web site. Many features, such as adjusting the LCD contrast and programming complex macros, are explained in much greater detail in Universal's instruction manual than in Emotiva's booklet. After about 30 minutes of programming, I could run my entire system, including esoteric components such as my CEC TL-2 CD transport and ancient Proton 331 monitor from one remote.
The Back End
The Emotiva MPS-1 power amplifier offers not only prodigious amounts of raw power, but it delivers the goods in a sophisticated and innovative package. Its modular design features slide-in, double-sided, glass-epoxy PCB board modules, each containing its own 350VA toroidal transformer with high-speed rectifiers, four 12,000 μF capacitors rated for temperatures up to 105° C, 1% metal-film resistors, heat sinks, and cooling fan.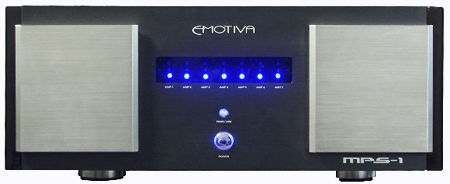 This modular design makes it easier to ship the MPS-1, as the empty chassis weighs far less than a fully populated one. Lighter weight makes for an easier installation and fewer units damaged during shipment by weak-kneed UPS drivers. The modular design also facilitates repair. If a channel does go bad, you need only remove four screws, slide the defective module out, and replace it with a new one.
Instead of a conventional class AB solid-state amplifier, the MPS-1 utilizes class H topology. This is commonly referred to a "tracking amp" because the power supply tracks the input voltage and therefore supplies the correct output current. In many ways, the class H amplifier is similar to a class AB design except for its sophisticated power supply tracking. Imagine a class AB amplifier with multiple power supplies that can quickly vary its output voltage. A class H amplifier can run much cooler than a class AB amp while generating the same amount of power. In tests run at Emotiva's engineering labs, they found their class H design to be 27% to 32% more efficient than a similar AB amplifier.
The MPS-1 includes both single-ended RCA and balanced XLR inputs. But unlike many amplifiers, which use a switch to adjust the input sensitivity while selecting either the RCA or XLR inputs, the MPS-1 goes without. I expected the XLR inputs to produce an extra 6dB of output, but they have approximately the same gain as the single-ended RCA inputs.
The MPS-1 employs small fans for each channel module that run when they need to. Each individual fan is relatively quiet, but the noise level increases when multiplied by seven. When all fans are operating, they add enough background noise to be obtrusive when listening to classical music, but they won't distract from most movies.
Like the DMC-1 pre-pro, the MPS-1 sports removable wooden side panels and shares a similar cosmetic motif with multi-layered brushed silver on front faceplate and blue backlighting. Because the amplifier generates so little heat, Emotiva encourages users to place the DMC-1 pre-pro directly on top of the MPS-1 with no worries about ventilation. I've never understood putting the amp right next to the preamp, preferring to put it as close to the speakers as possible, but the two units do look very nice together.
Installing an MPS-1 amplifier in a home theater system requires no extraordinary skills other than a strong back and a bit of common sense. I suggest waiting to slide in the modules until the amplifier is in its final resting place (as long as its position provides enough access to do so). With all its modules installed, the amplifier is a bear to lift; empty, even I can move it without assistance.
DMC-1 Sights and Sounds
Overall, I was impressed by the DMC-1's sonic capabilities. I remain a card-carrying audiophile tweak at heart, and so I especially value the DMC-1's ability not only to bypass all processing for 2-channel analog sources, but also to inflict minimal sonic damage on digital music as well. Is the DMC-1 absolutely transparent? No, but its variations from absolute neutrality are minimal and well below what you would expect from a fully featured AV preamp at this price point.
Of course, an active preamp should be absolutely silent when no signal is passing through it, but few are. Even the Lexicon MC-12 emits a low-level hiss when the volume is turned all the way down. The DMC-1 fares better than most preamps when it comes to self-noise. It's actually quieter than the MC-12, with virtually no hiss, and when properly configured, no hum.
The DMC-1 does have greater sensitivity to ground-loop hum problems than either the Lexicon MC-12 or Meridian 861, so for maximum quiet you must pay close attention when you connect your input sources. I found that my Samsung SIR-T165 DirecTV receiver needed a TosLink rather than coaxial digital connection to insure hum-free operation. I strongly recommend connecting each component individually and checking the hum levels to isolate any potential problems. If you pay careful attention to hum issues, you will be rewarded with exceptionally low background-noise levels. This translates into superior low-level detail capabilities and musicality.
To fully appreciate the DMC-1's direct passthrough feature for analog sources, you must specify your speakers as "large" in the setup menu. It will not work if you specify "small." Emotiva does this to protect users from themselves, since they could easily blow up small speakers with full-range analog material played at high SPLs. Too bad. I doubt many users will enjoy having to constantly toggle in and out of their speaker settings menus every time they want to enjoy pure analog. But if you choose to use the Emotiva's otherwise excellent crossover system to optimize performance on home theater and multichannel digital sources, you will need to do just that when you want to listen to all-analog two-channel music.