Electronic Music Pioneer Klaus Schulze Emerges Anew With Silhouettes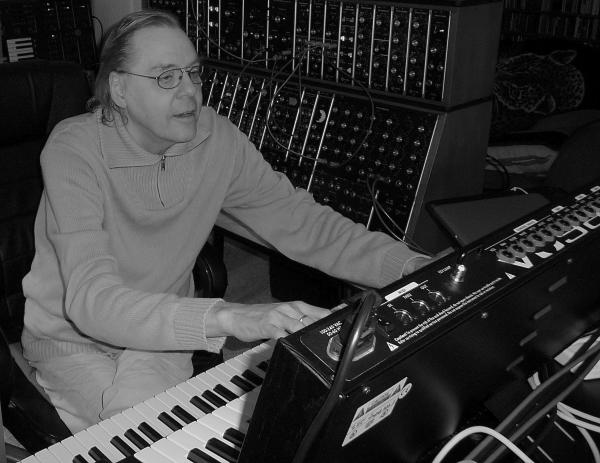 To call Klaus Schulze a pioneer of the electronic-music movement of the last half-century almost feels like an understatement.
The Berlin-born-and-bred Schulze is a sequencer and synthesizer innovator who serves as the direct antecedent for the likes of Brian Eno, not to mention being an absolute master of the Moog, Mini or otherwise. Initially responsible for drums, percussion, and "metal sticks" in Tangerine Dream's inaugural trio format for their free-form electronic experimental debut album, 1970's Electronic Meditation, Schulze moved on to other instruments and full solo status in 1972. His wide-swath-cutting ambient 1975 album Timewind features the man's first use of a sequencer, while 1976's Moondawn puts the spotlight on Moog and ARP synth in prime kraut-rock fashion. And Schulze's current album — the heady, 71-minute four-song soundscape extravaganza dubbed Silhouettes (SPV) — only serves to add to his storied legacy. "It was important for me to paint the pictures in the depth of the space, the sonic fields of tension, and atmosphere," Schulze observes.
After recovering from a brief recurring illness, Schulze, 71, was quite game to tackle my questions about surround sound, how the many significant socio-political changes in Germany over the past 60-plus years have affected his creativity, and what future generations might make of his endlessly fascinating "picture music."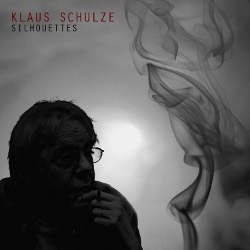 Mike Mettler: Do you feel you attained your creative goals with the sound of Silhouettes? I happen to think you've achieved them quite beautifully in the overall soundscape of the third song, "Quae simplex," for example.
Klaus Schulze: The short answer is, "Yes." Silhouettes has taken me back to some of my origins, some of my roots, and some of those earlier days, when the musical equipment was not as diverse and available as it is today — where you can easily get lost in the myriads of endless opportunities, sounds, and grooves. Reduction on all levels of production was key, and I realized pretty early in the process it was the right thing to do.
For you, it may be found in "Quae simplex" — I see it in all the tracks. But that may certainly appear to be different for every listener out there.
Mettler: Did you give any thought to mixing the music for Silhouettes in the 5.1-channel surround sound format? I've heard some of your previous work in surround, such as some of your live collaborations with vocalist Lisa Gerrard that have been released in 5.1 on DVD.
Schulze: Oh yes — I love surround and 5.1. At home, I have a stereo studio setup that I love and that I'm used to, so for 5.1 surround mixing, we had to go to other places.
What comes to my mind instantly is the days in Peter Gabriel's studio [i.e., Real World Studios near Bath, England], where we mixed that concert in Loreley [in Germany] with Lisa in 5.1 surround sound, a.k.a. the Rheingold DVD (2008). That was the first 5.1 we did, and as it was a live concert — with an amazing audience, after the long [career] break I had taken — the vibe in the Real World studio was absolutely magic when we did the surround mix.
It also was the first time I included the audience microphones in the mix. In fact, my engineer/producer Tom Dams convinced me to do it. He did all of the 5.1 surround mixes for me from Rheingold on, be it in Japan for the Big in Japan DVDs (2010-11), or in Paris for the Dziekuje Bardzo DVD (2009). We would love to do all of my albums in 5.1, really, but it is a much more elaborate process — and, thus, costly — to get it done properly. Most people out there seem to prefer a normal stereo mix today, so we're kind of holding back on that for now.
I certainly could, or would, do more in 5.1, but remixing or remastering older albums clearly isn't as interesting for me as creating new ones. The record company would probably say, "There is no real demand for it, so why should you do it?" Even though I love 5.1 surround sound, I'd rather put the energy into creating new music first.
But, wait . . . Silhouettes in 5.1? Great idea!
Mettler: I thought so too! I imagine growing up in postwar Germany must have had some effect on what you've done over the years as a recording artist and composer. Did you feel a sense of isolation because of the Wall that was erected in Berlin for many of those years that you were there, something that may have filtered or translated into your creative work in any way?
Schulze: At that time in West Berlin — due to the isolation from the rest of the country or even the rest of the world — there was a very familial and kind of "private" scene for artists. So there was a natural creative exchange between musicians and other artists influenced by that "private vibe," and it was also affected by that political post-war situation in Germany, and the spirit of the young generation breaking with the establishment — especially the hippie movement.
In this particular setting, there was a small electronic music scene forming with me, Ash Ra Tempel, Tangerine Dream, and others. It was a great playground to experiment with our music and create new sounds. Later, when the Wall fell, of course, all of that changed pretty much.
For me, isolation — or, let's say, "silence" — can be a motor for creativity. That's also why still I live and work in my studio, nestled deep in the forest. But on the other hand, it is also true that a big city like Berlin, Paris, London, or New York can inspire you as well. I think it's the mixture of both worlds that heavily influenced my way of creating music.
Mettler: Does the overall socio-political climate feel different in Germany today, given your country's well-respected standing in the world? Does that also filter into your creativity in any way?
Schulze: Yes, I think the overall social and political climate has changed a lot — in Germany, and in the entire world as well. For us over here, it is especially the great idea of the European Union (which, by the way, stands for decades of peace in Europe) that has substantial impact. It was great to see the world growing together, East and West stepping towards one another and former enemies becoming good neighbors or even friends like Germany and France, or many others. But unfortunately, there are still some people that try to destroy all these hard-earned achievements and obviously want to build walls again. Especially in Germany, we should not forget that our country has already gone through a violent war history, which turned into an isolating Wall history!
But that does not influence my music because, luckily, that universal language does not know any walls, nations, or religions, or any of those boundaries.
Mettler: You started your career playing guitar before you switched to playing drums. What made you choose both of those instruments in the first place?
Schulze: By nature, I am an "explorer" type of musician. When I was kind of "done" with the electric guitar — which I treated very differently than most other guitarists, BTW — I was just happy and very curious to explore the drums as the next mountain I wanted to climb.
Still, being an explorer, only the synthesizer revolution could stop me from hopping to the next instrument, and the next, and so on. When electronic musical instruments became available, the search was over, as I had found the tool I had been looking for — endless opportunities, unlimited sound possibilities, and rhythm and melody at my complete disposal.
Mettler: Was it your desire to create sounds, rather than lyrics or melodies, that led you to utilize other instruments like synthesizers?
Schulze: Absolutely yes! Once I had the opportunity to create the sound of an instrument myself, and even create completely new sounds with a synthesizer, I felt that, for me, the time of "classic instruments" was over because they were so limited compared to synthesizers.
Mettler: You've used the Moog 3P modular system to make and create some of your most interesting work. What drew you to using that gear specifically?
Schulze: When that system was released, I wanted to own one immediately, as it promised full control over the fattest sounds as well as sequencing, which seemed to be the most fascinating new technique to me. But to tell you the truth, it was absolutely unaffordable for me at the time. Only when my first royalty advance from [the record label] Brain/Metronome arrived, it became a more realistic wish. You can't imagine how excited I was to take that money and drive straight to Florian Fricke of Popol Vuh fame, to buy his used 3P system off him. I loved — and often enough, hated — it for decades, and sold it off again later.
Mettler: You met Robert Moog, the synthesizer pioneer. What did you two talk about?
Schulze: We talked about everything. Robert was such a great guy, and a true genius of his own. He was never in it for the money, and he loved his plants as much as his synth creations. It made him so human, and I loved him even more. When we met, we started off with "sounds," and how they should be — and our conversations wouldn't end, as we'd seamlessly transit to philosophy, to music, to life, the universe, and everything. I miss him. [Robert Moog passed away in 2005, at age 71.]
Mettler: Ever have any interest in designing your own equipment?
Schulze: In the heyday of the plug-in revolution, I was approached by quite a few software and hardware manufacturers, actually, and they would send me everything they were working on to get feedback — and maybe even involvement. It turned out to be a bit too much of intense work that, in the end, had nothing much to do with my music, so I ended up doing a few signature sounds for some of them, or exchange some ideas and creative needs, and that was it.
In my eyes, it was too time-consuming, so I won't engage in that area anymore. Still, I have some hardware done by manufacturers that I was happy to cooperate on. And I met some great creative people and actually worked very closely with Quasimidi, Manikin Electronic, Arturia, and VirSyn, to give you some examples.
Mettler: Let's delve into the gear you're using now. Please tell me about your DAW, software usage, plug-ins, and sample libraries.
Schulze: I still use a G5 Mac, running a pretty old — and reliable! — OS. I own a few, sadly discontinued plug-ins like the Steinberg Voice Machine or Plex that were only available for 10.4, so I stick to that.
My bread-and-butter DAW is Logic 7. While I may use L8 or L9 sometimes if a special setup requires it, I don't like Logic X. Arturia and Spectrasonics are my favorite plug-in manufacturers when it comes to synth sounds. Be it the older sample or Akai libraries they've released, or the newer digitally remodeled old synth originals — I own all of their their stuff, and still use it all the time.
Mettler: You stopped actively touring partially due to health reasons. Do you feel that change in your routine as a musician has affected how you create music now?
Schulze: My composer/musician routine, of course, has changed within the last years because of my age and my health problems. I need more time to get in the right mood for my music, as it can be pretty hard to be creative when you're feeling tired or sick sometimes. On the other hand, it feels like I became more selective — almost more responsible for the choices I make — which is not a bad thing.
Mettler: Do you recall the very first album you bought as a kid growing up that you still consider having a lasting impact on you to this day?
Schulze: I remember my favorite vinyl record — A Saucerful of Secrets, from Pink Floyd [released in June 1968] — but I'm not sure if that was my first one, though. I love this album, especially the track "Set the Controls for the Heart of the Sun."
[For many years, Schulze collaborated with the late Pete Namlook on the infamous The Dark Side of the Moog series, wherein they reinterpreted and mashed-up many classic Pink Floyd songs. For Volume 3, they created a far-reaching six-part piece entitled "Set the Control to the Heart of the Mother."]
Mettler: Are you a fan of the vinyl format for listening to music?
Schulze: Yes, I like vinyls because of their big format, their special sound, and that great, mechanical way to play them.
Mettler: What other artists and composers continue to resonate with you as both a listener and music creator? This is probably a loaded question, since I already know the answer. . .
Schulze: Yes, as you know, I still love my Richard Wagner, who influenced me heavily. The way Wagner's music introduced me to the use of dynamics, subtlety, drama, and the possible magnitudes of music in general remains unparalleled to me. There can't be any doubt about it.
Who else? Pink Floyd, yes; they are a really great band. I love the relaxedness of a J.J. Cale, the mystic depth of a Lisa Gerrard, and that special space that Solar Moon create. Basically, all the musical guests I have invited to collaborate on any of my records are inspiring to me — otherwise, I wouldn't want to play with them. We all have in common that we create while we play.
Mettler: What kind of music do you think you'd have made together with Wagner?
Schulze: In my dreams, we would create epic works and operas together — but maybe with some new sounds . . . and a little bit less vocals!
Mettler: Finally, if we projected 70 years into the future to the year 2088, what would you hope your legacy as a musician to be for future generations listening to such timeless works from your overall recording canon — Cyborg, Timewind, Moondawn, Shadowlands, Silhouettes, et al?
Schulze: I like the idea that there are some people in the future who still listen to my music — whether they find it in an ancient record shop, or because it became the soundtrack of some hip new science fiction/fantasy series, or whatever — and say, "I totally didn't know that weird composer guy before, but this is one hell of a music to send the mind on a long journey!" But I will never know, right . . .?