e-Life on the Go Page 3
Day Two: Port of MiamiThe Port of Miami has the largest year-round cruise fleet in the world. More than 3 million people set sail here every year to ports of call throughout the Bahamas and the Caribbean as well as Latin America, the Far East, and Europe.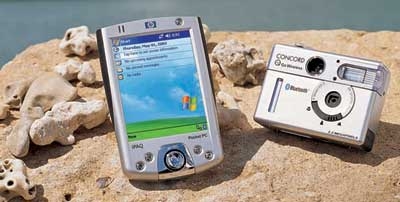 Hewlett-Packard iPAQ PDA and Concord Eye-Q Go camera.
We weren't cruising today, but we did want to say bon voyage to everyone embarking on a weeklong odyssey aboard the SS Norway. Of course, we needed some goodbye photos, so we turned to the Concord Eye-Q Go Wireless digital camera. With its fixed lens and primitive controls, this is not a fine photographic instrument - far from it. But it offers an easy way to take stills and videos that are a cut above the ones you can get using a cellphone. The Eye-Q Go Wireless captures 2 megapixels with 1,600 x 1,200-pixel resolution and has a 1 1/2 -inch LCD viewfinder, digital zoom, 7 MB of internal storage, and an SD/MMC card slot. It also has an AVI movie mode with 15 frames per second (fps) at QVGA resolution.
None of that is remarkable, but the Concord can do something most other cameras can't - thanks to Bluetooth technology, it can wirelessly transmit pictures to another Bluetooth device up to 30 feet away. In our case, we could target our Bluetooth-enabled N-Gage phones (see Day Four) and HP iPAQ PDA (see below), or plug an optional Bluetooth/USB adapter into the Toshiba Satellite. It was easy to snap some pics and movies of the mighty ships in the harbor and then zap them to our collection of Bluetooth devices. Navigating the simple menus was, as expected, simple.
About that PDA - the glittering Hewlett-Packard iPAQ Pocket PC h2215 is a paradigm of mobile computing, packing the Windows Powered Pocket PC operating system along with Bluetooth connectivity. It has slots for SD and CompactFlash (CF) cards (including microdrives). And Nevo software lets you use it as a universal remote control for TVs and other home theater components. There's a stylish docking/charging station with USB cable and a headphone output for listening to tunes. As the SS Norway steamed away, we wished we'd brought a CF combo card (with memory and Wi-Fi) so we could go on the Internet and check the Caribbean for hurricanes. Even so, the iPAQ is an impressive PDA with a bright screen and quick response to your keystrokes. We used it to keep track of our schedule while listening to MP3 tunes via its headphone jack. We also appreciated its soft-touch sides and easy-to-grip design. PDF: Fast Facts
LATEST VIDEO