Dynaudio Emit 50 Loudspeaker Review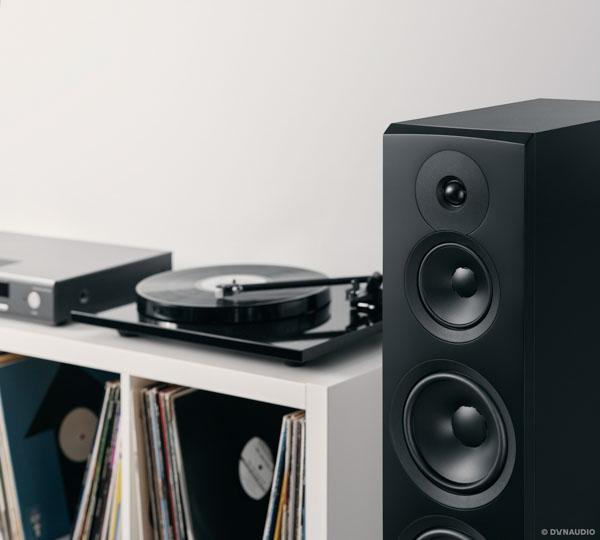 Top Pick:
yes
PRICE $2249/Pair
AT A GLANCE
PLUS
Soundstage and imaging properties
Near full-range capability
Enjoyable at high, mid and low sound levels
MINUS
May heat up an AVR
Favors placement away from boundaries
Needs current to hit more than moderate SPL
THE VERDICT
The Dynaudio Emit 50 makes use of its evidence-based R&D and its heritage in professional sound production, delivering a capable tower at an affordable price.
Founded in 1976, Dynaudio is well-known in the world of audio. As one of the few loudspeaker manufacturers that make their own drivers, combined with the massive Jupiter acoustic measurement facility, the company gains a significant advantage when integrating the multiple parts of a loudspeaker into one system.
Dynaudio not only has a presence in the consumer market but also a substantial presence in recording studios. Vertical integration, a hands-on approach to music production, and evidence-based research and development have been key to their success.
The Emit series represents Dynaudio's entry-level high-end range, with the impressive Emit 50 tower leading the way. It features a 1.1" tweeter, 6" midrange, and 7" woofers - common driver arrangements. What sets it apart are the Cerotar tweeters, the one-piece dust cap and cone of the mid and bass drivers, unique hybrid crossovers, and splayed bass ports. The speaker boasts a 3/4" MDF enclosure with a laminate Walnut finish (Black and White options are also available) that covers five sides. A flat black front baffle helps the tower visually disappear when the lights go down, especially beneficial for movie viewing. Sturdy outriggers provide stability.
The Cerotar tweeter incorporates a static, dimpled Hexis resonance control dome behind its active diaphragm, preventing rear wave reflections from interfering with the front wave. Dynaudio's attention to tweeters capable of handling shallow crossover slopes is evident with an oversized fabric dome and a powerful ferrite + strontium carbonate ceramic magnet. Close tweeter and midrange spacing reflects the attention to driver integration. The Emit 50's midrange, specific to this model, employs an aluminum voice coil optimized for precision and uses filter-down technology from the high-end Contour series. The woofers feature heavier copper voice coils and dual stacked magnets, which enhance their current-handling capability and motor force. The one-piece construction of the mid and bass drivers provides a better connection for the voice coil.
Crossover topology is novel, with driver filters at 6dB/octave for the tweeter, 12dB/octave for the midrange, and 24dB/octave for the woofers. The hybrid crossovers intelligently align the mechanical components electrically, ensuring the drivers work in harmony. Along with rear-firing ports and a sturdy cabinet, each part contributes to achieving the high fidelity objective.

The Jupiter acoustic measurement facility
Installation
Recently, I moved from a dedicated, well-treated room in my Midwest house to an East Coast one-bedroom apartment. Fortunately, the new space offers a good-sized area, a 12x28x9 ft. open-floor plan, for a simple two-channel solution with music listening and television viewing in mind. Sometimes, people desire excellent sound without complexity. The good news, especially for those considering soundbars or struggling with subwoofer placement, is that the Emit 50 makes this possible.
John Quick, Dynaudio's Vice-President for Sales & Marketing, Americas, personally delivered the speakers and handled the setup. He brought not only decades of setup experience but also a bag of tools, replacement parts, a laser distance-finder, and even a mobile router for internet access if needed. Placement was relatively straightforward, with only the laser and a couple of setup tricks required to optimize the Emit 50s in the room. We began by listening to the existing setup and then replaced those speakers with the Emit 50s. The immediate observation was that the sound was very similar, a positive sign. These speakers need room to shine, and their powerful sound commands respect. The final placement positioned the Emit 50s 7 feet apart, with the front baffles 3 feet from the back wall and 7 feet from the main listening position. The nearest side wall was over 5 feet away, and the room is acoustically treated. We opted not to attach the protective grilles or install the supplied port plugs.
While the Emit 50s are not amp killers, they do demand attention to be given to the choice of amplification. I used a Denon X4800H, which handled the task well, allowing the Emit 50s to perform at their best. It's worth noting that the AVR's normally cool sides became warm at spirited listening levels above 90dB. I added an AC Infinity T10 to manage temperatures, that kept it at an ideal 82-84 degrees. These speakers will utilize every watt you provide and may even ask for a little more. While there's no need to go overboard, it's important to provide an amplification support system that matches the speaker's needs.
The listening session began, and while a few minor adjustments were made, we focused more on enjoying the music. Having heard many speakers, the Emit 50 quickly became one of my favorites, considering its cost/performance ratio. While not inexpensive for an entry-level speaker, you get top-notch engineering and solid build quality in return for your investment. Dynaudio's state-of-the-art research and development facility, combined with their in-house cabinet and driver production, gives them a significant advantage.
The next day I ran Audyssey MultEQ XT32 and used the MultEQ Editor app, although it added little in way of fidelity, outside of a welcome boost in the bass (more on that later). Why Audyssey XT32? Because it lends itself to the experiment, being included "for free" with most AVRs. Well, almost free. The $20 MultEQ Editor app is a prerequisite, in my opinion, most of all for disabling the Midrange Compensation filter. Audyssey did not change the sound much, it merely put the polish on what was already a good setup and the frequency range of its action was limited to 500 Hz and below.
Music Impressions
I streamed all tracks from Tidal on High or Max settings, using a laptop or ROKU Ultra, both via HDMI.
Michael McDonald "I Keep Forgettin' (Every Time You're Near)", it was easy to pick out separate locations of Michael's distinctive voice and those of the background singers on stage. The kick drum starting at 3:17 gave testament to the detailed bass articulation the Emit 50 is capable of. I replayed that snippet several times, so much fun the bass drum footwork was.
John Debney "Danse Macabre Saint Saens", from the Stonehearst Asylum Original Motion Picture Soundtrack is not just a reliable review tool for me, but one of my favorite songs to listen to, even though I've never seen the movie. The scale of the stage and scope of individual instrumental images were rendered as I expected and maybe even a little better. The weighty percussion bass interspersed throughout was hefty indeed, once again pinning the notion that these speakers can carry a full 10 octave range just fine, thank you.
Joshua Bell "Noctune N0. 20 in C-Sharp Minor, Op. posth (Arranged for Violin & Orchestra)", the highs floating off of his strings at 2:45 should be piercing, with just enough "bite" to hurt a bit. The Emit 50s were able to recreate that sensation, carrying the wistful emotion of the moment and intensifying it.
Hans Zimmer and James Newton Howard "Why So Serious" from The Dark Knight soundtrack has a singular synth bass chorus found throughout the track that gives a head-under-water feel from the pressure. The Emit 50s surprised with their delivery, allowing me to turn up the volume without compromising clarity, even capturing the subtle sounds of batter head strikes on the drums.
Now for a few lesser recordings, from the abysmal, yet familiar-to-my-ears years of the 80's & 90's. Anything that can survive Patty Smyth's "The Warrior" is a grand transducer, indeed, the shrill highs making this a difficult track. While not typically in my playlist, it randomly popped up so I let it go and it was nothing like the car stereo days I used to experience this song with. I was able to not only make it through the song, but to enjoy it, as well, because great speakers do not make bad recordings sound worse.
While it normally feels like the 3:45 minute Static X "Bled for Days" song screeches on for weeks, I've never heard that lousy recording sound better. I almost listened to the whole song!
Likewise with The J. Geils Band "Freeze Frame", a song that fell victim to compression for the sake of overall volume level, but it becomes easier to listen to through a decent speaker. This canard of a good speaker making bad recordings sound worse... eh, I get it. I just don't agree with it. Sure, the bad parts are easier to hear, but the good parts of bad recordings do not get worse with better speakers.
Linda Ronstadt "You're No Good" has a weirdness in the bass, it lags a bit. That is always called out in good systems I have heard and it was quite prominent here. That's because we are being given by the Emit 50 what is there, true to the source.
TV/Movie Impressions
All content from Netflix, streamed via ROKU Ultra through HDMI.
Hanna is an old favorite of mine. The soundtrack drives each action scene along, careening wildly down the road, yet never flipping uncontrolled, into a ditch and catching on fire, leaving one excited and breathless at the end of each scene. I have watched this show countless times and the Emit 50 helped continue to make it enjoyable for me.
Extraction 2 - I turned the volume up for viewing of this over-the-top action movie and I'm sure my neighbors enjoyed it, too (just kidding, they were not home). At the Railcar/Helicopter scene, 46:10 minute mark, gunfire had the necessary impact and the whir of the helicopter rotor blades chopped the air, all of the zings, pows, bangs, whizzes and thuds were present and accounted for. The scene ends with a dramatic derailment, the orchestral music crescendos, then the action and music fades into silence. By the end of the scene, I was as worn out from the assault as the heroes and villains.
Seinfeld - Watching regular TV was fun with the Emit 50s. The show about nothing would be happening and I, engrossed in the latest character non-issues, just forgot about the AV system and enjoyed the show... right up until the bass riffs in between scenes reminded me that I am listening through a capable pair of loudspeakers. Sometimes I would pause and rewind the riffs for another listen to the synth/keyboard bass lines (bet you did not know that is electronic), which activated every working high/mid/low part of the Emit 50s, calling "all hands on deck" for a few seconds of engaging faux slap/buzz/thump entertainment.
Performance
The Emit 50s possess desirable, sharply-defined imaging properties. Their ability to deliver near full-range sound, even at lower listening levels, is a significant achievement. This is a solid, all-around speaker that performs admirably. The Cerotar tweeter's quality elevates the performance of the midrange and woofers, allowing me to hear the entire spectrum without the tweeter dominating the soundstage. The Jupiter acoustic measurement facility pays off in the room, making the Emit 50s shine. The hybrid crossover design, which aligns mechanical components electrically, ensures seamless integration between drivers. Whether seated, standing, or moving around the room, the Emit 50s maintain tonal accuracy and balance, accommodating off-axis listeners. At the main listening position, the stage is neither overly forward nor recessed.
Regarding bass, the Emit 50s have a secret weapon. The entire enclosure radiates low frequencies, offering front-to-back, top-to-bottom bass. The placement of the rear ports contributes to this excellent bass performance, with the top port almost halfway up to the centerline of an 8 ft. ceiling, a good recipe for great bass. Optimally loading the room and getting the bass right are essential parts of this exercise. Achieving this with just one pair of speakers, placed on either side of a TV, involves no complications when done right. Using Room EQ Wizard and a UMIK-1 mic to check my room response at the listening position, bass response was flat to 31.5Hz, down -5dB at 25Hz and -10dB at 20Hz. With Audyssey and Dynamic EQ engaged, the in-room bass response was essentially flat, down only -2dB at 20Hz relative to 1kHz at the 75dB reference, making the Emit 50 a full-range tower. DSP further aids our two-channel experiment by making a subwoofer completely optional, rather than a necessity. Of course, the benefits a subwoofer or three brings can enhance the experience, especially if high SPLs are desired.
The midrange driver is the star of this show, with much attention paid to its design. Its presentation can be fairly described as slightly forward-sounding, but I never felt that it was oppressive in any way at all. In fact, its forward projection of vocals in the mix was welcomed and I never felt the want or need to adjust speaker positioning or to turn the volume level down. I liked it. Images were located a bit high, an effect that I found to be realistic and pleasing. When I am seated, it feels like the performers are standing, and the movies have a 'heightened' quality, as if I'm in a theater.
Overall, while the affordable Emit 50 may not be the last word in resolution, its preference for omission rather than commission errors is a favorable trade-off. That trade is welcome; I'd rather have little bit missing than have something added that should not be there. You are getting a speaker that almost does it all and does so at reasonable cost. Of course, we can chase that last little bit, but it's going to cost more. As it is, this speaker will bring a smile to anyone's face while listening. The Emit 50 is an excellent starting point for beginning audiophiles, a solid recommendation for family and friends, a satisfactory choice for those seeking a two-channel solution for music and television, and a great anchor for the start of a home theater system. As previously stated, one of its best attributes is the ability to be near full-range at high, medium and low volume levels. One doesn't feel the need to crank it to get "more". Housemates and neighbors will appreciate that, as well. With the help of Audyssey and with certain content at spirited listening levels, I could rattle dishes and cabinets in the next room if I wanted to.
Conclusion
The Emit 50 may be Dynaudio's entry-level offering, but it serves as a shining example of the Emit line. These towers reveal an impressive amount of information, making them one of my favorite options in this price range. They perform admirably even in less-than-ideal conditions, a feat many speakers fail to achieve. When attention to the room is given, such as adding acoustic treatments and digital signal processing, the Emit 50s rise to the occasion, making the improvements audible and appreciated.
While not a "budget" speaker, the Emit 50 is within reach and a worthwhile investment for anyone seeking a quality pair of 2-channel towers or the foundation of a home theater system. Whether you opt for a minimalist 2-channel setup or a full-blown home theater, the Dynaudio Emit 50s consistently impress. Their exceptional soundstage and imaging capabilities make them stand out, providing hours of enjoyable listening and rediscovering familiar songs in new ways. Dynaudio's commitment to quality shines through in the Emit 50, offering a natural, easy sound that anyone can enjoy.
Specs

Floorstanding 3-way
28mm Coated fabric tweeter w/Hexis
15cm Magnesium Silicate Polymer midrange
2 x 18cm Magnesium Silicate Polymer woofers
Bass reflex rear double flared port w/port plugs
Crossover Frequency 540/4400 Hz
Sensitivity (86dB @ 2.83V/1m)
IEC Power Handling 240 watts
Rated Impedance 4 ohm
11 7/8" W x 46 3/4" H x 14 6/8" D including feet/grill
Weight 57 3/8 lbs
Product Registration Extended Warranty 8 years
Company Info
dynaudio.com