Driving in Style
Boston Acoustics' OEM sound system kicks some serious bun boy in the Chrysler 300C Hemi.
Living in Los Angeles, I always drive to Las Vegas for CES. It takes about five hours, which isn't much more time than it takes to fly, given security delays, cab lines, etc. Besides, I really enjoy the drive through the desert. Normally, I rent a car to avoid putting the miles on my own vehicle, but this year, I had a different opportunity. Boston Acoustics offered to let me drive a 2005 Chrysler 300C Hemi with a tricked-out sound system they now provide as an OEM option. For the last 25 years, BA has been well known for their home and automotive-aftermarket systems, but this is their first foray into OEM territory. What could I say? (I said yes.)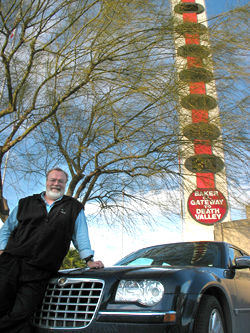 The system in this particular car is formally known as the Sound Group II option, which adds $635 to the sticker price. Included are eight BA speakers: three 3.5-inch mid/high-frequency drivers in the front dashboard (left, center, right), two 6x9-inch low-frequency drivers in the front doors, and two 6x9-inch full-range drivers and an 8-inch subwoofer (optimized for infinite-baffle operation) mounted in the rear parcel tray behind the back seats.
Powering all speakers is an 8-channel amplifier with integrated DSP, which pumps out a total of 368 watts. According to BA, the amp incorporates all audio functions, such as system tuning as well as volume, balance, fader, and tone controls, etc. These functions are embedded in the amplifier to improve sound quality—placing them at the end of the signal chain is said to increase dynamic range and minimize distortion. This is one of several elements that BA believes is necessary to achieve high-quality sound performance in a vehicle.
The source is a 2-channel, 6-disc CD changer with Sirius satellite radio and DVD-based satellite-navigation system. I was disappointed that it wasn't a DVD-Audio or SACD player, but Chrysler doesn't offer such a player in the 300 line. Oh well, I have plenty of CDs that I know very well, so I loaded some into the player and hit the road for Vegas.
BA's stated goal for the system is "to deliver 'The Boston Sound' from the living room into your vehicle," concentrating on four characteristics: non-fatiguing sound (even during extended listening periods), accuracy, wide dynamic range, and pinpoint imaging. Given the nature of vehicle interiors, much thought was given to system configuration and speaker locations, and several hundred hours of acoustic, electrical, and mechanical evaluations at both the component and system levels were undertaken before the system was ready for voicing.
So how well did they meet their goal? Overall, I'd say extremely well. The system was certainly non-fatiguing, even at relatively high levels, as I had ample opportunity to determine during hours of driving across California and Nevada. In fact, it could play louder than I could tolerate without breaking a sweat.
As for imaging, it was top-notch. In the car's center storage compartment was a copy of BA's Live To Listen sampler CD from DMP and Sheffield Labs (not a commercial release), which includes many well-chosen tracks that effectively demonstrate the system's capabilities. The first track, "Truth in Love" by David Charles and David Friedman, features widely spaced instruments and some ping-pong effects that were rendered quite well. Another track, a drum improvisation by Jim Keltner, has various drums panned to different positions in the sound stage, and those positions seemed well defined and rock solid on the BA system.
I was best able to evaluate the accuracy and dynamic range of the system by listening to 2 Many Axes (pfMENTUM CD 020), the second CD by my own avant-garde acoustic trio Many Axes, which I mixed and helped master. The instruments on the album include an eclectic collection of winds and percussion from around the world, which encompass an extremely wide range of frequencies and dynamics. Everything sounded right on the money: delicate, tinkly chimes and high-pitched flutes were rendered faithfully, as were the low instruments, including a large, soft bass drum and multitracked Tibetan temple horns. Amazingly, the entire dynamic range from the softest flutes to the loudest batajon was clearly audible, even as I was cruising down the road at 70+ MPH.
One of my favorite CDs of all time, the eponymously titled Take 6, features six male vocalists singing a capella with intonation so perfect it almost hurts. The group includes a deep bass, at least one guy who can sing into the female registers, and everything in between. The blend between voices was quite seamless, shifting effortlessly through the all-important high midrange where vocal intelligibility lies.
On some CDs, I noticed that the bass was rather boomy, especially on Blue Man Group's Audio (Blue Man Group Records 7243 8 48613 2 2), which has a lot of low-frequency energy. I ended up turning the bass down a couple of clicks for that one. Also a bit bass-heavy was Bela Fleck and the Flecktones' eponymously titled first CD (Warner Bros. 9 26124-2), with Victor Wooten's surging, supple electric bass and Futureman's Synthaxe Drumitar (an electronic drum kit that is played sort of like a guitar) kicking up a bunch of dust in the low end.
On the other hand, Steely Dan's exceedingly well-recorded Two Against Nature (Warner Bros. 9 24719-2) sounded superb with the bass control set at 0. (The system has only bass, mid, and treble tone controls; I would prefer a graphic EQ with more bands.) Two classical CDs, Shostakovich's Symphony No. 8 as recorded by the Dallas Symphony Orchestra under Andrew Litton (Delos DE 3204) and British and American Band Classics by the Eastman Wind Ensemble under Fredrick Fennell (Mercury 432 009-2), were also not overloaded in the bass.
When I mentioned the bass boom to UAV contributor John Gannon, he suggested that listening with all the windows up—which I had been doing all along—might be a factor. Sure enough, when we rolled the windows down, the boom disappeared from the affected CDs. Of course, this greatly increased traffic and wind noise as well, so it's not a viable solution. Turning the bass down a couple of clicks worked just fine.
Now that I'm back home, I'm very sorry to see the car go. I truly enjoyed my ride to Las Vegas and back; in addition to a smokin' sound system, the Chrysler 300C Hemi is a kick-ass car with luxurious appointments, a super-smooth ride, and some serious get-up-and-go. It won't be easy to go back to a mid-size rental after taking a road trip in this thing. For those who might contemplate ordering one, adding the Boston Acoustics sound system as an OEM option is a smart move. Its sonic characteristics are more like a high-quality home audio system than any CD-based car audio system I've heard before. The only thing left to do is crank it up—but please keep your eyes on the road.