Driving Passion
Press releases announcing new products to be introduced at the upcoming CEDIA (Custom Electronics Design and Installation Association) Expo are now flooding my inbox, so I'll be profiling several of these products leading up to the show. Among the most interesting-looking items so far is the Ferrari Art.Engine System, a single-piece stereo speaker from a boutique company called the
David Wiener Collection
(DWC).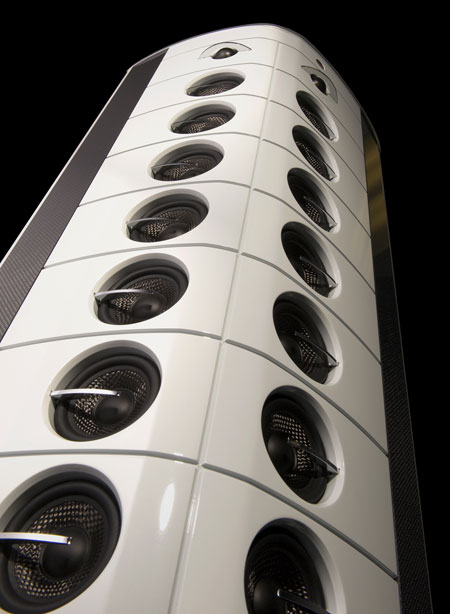 As you can see, this isn't your average, everyday speaker. Inspired by David Wiener's long association with Ferrari—which has licensed the use of its name and colors for the Art.Engine—the 47-inch-tall structure is machined from a 250-pound billet of aluminum, trimmed in carbon fiber, and hand finished with multiple coats of Ferrari paint.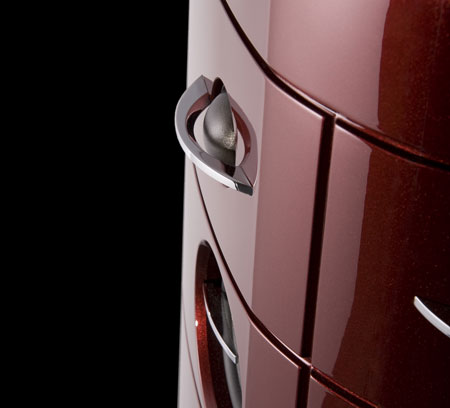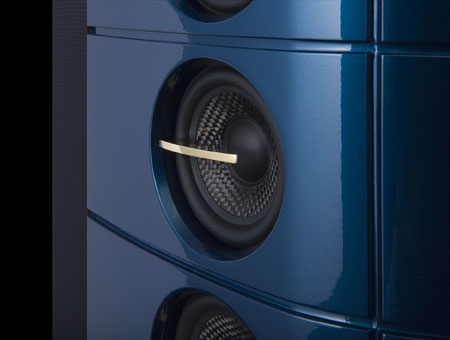 Each channel emanates from a line array of eight 3-inch, carbon-fiber low/mid-frequency drivers and one 1-inch soft-dome tweeter. The two driver arrays are positioned on adjacent panels that face slightly away from each other in order to create a stereo soundfield from a single enclosure. Powering the drivers are four 200-watt discrete class D amps, which allow the Art.Engine to achieve a peak sound pressure level of 110dB at a distance of 1 meter. The frequency response of the system extends from 40Hz to 20kHz (3dB), which is surprising given the small size of the "woofers."
Just in time for CEDIA, the original Art.Engine has been significantly updated to become the Art.Engine System. Among the new improvements is the addition of DWC-Aphex circuitry, the first and only consumer application of two DSP algorithms called Exciter and Big Bottom under an exclusive licensing deal with Aphex, the company that developed these algorithms for the pro-audio market. Exciter "restores" harmonics lost during compression, while Big Bottom enhances low-frequency response without bloat or muddiness. Audiophiles might scoff at such shenanigans, but I've heard both of these effects in recording studios, and they work surprisingly well—in fact, many well-known musicians agree, applying them to their recordings at the mastering stage.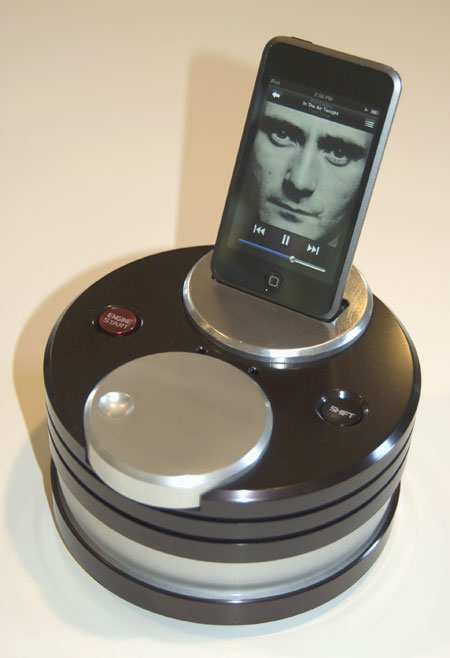 Another important upgrade is wireless operation, in which a proprietary technology uses frequency-hopping spread-spectrum techniques to eliminate dropouts and other forms of interference. Audio is streamed from the Art.Suono wireless transmitter that's included with the Art.Engine. In addition to an iPod dock, the Art.Suono provides an input for a CD player, computer, or any other source, which is transmitted wirelessly to the Art.Engine. You can also connect any audio source directly to the speaker's RCA inputs.
Obviously, the Art.Engine is not intended for audiophiles or home-theater buffs—it is meant for those who want their music box to exhibit some visual style. And of course, that style doesn't come cheap—the Art.Engine System costs $20,000, though that's the same price as the previous version, and you now get a lot more technology for the money. How does it sound? I look forward to finding out at CEDIA next month.