Designing for Technology
How designers work hand in hand with integrators for the ultimate home.
theater aestheticThe tug of war between interior design and technology is a battle dating back to the earliest days of TV. Even in the 1950s, tubes and tulle didn't mix easily. Fast-forward 50 years. While TV technology has evolved exponentially in that time, and flat panels may have revolutionized the "look o' the box," striking a balance between aesthetics and performance still isn't easy.
That's why the relationship between custom integrators and interior designers has become one of the more pivotal ones in the process of home theater creation. Our forum this month belongs to three interior designers who have made a point of learning how to work around technology—and, with the people who specify and install it—for the greater good of their clients. Here, Monica Bodell, principal of MCID Inc. in Manhattan Beach, California; Julie Porter, principal of Julie Porter Associates in Las Vegas, Nevada; and Anna Shay, president of Solanna Design in Newport Beach, California sound off.
Q: What are some things you need to take into account when designing a home theater and working together with custom integrators?
MB: There are many people who participate in getting the job completed—the contractor, the architect, the designer, the A/V people. Then, subcontractors, like the tile people and the electricians, are added. I respect all the relationships, but, in essence, I work hand in hand with the architect on the vision, the theme. He does the drawings, and I spec the materials. I might suggest, say, "Let's do red velvet, or a French art-deco scene." The technical person handles things that are quite separate from the aesthetic—because the technical aspects in a movie theater, as you know, are hidden. That's where custom integrators do their magic. They're the ones who give us all the parameters for the theater, and then we do our end of it. If all the people involved are overseen in a logical and specific way, it should run smoothly and get done as it should, in an ideal world.
JP: From the get-go, I need to know the size of the space. It will determine the kind of equipment and seating we can fit in these home theaters. Sometimes, the owner thinks, "Oh, I can get 14 or 15 chairs in there." Well, maybe he can get 14 or 15 stackable chairs in that are about 18 inches wide, but the question I put to that client is, "Do you want to relax when you're using your home theater?" Some of them have misconceptions about what they can do in an 18-by-28-foot space.
AS: Seating is an area that can overlap with integrators, since both the interior designer and the integrator can sell the products. You want to make sure that the seating they sell, if it's from them, works with the room's aesthetics. But, regardless of who sells it, it absolutely must work in terms of the spatial relationships within a room and also in terms of a client's comfort. And you need to discuss it openly at the beginning of the project.
Also, knowing what the acoustic considerations are is important. It's very important for designers to learn something of the basics of the science of acoustics, or integrators will get frustrated with a gorgeous room that doesn't "perform," no matter how much they tweak the gear.
Q: How do you work with things that offer little leeway in placement, such as loudspeakers or the TV?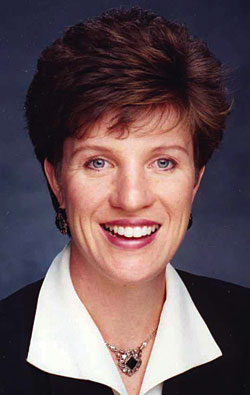 JP: One can always find a way to incorporate technology. I understand the necessity of the placement of speakers in a room for optimal sound in a system. These people have spent a lot of money on their systems, so the installer wants to put the sound where it needs to be. But I can always camouflage them in some way or another.
AS: There are some fabulous speakers out there now, and it's kind of a trend, I find, to make them seen, if they're well designed. I just did a family room for a young couple who want all the equipment shown. They wanted cabinets as a backdrop against this gorgeous equipment in shocking lipstick red—against dark woods. It's a very minimal look. And what's interesting is that the room is not a dedicated home theater—it's a multipurpose room.
MB: Usually, speakers are in the walls and are ideally hidden by upholstery. With new construction, it's easier to anticipate space. With pre-existing construction, you have to go in after the fact and say, "Now, we've got this space—what are we working with?" Those jobs require a lot more thought, because you don't necessarily know what's behind the walls. With older construction, the ideal wall for the screen may not be where the most accessible electrical outlets might be. Vents for kitchen hoods, for bathrooms, for air conditioning, and even for the plumbing create challenges. You may have to lose 3 feet to create another wall, because you have to put the equipment somewhere—ideally, behind the screen. But if you don't have the space, you have to create the area.
Q: Is it easier to work with an integrator on a dedicated home theater room, or a room that's used for multiple purposes?
MB: Most people don't have the luxury of space, so it usually has to be shared with something—a rec room, a guest room, a home office. A/V people are very technical and are looking to create a situation where absolutely nothing can interfere with sound. [Being a purist is] a wonderful thing, but I remind people that the average person is not George Lucas. Most people, soundwise, don't pick up that extra 10 or 15 percent of "ooh-la-la." If you're in the movie business, it is going to be important to you, but that's not the majority of the population.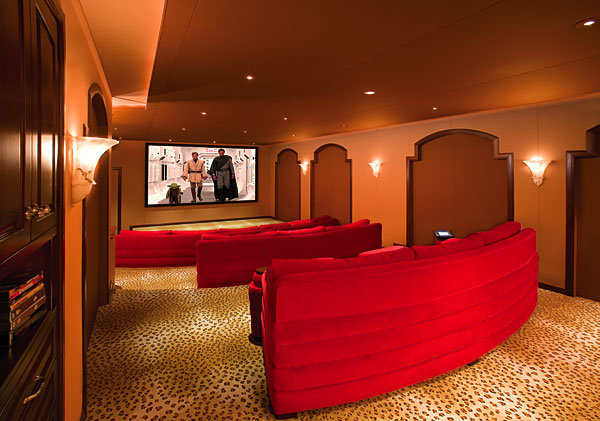 AS: Lots of the rooms that I do are multipurpose. For an L.A. producer, I did a screening room that was also his living room—there is no sign whatsoever of speakers. You just push a button, and down comes the screen, all of the windows are covered, and the movie starts playing. When we have a dedicated room and know from the ground up what it will be, there's lots more we can do to maximize its acoustic performance. We can place it underground. In that case, the acoustics can be amazing, and you have lots more control over sound and light. We can isolate that type of room much more easily.
"Hid-eo": The Art of Hiding Video
Following are some quick takes from Bodell, Porter, and Shay on how they camouflage sets and projectors when they're turned off:
Anna Shay: Hiding TVs? It's the battle of the sexes there. Men don't care. They don't mind the big screen. Lots of times, people just frame them with a beautiful frame or hide them with something like an oil painting that rolls right in front of the TV when it's not in use. Also, if there's enough space to do it, some companies make mechanisms allowing an actual framed painting to slide over and in front of a TV. And then there's always the drop-down screen and the drop-down projector that can conceal those two elements. Those are good for multipurpose rooms.
Monica Bodell: Sometimes, the more you try to hide things, the more obvious it becomes. My experience is not to try to hide the TV—to let it be what it is. And, because they're so good looking and so streamlined nowadays, you should just leave them as they are. But, if you have a living-room situation and have the space to do remote panel coverage [where the panels flank the TV and close over it], that works well—or coverage with a beautiful piece of art, if the client is a collector, is a wonderful way to go, too.
Julie Porter: I have a cabinetmaker I work with who does custom cabinetry for any electronics brought in. You can always inset a projection screen in crown molding with some art lights on it. I actually have done designs where we've hidden the projector in a coffee table on the floor and had it project out of the front—making the coffee table dual purpose.