Definitive Technology Mythos Super Towers, Gem XL and Ten center channel speaker
So here I sit, my furniture all rearranged like an overcrowded antique store, just so I can be in the sweet spot. It is speaker review time again at the Manteghians.' It takes a long time to break out and set up speakers, and you've lots of boxes to deal with. But the simplicity of a speaker is what is most appealing. No HDMI to DVI handshaking problems, no video cross-coding issues, no 3:2 pulldown. You just sit down and listen to music and watch movies. Of course, it's only enjoyable when the speakers in question sound great – like this Definitive Technology Mythos system does.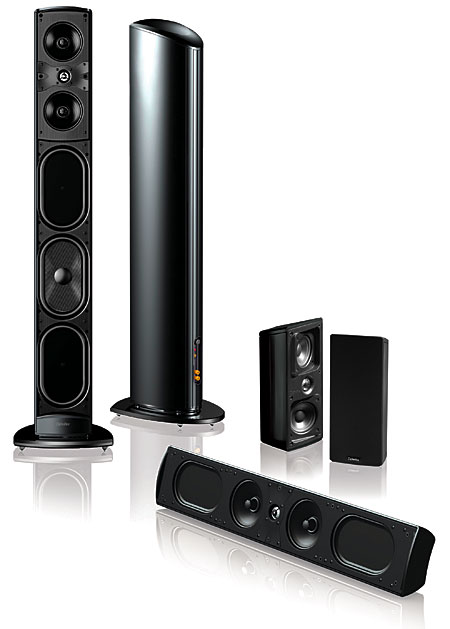 Mythosology
The Super Towers are the largest and most expensive speaker in the Definitive Technology's Mythos line. But by high-end standards, they're still a bargain. From their polished granite bases, to their swept back cross-sectional design, the Super Towers are uncommonly handsome. Gina thought they looked fantastic and commented on them right away. Then again, maybe it was their relatively diminutive size she appreciated after years of saying, "pardon me" as she scooted past our Martin Logan Prodigy speakers on her way in or out of the family room. The ST is available in home theater friendly black, or, in an even more striking single-extrusion "monocoque" aluminum enclosure. The rigidity might have advantages if you're strictly a two-channel guy, but the downside is the reflectivity of the cabinet if you're doing video too.
Each ST contains two "Balanced Dual Surround System (BDSS)" 5 1/4" mineral-filled polymer midrange drivers that vertically "flank" a pure aluminum dome tweeter. Definitive designed the speakers to sound best with the grill covers on, and that's how they were tested. But if you do remove them, you'll see that the synthetic "polystone" speaker baffle that runs the full height of the Mythos contains vertical grooves that scream style. There is a bezel cut in the baffle around the tweeter and some fancy "X" shaped extensions that I imagine were put there to help control diffraction. The other drivers, including the three race track-shaped ones in the bottom half of the cabinet, encounter a gentle radius where they greet the baffle.
Despite all the attention lavished on the midrange and tweeter, it is the powered bass design that piqued my curiosity. Only one of the three 6" x 10" drivers ("race track") is directly powered. The others are passive radiators that extend the bass output of what is a small cabinet volume-wise. Power for the bass comes from the built-in 300 watt Class-D (digital) amplifier.
Five-way binding posts on the rear are provided for a speaker level signal from your external amplifier or receiver. Something you would normally only see on a subwoofer is the Mythos' LFE ("low level" RCA) input. If your system doesn't incorporate a standalone sub – and Definitive claims you won't need one – you could split your AV receiver or pre/pro's subwoofer output with a "Y" cable and run one lead to each ST. I opted for using a standard speaker cable as my only connection. Either way, you'll use a bass level control situated directly above the five-way binding posts to set the level of the subwoofer relative to the rest of the drivers in the ST.
As you might have surmised, the powered subwoofer will require house current, so Definitive provides appropriately long AC cabling for that purpose. The power connection is actually deep set on the bottom of the speaker and a cable guide is provided to keep things neat.
New to the Mythos line is the Ten, the company's top center channel model, which uses the same midrange drivers and tweeter found in the ST. Definitive does make other center channel speakers, like the Mythos Solo and Mythos Eight, but the Ten was designed to be mated with the ST. The Ten is a conventional, non-powered speaker. The two passive race track speakers on the Ten (5" x 8") are smaller than those on the ST but still serve to reinforce bass from the two 5-1/4" drivers. Definitive Technology claims a 31Hz lower limit, albeit with no claimed tolerance from "flat."
For the surround channels, Definitive sent along its Mythos Gem XL speakers. These are clearly puppy class speakers, but they still pack a wallop. The two 4 1/2" woofer/midrange drivers flank the same 1" tweeter found in the ST and the Ten. While their size and design clearly lend them to wall hanging, I perched them atop my highest speaker stands and placed them where I customarily set surround speakers.
A few days after my speakers arrived, the most pleasant of visitors, Definitive founder Sandy Gross and former-Polk marketing maven Paul DiComo, who now works for Definitive, arrived to "play" with my setup. Sandy's taste in music runs heavily to jazz and he's a big fan of imaging. Just as he had years ago when he visited me while I was reviewing a pair of his BP 2004 towers for the Guide, he positioned the speakers so the tweeters were aimed directly at the sweet spot. For purposes of this review, I rearranged my room so I could sit dead center with music and, if the projector behind me wasn't fired up, movies. I started the review with the speakers as Sandy set them up with grills on, as he preferred. But before the end of the review, I pointed them so the tweeters' axis intersected just a foot or two behind the sweet spot.
Live at the Apollo
I made a mix CD for CEDIA this year, which begs the question, what took me so long? This CD turns out to be a great reviewing tool as well, with a smattering of female and male vocals and juxtaposition of intimate and expansive soundscapes. All my comments in this section are for the ST alone using two-channel material without an assist from an external subwoofer.
Dido's "Mary's in India" from the Life for Rent CD is one of those intimate recordings that sounds like the microphone is barely an inch away from the vocalist. The acoustic guitars and Dido's vocal overtones are pointedly presented, with the bass shy tonal balance of this recording showing off the Mythos' tweeter. If there were ever a recording that could expose artificial sibilance in a tweeter, this would be it. To the Super Tower's credit, all we get here is a lot of high energy, accurately and resolutely reproduced.
A much more full bodied recording, "Good Times" from female vocalists Edie Brickell (from her 1994 album, Picture Perfect Morning), does present a full frequency spread. With its Motown tinged bass lines, rhythm guitar and percussion, Brickell's voice bursts out of the background and really shines. When you can shut your eyes and imagine how a singer is contorting her face to express the feeling behind the words she's singing, you know you're in the moment. The Mythos ST was exemplary in this regard, bringing your favorite artists to life before your very (closed) eyes!
Big band music presented no problem for the Mythos ST either. Harry Connick Jr.'s "Reason to Believe," from his CD She, throws horns behind a rhythm section, all of which is marshaled by Connick's great vocals and piano playing. The snap of the bass and kick drum in tandem were deadly tight. You can tweak the level of bass with the level control if you prefer a richer or leaner sound, but the timing and integration of the bass and midrange seems to stay pretty solid within any reasonable range. The small drivers of the ST are quite responsive – fast – but they're also capable of output that belies their relatively small size. I'd have to say, with two-channel material (even at very loud levels), I never felt I needed a subwoofer for reinforcement.
Expansive recordings, like It's A Beautiful Day's "Hot Summer Day" or Gentle Giant's "Schooldays," sounded like they were recorded with the ST in mind. The ping-pong voices of the Schulman brothers on "Schooldays" came off as wide as the speakers, though not really more so. This is definitely a song meant for headphone listening, but the ST pulled off nearly the same effect in free space. The ethereal interlude on this cut is punctuated by a highly reverberant piano, vocals, cymbals, bass and Mellotron. Now the soundstage was spread a mile wide. On great tracks like these, the sound from the ST was rich and beautiful. Timbre was authentic, and the overall sound somehow magically balanced between warm andextended in the upper frequencies.
The only difficulty I ran into with the ST was with recordings with excessive energy in certain higher frequency bands. This applied to vinyl almost across the board. Surface noise that never bothered me with my rig when driving my reference speakers was too obvious and distracting with the ST.
But even with CDs there could be moments of displeasure. Nils Lofgren's live recording of "Keith Don't Go" is wonderfully artistic, but it was made when buzz-kill Piezo pickups on acoustic guitars were the norm. The combination of a Piezo trying to reproduce Lofgren's hard strumming attack and the ST's ambitious tweeter was too much and I had to back off the volume.
LATEST VIDEO