Definitive Technology Mythos STS SuperTower Speaker System
Price
: $4,355
At A Glance
: Slender, gloss black, extruded-aluminum towers • Dual built-in powered subs with passive radiators • Superb dialogue reproduction
Hide the Sub—No, Subs!
Why build a system around powered towers like Definitive Technology's Mythos STS SuperTower? Wouldn't it be easier to live with a subwoofer? Maybe. Maybe not.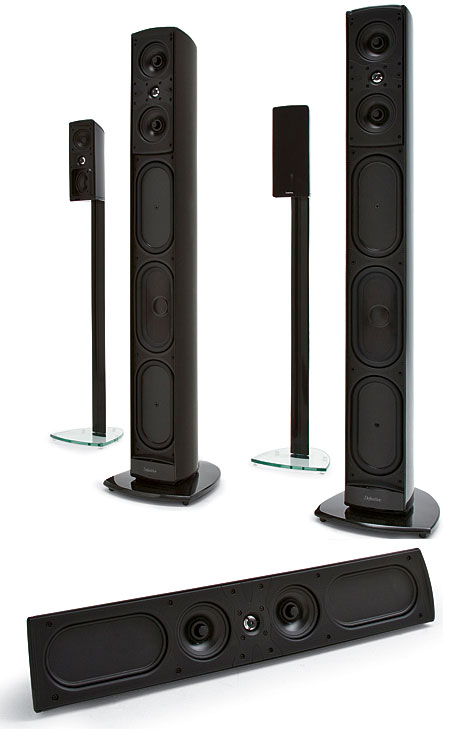 The subwoofer presents a home theater paradox. If you remove the burden of bass handling from the other speakers, it allows them to be smaller and more numerous without intruding into the room. It's also safe to say that without subwoofers and smaller speakers, fewer people would let themselves enjoy the benefits of surround sound. Five to seven full-range speakers are simply too intrusive for a busy multipurpose room.
But the subwoofer presents a problem in itself. The laws of physics require that its enclosure be fairly big—and hold a fairly big driver—in order to generate the large changes in air pressure that we hear as low-frequency sound. True, some designers have done an inspired job of fitting big bass into small boxes with high-excursion drivers and other pricey parts. But making big bass often means making a big box—which then has to sneak into your home and often triggers outrage and domestic discord:
"I didn't realize it would be that big."
"But it's a subwoofer."
"You told me that bass is nondirectional, so we could stick the thing behind the potted palm tree."
"I tried that. The potted palm tree is in the corner. I was getting some bass bloat over there. The sub really needs to go against that wall."
"Where I'll have to look at it."
"Yes."
"I want a divorce."
Enter the Powered Tower
When the going gets tough, perhaps it's more desirable to hold onto the sub's mission while eliminating the sub itself. Running at least two speakers full range would accomplish that. But running powered towers does a better job and provides more bass output. Enter Def Tech's Mythos STS, which introduces two powered subs into your system and adds nothing to the footprint of the front left and right speakers.
The Mythos STS is a graceful tower sculpted in parabolic forms, with sides that taper toward the rear. Internal ribbing strengthens its extruded-aluminum column, and damping ameliorates ringing. With a thick granite base and a heavy toroidal power supply tucked into the bottom of its column, the tower is pretty hard to knock over unless you walk right into it.
A Polystone baffle—made of dense mineral-filled polymer—is force-fit into the mouth of the extruded-aluminum column. Arranged along the front are a 1-inch ceramic-coated aluminum tweeter that's located between two 4.5-inch midrange drivers. The drivers sit in die-cast magnesium-alloy baskets and are supported by surrounds on their inner and outer edges. Def Tech's literature memorably says that this will "effectively annihilate the parasitic resonances that plague traditional designs."
The Mythos STS is not a generic 1990s-style powered tower with a large woofer built into the broad side of a frontally slender speaker. It is slender all around, and bass emerges from relatively small drivers in the front. The built-in subwoofer driver is a racetrack-shaped polymer/carbon composite cone that measures 5 by 10 inches. Above and below it are two passive radiators of similar size. They are planar and made of vinyl-covered medite, a type of wood fiberboard. A built-in 300-watt Class D amplifier propels the subwoofer section.

The Mythos Nine serves as the center in this review. It shares the tower's tweeter, with same-sized midwoofers and smaller passive radiators. Unlike the towers, it features magnetic grille attachments. Def Tech supplies a bracket for wall mounting. When you deploy the bracket's leveling foot, the speaker can sit on an RPTV, table, or shelf. Incidentally, the Mythos Nine can function either horizontally or vertically, which makes it eligible for use as a surround speaker.
Finally, the Mythos Gem, which serves in the surround positions, has two 3.5-inch midwoofers flanking its tweeter. Interestingly, the midwoofers do not fire forward. Instead, they angle to the left and right (or up and down if you position the speaker horizontally). This may contribute to the system's ability to conjure an almost preternaturally palpable soundfield. The Mythos Gem and Mythos Nine share the extruded-aluminum enclosure and Gloss Black finish of the Mythos STS. They're all dressed up for a night on the town. The optional Mythos GemStand speaker stands are $259 per pair.
Associated gear included the Rotel RSX-1065 A/V receiver, Pioneer BDP-HD1 Blu-ray player (which cannot decode DTS-HD Master Audio, so it falls back to the DTS core audio), and Integra DPS-10.5 universal player.
Vocally Adept
Whenever I get started with any speaker system, I grapple with the master volume setting. The ideal speaker can get through an average movie with one volume setting. If I need to turn up the volume to catch dialogue and then turn it back down again to survive loud effects, I get annoyed. And the more it happens, the more annoyed I get. Even the best speakers sometimes need adjustment when the source material has an unusually wide dynamic range or excessively abrasive elements. But a well-designed system should get me through an average movie without much up-and-downing.