D-Link DIR890L/R Tri-Band Router Review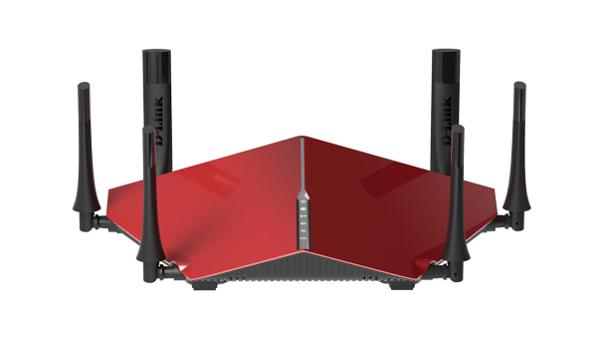 PRICE $310
AT A GLANCE
Plus
Three bands with automatic switching for greater dedicated bandwidth to individual devices
Fast, reliable streaming throughout home network
Two USB ports make hard drives accessible within home and remotely
Minus
Dashboard makes it hard to customize some settings
Automated band switching and QoS remove options to change settings to suit your needs
No backup or media management software
THE VERDICT
A speedy, reliable router that's great if you accept its automatic settings.
As I've taken to streaming as much 4K video as I can from Netflix and Amazon, it was important to get the fastest router. Perhaps there's something psychological about the candy-apple red glossy exterior that reminds me of a cross between a drag racer and a spaceship, or perhaps it was its impressive specs, but either way, I was inspired to try out D-Link's DIR890L/R top-of-the-line tri-band router.
A tri-band router allots bandwidth to connectivity on three different bands. Typical dual band routers connect at the overcrowded 2.4-Ghz band but add a 5-GHz band to get away from interference from other appliances and so forth. The tri-band adds a second 5-GHz band to dedicate bandwidth for use with 4K streaming and other applications that need large amounts of data transfer.
D-Link promotes its Smart Connect feature. When enabled it will automatically set certain devices to use a specific band. Older devices that may not use high-definition video streaming and don't have high-speed requirements will be set to use the 2.4 GHz band. UHD video streaming and hefty online gaming will be directed to use one of the two 5-GHz bands.
Just looking at the speeds that I regularly achieved with the router set to Smart Connect, it seemed to work well, however, I prefer to go in and tweak my settings. But, when set to Smart Connect, optional customization is not available. Channels cannot be changed to reduce interference from a neighbor's Wi-Fi, for instance. The automation also removes the ability to connect a specific computer or TV to one of the 5 GHz bands. You can still customize settings by disabling Smart Connect, but even with this feature turned off, there are no indicators showing channel usage like those found on other router's dashboards. When connecting without Smart Connect, it's trial and error to get the best connection.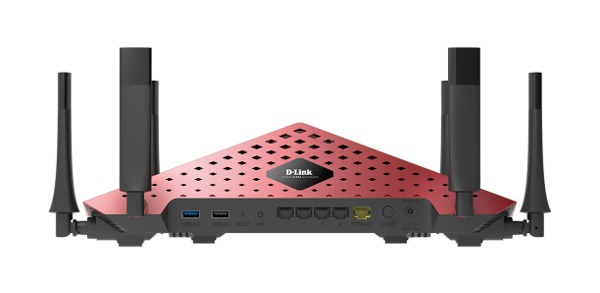 The menu for QoS (Quality of Service) settings suffers the same problems as the band setup—it's easy if you want to do the basics but can't be customized. QoS is a feature that allows you to prioritize which device gets the bandwidth it needs before sending data to those devices that can make do with lower streaming speeds. This ensures that downloading a large file to your computer won't slow down your UHD TV while it's streaming 4K Netflix .
Past D-Link versions of QoS were friendlier, in that they allowed a user to prioritize both the client (device) and/or the app—gaming, streaming, YouTube, etc. By prioritizing an app like Netflix, for example, any TV or other device that is streaming Netflix would get the priority without needing to change the specific device QoS priority, as must be done with the DIR890L/R. Also, while the uplink and downlink speeds can be specified in the DIR890L/R's QoS menu, other routers will also offer to fill in these parameters by testing the speed. D-Link claims that the app priority is automatic based on any app's need at a given time, and based on my experience with its earlier Streamboost technologies that recognized the needs of specific apps, it should work well (and again, I never had a problem streaming 4K). I just don't like being restricted from making adjustments and setting rules.
All that aside, if you're not the type of user who likes getting into the nitty gritty, you'll find the QoS menu is easy to use. Rather than worrying about rules and language, simply clicking on the device you want to prioritize and dropping it into the highest priority, higher priority, or medium priority will ensure that other devices don't interfere with the bandwidth the high priority devices require.
And, while customization can be challenging, basic setup of the router is a breeze, made easier with D-Link's "QRS" (Quick Router Setup) mobile app. After connecting the router to the modem, I downloaded the app to my iPhone and followed the wizard which took me through the steps to set up Smart Connect or to create Wi-Fi names (SSIDs) for the three bands with corresponding passwords, plus a guest login for the Wi-Fi.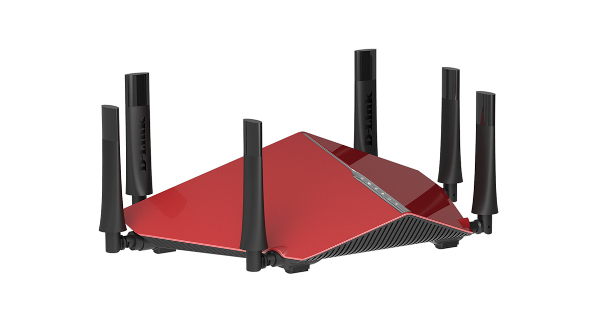 The router's browser-based dashboard takes its design from D-Link's DIR-510L travel router. Bubbles represent the Internet, connected to the router, which is connected to clients and a USB drive.
For families, parental controls can be applied to specific devices. A weekly schedule of times of day that a device is allowed to connect to the router can be created to limit a child's access to Wi-Fi—until after homework, or not before school. Unlike other parental controls, it doesn't allow for simply limiting the number of hours a device can be connected in a day. Parental controls can be set for websites that you want to block by using a website filter that denies access to specified URLs. Up to 15 websites can be blocked, but unfortunately the listed websites are not for specific devices (for example, those used only by the kids) and are blocked for all users.
The DIR 890L has two USB ports. When a hard drive is connected to the router, it can be used as a DLNA media server to stream to local TVs and media players on the network. All local computers can access the hard drive's files as well. Using the MyDlink SharePort App, your media is supposed to be accessible away from home as well. The app did not work for me as the user manual suggested, however, and I was only able to connect while at home.
Music, photos and videos are quickly accessed when the DLNA server is enabled. There are no clients for iTunes libraries or other features for media libraries. While it works well as a media server, the DIR 890 does not offer a client for backing up computer files.
Despite its difficulties in customization and its limited extra features, as far as speed is concerned, the DIR-890L has not disappointed me. In speed tests on my iMac connected wirelessly to the router, I've seen speeds topping 150 Mbps. It just needs a better dashboard and controls. Here's hoping that D-link will improve it with future firmware updates.
Specs:
Length/Width: 15.23 x 9.73 x 4.7 inches
Height : 4.7 inches
Connections: 4 Gigabit Ethernet Ports, USB 2.0 , USB 3.0