THE CUTTING EDGE: In the Palm of Your Hand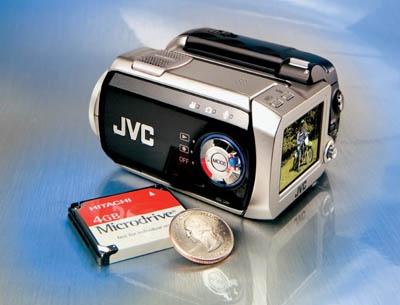 PLUS
Compact and versatile. Excellent video quality in Ultra Fine mode. Instant playback of any scene.
MINUS
Expensive storage media. No A/V line input or FireWire output.
MiniDV is the most popular camcorder format even though you still have to endure that quaint ritual of rewinding tape. But the days of stringing out digital bits on tape are numbered. Videocassette king JVC has introduced a pair of tapeless camcorders . the Everio GZMC100 ($1,200) and GZ-MC200 (shown, $1,300) . using removable 4-gigabyte (GB) Microdrives, matchbook-size hard disks that each store an hour of high-quality MPEG-2 video.
The JVC Everios are two of the smallest and lightest camcorders we've ever seen. Though the specs are identical, their designs are very different. The vertically oriented GZ-MC100 has a foldout LCD viewscreen, while the horizontal and slightly heavier GZ-MC200 (the one I tested) has a split body: the part containing the lens rotates 45º up or down, while the other part houses the battery, Microdrive, and a 1.75- inch LCD viewscreen.
The same slot used for the Microdrive can also hold an optional CompactFlash card, and like most digital camcorders today, both models can also be used as digital still cameras. The 2-megapixel Everios are capable of storing 6,000 images at the finest resolution (1,600 x 1,200 pixels) on a Microdrive or some 96 images on an optional 64-megabyte SD card (which goes in a separate slot).
I took a preproduction model to my cabin in the country, where all of a sudden a roaring engine overrode the sounds of nature to herald the arrival of my neighbor with his new toy. A helmeted Robert Z. appeared wearing a jumpsuit with racing stripes. He was raring to show off some stunts on his newly acquired Kawasaki dirt bike, and I obliged by capturing them on video.
BASIC OPERATION You turn a dial on the left side of the cam to select recording or playback, and each can be set for video, still images, or voice using the mode button at the center of the dial. You also select where to save your video, stills, or voice . on the Microdrive, a CompactFlash card, or a card in the SD slot. A button on the back of the camera lets you choose among four quality levels for video and stills, three for voice recording. For video recording, the factory preset is Ultra Fine (UF), which JVC says gives you 60 minutes on a 4-GB Microdrive. One step down is Fine, which fits 90 minutes, followed by Normal, which extends to 120 minutes. All three of these have a display resolution of 720 x 480 pixels, although encoding gartifactsh . like jerky motion or picture areas that break up into tiny squares of color . tend to increase as recording time increases. The Economy option lets you cram up to 300 minutes on a Microdrive. The cam fit comfortably in my hand and key controls were easy to use.
PLAYBACK AND EDITING You can delete a scene or image you just shot by simply pressing the button atop the camera with the trashcan icon. Switching to video playback automatically loads nine thumbnail images, each showing the start of a scene. You select one of these using the rocker-type play button, and the scene starts playing.
DIMENSIONS

(WxHxD) 3 x 2.25 x 3.75 inches

WEIGHT

.75 pound with battery, hard disk, lens cap, and hand strap

PRICE

$1,300; extra Microdrive, $499 ($299 for a limited time)

MANUFACTURER

JVC, jvc.com, 800-252-5722
•Records video or stills on supplied, removable 4-GB Microdrive or your own CompactFlash or SD card •.333-inch, 2-megapixel image sensor •10x optical zoom, still flash, 1.75-inch LCD viewscreen, mono speaker •outputs composite/S-video with stereo audio; headphone with supplied adapter cable; USB 2.0 port; CF slot (for Microdrive or CompactFlash card); SD slot
If you call up a still image and hit the play button, a slide show is launched with automatic wipes. You can also zoom in on an image. I connected the cam to a bigscreen TV using the supplied composite/Svideo/ stereo cable and watched my neighbor race through a field, eventually becoming airborne when he crested a hill.
The Everio camcorders come with a CDROM containing CyberLink DVD Solution, which includes JVC's PowerProducer and PowerDirector Express video capture, editing, and DVD-burning software as well as PowerDVD playback software. You'll need a Windows XP/2000/ME Pentium III computer or better with a USB port (1.1 or 2.0) and a DVD burner. Unfortunately, the prerelease software was buggy, so I wasn't able to put it through its paces.
PERFORMANCE A fully charged battery provided power for about an hour of video use. The GZ-MC200's Ultra Fine mode produced video comparable to DVD quality, and the cam's JPEG images looked good enough that I could do without a separate digital still camera. The digital image stabilizer even let me continue shooting video while riding on the back of the dirt bike.
I tried out the other recording modes just to see what they were like, but I pretty much stuck with UF. Fine was okay for video of things that don't move much (which rules out dirt bikes), and you could even squeak by with Normal. Economy's only redeeming qualities are its long recording time and small file size if you want to e-mail a video clip. But it's painful to watch on a big screen.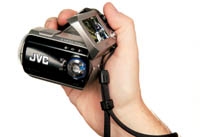 While I generally enjoyed using the tiny GZ-MC200, I do have a few criticisms. Every time you turn on the cam, there's an 8-second delay before you can shout, "Action!" More than one impromptu shot got away because of that. Also, since there isn't a separate viewfinder, you're totally dependent on the viewscreen for framing shots. Compared with a swiveling screen or a dedicated viewfinder, the GZ-MC200's rigid screen makes it difficult to aim and awkward to use with a tripod. Keeping a moving dirt bike in frame, especially in bright sunlight, wasn't easy! And though I didn't lose any footage, the preproduction cam often crashed when I tried to select a thumbnail for playback. JVC said the problem has been fixed in production models.
BOTTOM LINE The compactness of this all-in-one camcorder/camera/voice recorder encourages you to take the GZ-MC200 with you no matter where you go. A new parent, for instance, wouldn't think twice about thowing it in the diaper bag. Just have a spare Microdrive handy for when you run out of memory, or stay close to a computer to offload content. But now that I've lived with the GZ-MC200, I'm anxious to try out the GZ-MC100. Its foldout monitor is adjustable, it's a little lighter, and it costs $100 less. The Everio line represents an exciting way to shoot and play back video. And the convenience of the removable Microdrive will make you never want to go back to rewinding tape.