Cue Acoustics PS1 Wireless Speaker System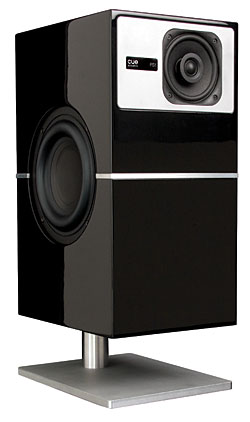 Simple, modern, elegant—the PS1 from Cue Acoustics is definitely not your father's speaker. Think of it as a forward-looking system for discriminating listeners who crave a simple setup that's free of wires, hulking speakers, and an ugly stack of components (like the ones collecting dust in the back of your den). Promising big sound and a vivid soundstage, the PS1 system is extremely compact and provides everything you need to pump up the volume except an audio source: a pair of speakers, each with its own built-in 150-watt digital amplifier/processor, and a wireless transmitter that streams uncompressed audio from your TV, PC, smartphone, tablet, you-name-it, to wherever you decide to put the speakers (which, by the way, must be plugged into an AC outlet). Want to grab your tablet and play impromptu DJ at a party? As long as the tablet supports the DLNA connection standard, you can stream audio wirelessly to the PS1's iPhone-size transmitter, which runs it through a signal processor and sends it to the speakers; otherwise, you can go old school and plug a cable into the transmitter's digital (optical S/PDIF) or analog (3.5mm stereo) input.
Continuing in the New England tradition of fine audio, the PS1 speakers are hand-built in Somerville, Massachusetts, a stone's throw from Cambridge, birthplace of Acoustic Research and the legendary AR-3 acoustic-suspension speaker designed by audio pioneer Edgar Villchur in 1958. The cabinets, which stand 18.75 inches tall (including stand), are roughly the size of two extra-long shoe boxes standing back-to-back on end and made of high-density fiberboard finished in high-gloss black lacquer. Each enclosure has three chambers: one for the electronics, one for a 3.5-inch coaxial driver with a 0.75-inch silk-dome tweeter suspended above an organic-fiber midrange, and one to isolate a tooth-rattling bass ensemble with a down-firing 5-inch woofer and two side-mounted 6-inch passive radiators. Spec hounds will be impressed by the rated frequency response of 27 hertz-22 kilohertz ±1.5 decibels and amplifier distortion that's less than a tenth of a percent. Worried about volume? Don't be. These puppies can hit an ear-splitting SPL of 121 dB. The price of admission might seem steep at $2,499, but Cue offers a 90-day money-back guarantee so you can take them for a test drive. The PS1 is expected to be available at more than 40 retail and online outlets beginning in July.
Cue Acoustics • (866) 959-4283 • cue.com